Three-dimensional modeling applications continue to build momentum in commercial kitchen design. Because 3-D modeling adds width, height, depth and spatial relationships, commercial kitchen designers increasingly turn to this emerging technology instead of older-generation two-dimensional plans and manual formats that were the mainstay for years.
Overall, 3-D modeling enables the operator to see a realistic view of the space, including how everything will look inside it, offering a preview of how a design may function before the final structure is built. "We used to get something in a 2-D plan, and then we'd try to draw an elevation," explains Joel Schultz, the culinary design manager for Great Lakes Culinary Designs in Southfield, Mich. "You can take the 3-D software and actually bring to life a project and be able to spin it around, take any view, any perspective and look at it.
The parameters of a design and how it will function in reality become easy to realize with 3-D plans like this one from Great Lakes Culinary Designs.
"You get through the process, sign off and watch the project actually being built. That's the most exciting part: to see how accurate we can get in this virtual environment versus the 2-D plans. It's pretty amazing," Schultz explains.
The ability to create different views is a key feature of building information modeling (BIM) for Shane Cory, project manager of BIM modeling at Minneapolis-based Rippe Associates. And being able to show restaurant designs in 3-D format is a key benefit of BIM. "You can place things in a model and create different views. You can create plan views and elevations. You can create 3-D views or perspectives. With CAD [computer-aided design and drafting], if you drew it in plan, you would have to try to transcribe it back into an elevation. You'd spend a lot of time drawing things in place."
Even with the newer high-tech approach, however, the basics still apply. "Prior to starting the design in the BIM process, you still have to do the same questioning — what is the menu, high-volume time, dayparts and so on," Schultz adds.
Questionnaires mark the first step in the process for Rippe projects. "We have questionnaires that ask, 'What's your menu? What's your busiest time? What type of services do you have?' I work on the healthcare team, so it's getting down to 'What type of tray assembly are you using? Is it more traditional style?' It's all those questions up front," says Cory.
The aerial 3-D image provides a realistic view of the equipment placement and flow of a Rippe Associates' project. It depicts a pizza and deli operation with a cashier station and a coffee-smoothie bar.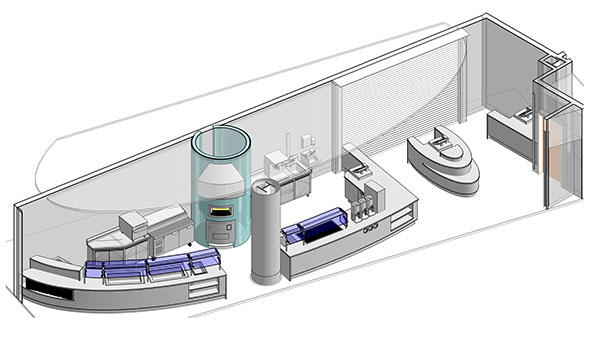 The information that details every process helps build the program, says Cory. "We can figure out how big it is, what footprint is needed. Often times, we'll get a model from an architect. We find out where the space is from the questionnaire and figure whether we need more or less space. Then we start modeling."
The process evolves from there. Eventually the designer adds the equipment and a more detailed plan emerges. From there the project progresses before eventually entering the construction phase.
3-D Modeling Advantages
One of the benefits of 3-D modeling is that it helps those less familiar with reading architects' plans better understand the design, says Kerri Ingraham, principal at Ricca Design Studios. Clients don't view architectural plans very frequently the way designers do, she notes. "We've found that providing 3-D views, virtual walk-throughs and live design sessions are invaluable tools for the entire team to get a feel for and experience the flow, function, operations and scale."
Providing a set of two-dimensional plans and hundreds of equipment cutsheets can overwhelm an operator, Ingraham adds. "Reviewing a plan in 3-D with staff is a great tool to explain complex systems like chef's counters, serving platforms or cooklines. We can walk through the exact operation of any station from start to finish."
Another big advantage of reviewing projects using a virtual three-dimensional view, adds Philip Landgraf, also a principal at Ricca, is "saving countless hours and dollars gaining 'buy-in' from clients. Virtual tours of a project design are giving clients more confidence to make final approvals more quickly and decisively."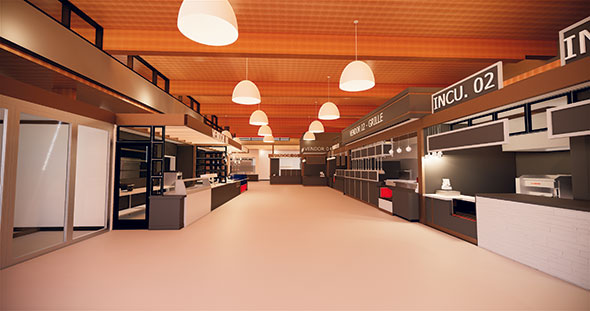 This 3-D rendering shows a Ricca Design Studios' plan for a food hall concept under development within the college and university segment.
Not only that, Landgraf says, when working with BIM there's the potential to limit the number of surprises in the field. "If the entire design and ownership team is able to review a plan in 3-D, it minimizes folks feeling as though a constructed project didn't turn out how they had envisioned it," Landgraf adds.
By exploring a 3-D model of a BIM project, for example, an operator could identify any conflicts or problems before the construction on a new prototype begins. Landgraf points out that the project team can then remedy these problems during the design phase instead of in the field. Once adjusted, BIM automatically updates every relevant view, which makes it easier for other members of the team to see how the design continues to evolve.
Cory gives an example of a problem that could arise in a 2-D version: "Say you have a food pan set in a counter. You've got a cabinet base underneath and maybe you have a utility case for running electrical, plumbing and so forth. If you just drew it and didn't show a live 3-D section, you might not see that the pan is actually intersecting with the utility case in the counter. So, you have to redraw the utility case so the hot or cold food counter will work."
The ability to share the design with multiple parties working in BIM is a real benefit as well. In this multidisciplinary collaboration, architects, surveyors, engineers and contractors are able to use the program as a resource for their own parts of the project. Later, the program can serve as a guide for asset tracking and facilities maintenance.
The accuracy of 3-D enables many different viewpoints and perspectives, explains Cory. "The biggest advantage is being able to see it in 3-D, rotate it, zoom in on it, and review the object as though it were in real life. You can look at something like a counter and say I don't like the way that looks. You are able to review like that."
3-D Challenges
Using BIM software does come with some challenges, namely the learning phase. "It takes time," Schultz says. "It's understanding how the software works, how it reacts, how things live in the project. The software is unforgiving. It will not allow you to just throw things in place. In the CAD world, you can just draw some lines in if you need to get through a project. With BIM, you have to information model it. You have to take the time to do it right." However, he explains, taking more time on the front end saves time on the back end.
In addition to taking more time, Cory says, 3-D views also have to be useful to a range of people. For example, they must be understood by the operator but also by, say, a fabricator who has more experience in reading drawings. "You have to lay it out so it will speak to both."
One more issue: making changes late in the process still creates headaches. "Within the design and construction industry, there is the perception that, since everything is done electronically, things are easy to change," says Landgraf. "However, changes late in the process impact several trades, like architecture, interior design, electrical, plumbing and so forth. This takes time to coordinate among several parties."
BIM isn't foolproof, Schultz says. "Software doesn't drive it — people drive it."
Still, many architects require BIM as a standard, says Landgraf, who views it as a competitive tool to stay on the forefront of design.
Ingraham agrees: "We are consistently looking for opportunities to provide more detail to our models, provide tools for clients to review models on their own, and to bring this technology into the construction process."
BIM makes talking through the project a whole lot nicer, Schultz says. "Clients can actually see how we're moving through [the process]. What may be causing an issue? Why did we do what we did?" He adds that ultimately, it provides a better understanding of design intent.
It's a tool Ricca Design Studios uses for all areas. "We utilize 3-D design for all spaces, from front of the house to back of the house, even loading docks," Ingraham says. "This allows the entire operations team to review exactly how guests circulate through a space, where the chef will stand and what's within reach, what managers can see from their offices or how high a wall shelf is hung. Understanding the diner and employee experience is just as important as the ergonomics and operation of a dish room."
And front-of-the-house BIM modeling can often be more complicated than designing the back of the house, according to Cory. "When you are dealing with back of house, it's more utilitarian. They are pretty much modeled the same way." In the front areas, the architect may add aesthetic touches to enhance the customer experience. "It gets more complicated when you add aesthetics into the modeling," he says.
3-D modeling continues to transform the foodservice design experience. It increases the designer's ability to get it right early on in the process. BIM software can build clients' ideas into a design that, through 3-D modeling, will actualize their expectations.
---
Adding to Design Reality—Virtually
While 3-D modeling offers a real-life view of the design project, there is another level of the 3-D experience that can allow the viewer to walk inside the model: virtual reality.
Virtual reality cannot happen with a BIM program; an app can convert BIM into virtual reality to enhance BIM. Like gamers, the viewer wears a headset or goggles to enter the model virtually.
Shane Cory of Rippe Associates explains the difference: "There are ways you can take BIM models and transfer them into a virtual reality situation. Our office hasn't used that, but we have used BIM modeling to set up prospective viewers and oblique views that would be more like an aerial view showing the 3-D information from above. We also have done the perspective views where you set up a camera, say, at the entry of a serving area, and it will show you spatial relationships. In virtual reality, you are able to see the ceiling, the floor, the counters and everything."