As foodservice concepts go, delis may not seem particularly trendy, but they're actually very much on trend. First introduced to the U.S. in the late 1800s by German immigrants in New York, delis' enduring popularity has everything to do with what and how modern consumers like to eat. Freshness, transparency, customization, quality, variety, convenience, mobility — all of that and more becomes standard fare at delis and deli-inspired sandwich concepts. And while classic Jewish delis have changed little over the years (they're classic for a reason), modern delis are well suited to maintaining core brand promises while incorporating current culinary trends.
That's true in both commercial and noncommercial market segments. In business and campus dining, for example, deli stations remain servery and marketplace mainstays. They operate alongside complementary salad and soup bars, and operators often use cooked products from adjacent stations in daily specials to help reduce waste and bolster their menus, according to Ronald Lisberger, senior associate/project manager at Cini-Little's Washington, D.C.-area office.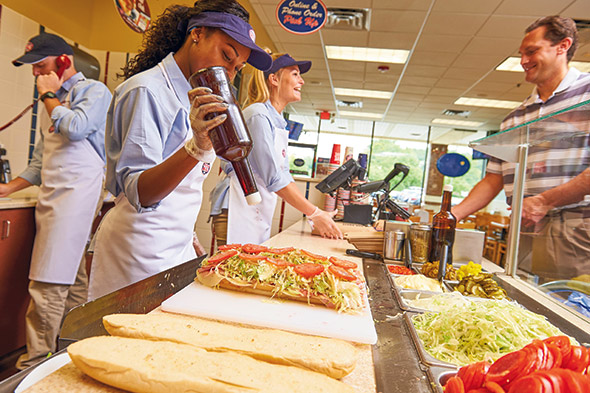 Fast-growing QSR Jersey Mike's has long relied on a simple, highly functional assembly line design for its sandwich-making stations.
Lisberger, who specializes in the higher education market, feels deli stations' enduring popularity is due in part to their flexibility and strong merchandising appeal. "Customers today are interested in the 'see it, eat it' style of foodservice," he says. "They want their food to have the ultimate in freshness, to see it being made and made just for them. Deli stations deliver on all of that, and they're great opportunities for visual merchandising because of the variety and freshness of ingredients. A well-designed deli station really draws people in."
Well-designed stations today, Lisberger adds, in many cases must accommodate broader menus and often must do so within smaller footprints. They also must accommodate what for many operations is a growing percentage of to-go sales, which may necessitate a second sandwich-making area as well as a designated area or storage unit for staging orders for pickup and delivery.
Checking all of those boxes starts with careful review of menu plans and anticipated volume, says Kip Serfozo, whose work has focused on the business and industry, healthcare and hospitality segments as a design project manager at Cini-Little's Atlanta office. "Consultants and designers really need to understand the menu first — everything from how many types of bread the operator wants to offer to the variety of sandwiches planned," he says. "That information, plus an estimate of volume expected during peak service periods, helps to inform how large the station needs to be and how it should be equipped."
Variety and Visuals
While traditional items form the core of deli station menus, most of those menus now offer much more than simple cold sandwiches with a bag of chips or side of coleslaw or potato salad. Operators often add subs, wraps, paninis, along with grilled and/or baked options to the mix. They also offer more side items and toppings, Lisberger notes. "They're covering the standards but incorporating more healthful salad options and bolder, on-trend condiments and toppings as well," he says. "All of that impacts design, layout and equipment decisions. Simply offering hot sandwiches, for instance, requires more space and specialized equipment. Keeping the 'see it, eat it' concept in mind, I like to put in conveyor-style ovens for toasting. They offer greater visual appeal than enclosed microwave impingement ovens for hot sandwiches. They do take up more space, but those types of equipment choices, as well as things like rack ovens for baking bread fresh on-site and maximizing the use of glass-fronted displays, add a lot to the station's visual appeal."
Perennial deli favorites such as pastrami and roast beef aside, Serfozo says today's deli menus in general incorporate more fresh vegetables and a broader selection of cheeses, necessitating larger refrigerated sandwich tables. And, while customization a la QSR leader Subway's model remains popular, he sees an emerging shift toward more focused deli menus touting signature sandwiches in efforts to trim labor costs and speed throughput.
"Offering the ability to customize sandwiches is still important, but we see operators beginning to move toward offering fewer overall selections and building a core menu of high-quality 'signature' sandwiches," Serfozo notes. "Fully customized, made-to-order sandwiches take a lot of time and labor, so some clients are promoting a slate of maybe six specialty selections with strong appeal in order to speed up service and minimize waste. We're also seeing more demand for built-in grab-and-go merchandisers near the register, where customers can just select a prepackaged sandwich, side and beverage and quickly be on their way."
Whether the menu is small and focused or broad and fully customizable, deli stations and sandwich-making lines are relatively simple. Serfozo and Lisberger suggest thinking through the sandwich-building process step by step and laying the line out accordingly. Typically, that means starting with breads, followed by meats and cheeses, and progressing through fresh toppings and condiments.
"From bread to register, everything should flow in one direction, ingredients that each employee needs to complete their part of the make process should be within easy reach, and the aisle space between front and back counters should be fairly tight so they don't have to take more than a step or two to get what they need," Lisberger says. "Nobody should have to backtrack. A unidirectional flow is critical."
In the case of a small footprint, vertical display units and wall shelving help to expand storage capacity, Serfozo adds. Doing so also creates opportunities for additional visual merchandising.
Even in small footprints, well-designed deli stations offer strong visual appeal by showcasing colorful, fresh ingredients. Clean, natural materials and lots of natural light add to their attractiveness.
"It adds a lot of interest," Serfozo says. "I saw a display unit recently with bread storage in a glass case directly above the sandwich-making line. The employee doesn't have to bend down or turn left or right; he or she just reaches up, grabs the bread and starts the process. It's ergonomically better, it's faster and it has great visual appeal."
Where it is necessary to store items underneath the sandwich-making area, foodservice designers recommend refrigeration and/or heated cabinets with drawers instead of doors for quicker, more comfortable access. For storage beneath the back counter, they recommend closed cabinetry versus open shelving to help maintain a clean, uncluttered appearance.
Lauren Atwood, LEED Green Associate, design project coordinator at Porter Khouw Consulting Inc. in Crofton, Md., says deli stations her team designs also tend to follow an intuitive, tried-and-true format. "We usually specify a sandwich make-up station with a cutting board, often using a two-tiered food guard that can be used as a shelf for passing product through to the customer," she says. "It's also common to provide a panini grill and/or a countertop microwave convection oven for warming sandwiches or a conveyor toaster. Generally, these stations are designed to be operator served and made to order. Most of our projects involve a deli station as custom-made sandwiches are a timeless staple that hasn't waned in popularity."
Proven Design, Proven Efficiency
On the commercial side of the industry, the success of Jersey Mike's, one of the fastest-growing QSR sandwich chains in the nation, proves the timeless appeal of high-quality, deli-style sandwiches. Launched in 1956 with a menu of nine cold subs, the chain added hot Philly-style cheesesteak sandwiches in the late 1970s and a handful of additional sandwiches and sauces through the years to round out the menu. Jersey Mike's standard menu now features more than 20 sandwich selections, including 5 signature wraps, a dozen hot subs and 14 cold subs.
Mike Manzo, the chain's chief operating officer, says the menu grew as the chain did — Jersey Mike's today has nearly 1,500 units nationwide — but it has remained fairly stable over the past couple of decades. The same is true of its operations and basic sandwich-making station design.
"We haven't varied from our original approach, which is really very simple," Manzo says. "All of our sandwiches are made fresh to order. We keep our meats and cheeses in a deli case on the front line. Customers place their order, and the meats and cheeses are sliced fresh to order for every sandwich. That's a Jersey Mike's signature. From there, it's a traditional assembly line make process. The sandwich moves down the line and is built and customized as needed on the way to the register at the far end, with employees and guests engaging along the way. We've found that this very simple approach is actually the most operationally efficient."
Jersey Mike's also makes hot sandwiches to order, with staff freshly grilling chicken and beef for cheesesteaks in full view of guests on a custom flattop located on the back line.
Serfozo endorses designs like Jersey Mike's, where hot-sandwich production occurs away from the front counter. When designing deli stations for clients, he recommends keeping heat-generating equipment, such as conveyor ovens and panini presses, separate from refrigerated ingredients on the make line, in part to help keep items fresher longer.
Keeping hot-sandwich-making equipment on the back line helps to keep cold ingredients on the front line fresher longer. Enclosed lower cabinetry ensures ample storage and a neat appearance. Photo courtesy of Cini-Little International Inc.
And while adding hot sandwiches to the menu mix can potentially slow throughput, Serfozo says smart equipment selection helps keep things moving. "For most standard operations, traditional equipment is probably sufficient," he notes. "But the technology exists to provide the type of speed and efficiency demanded in peak high-volume situations. There are double panini presses and panini presses that are juiced up for higher volume, for example. One I've seen has microwaves as well as the heated pressing plates. Another option is essentially a fast-cook oven but with plates on the inside that can press sandwiches. And you can actually press them two high as it makes vertical use of the space in the cavity."
The only major recent changes at Jersey's Mike to standard operating procedures and kitchen design are the system-wide addition of a gluten-free bread option and the expanded production capacity for third-party delivery orders.
The bread rollout went smoothly, Manzo says. "We did a lot of research and were very prepared," he says. "A key has been to keep everything separate and color-coded to ensure there's no cross-contact among tools and surfaces used to prepare the gluten-free sandwiches."
For mobile app and delivery orders, which are growing rapidly thanks in part to a $5 million investment in app, website and POS system updates, Jersey Mike's is installing new back-line counters that run parallel to the front sandwich-making line. "We still make each sandwich to order, and it's all out in front of the customers," Manzo says. "We positioned this extra line right behind the main slicer and deli case. It includes another drop-in table, under-table refrigeration and another slicer."
The company is also introducing a new, more contemporary design to its units, which average 1,500 square feet, Manzo adds. In addition to an extra sandwich-making line, that new appearance includes what's fast become a sign of the times — a separate area for mobile orders and third-party delivery pickup.