Rutter's Farm Stores, a c-store operator with 70 locations in central Pennsylvania and West Virginia, has a longstanding history with foodservice. The chain bills itself as the oldest vertically integrated food company in the country with its roots in agriculture, which became a still-operating dairy operation and eventually added its first c-store in 1968.
It's not an unfamiliar story among the strongest c-store foodservice innovators. Wawa has a similar tale with roots in the dairy business, and even the owners of Sheetz began its business by owning dairy stores.
Fast forward to 2018 and c-store operators maintain a keen focus on the next generation of growth through foodservice.
"Over the last year or two, the convenience channel has begun to focus on made-to-order food, implementing different components to accommodate it, like touch-screen ordering kiosks and bulk hot product," says Ryan Krebs, Rutter's director of foodservice. "Stores are looking beyond the roller grill and hot grill, but it's important to understand the c-store footprint's differentiation and the brand image."
Rutter's focuses on restaurant-quality food and proprietary items that help drive traffic to its locations. It's about creating a chef-driven culture to compete, not just with other c-stores, but also with area restaurants.
For example, the chain just rolled out cage-free eggs and is hyper-focusing on local products, including produce. Rutters offers made-to-order foodservice at 57 locations, while its remaining 13 sites have sandwiches and roller grill items.
"We used to just focus on cold deli sandwiches and lunch meat as well as our hot dog program, then we moved the roller grill behind the counter so we can customize our offerings," says Krebs. "As time went on, we began incorporating bone-in beef short rib, tiramisu, cannoli, full-service dispensed beverages and stir fry and veggie bowls prepared with induction woks."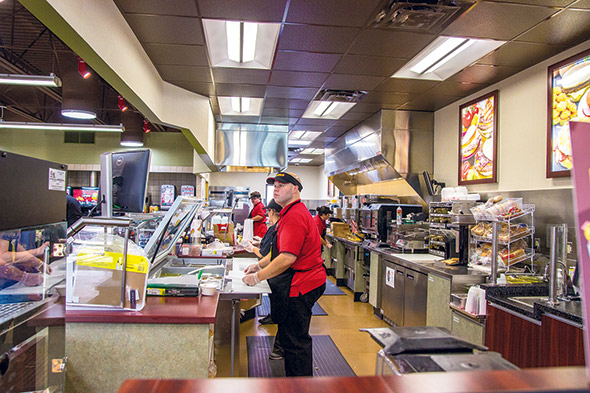 At Rutter's, stores with foodservice tend to have a larger footprint, but surprisingly are not much larger than traditional locations. These consist of a couple fryers, a speed oven and a couple of prep tables.
The retailer also bakes its own bread, cookies and muffins, and makes sandwiches on-site at all of its locations.
About six years ago, Rutter's partnered with a mainline foodservice distributor that has its own lines and provides chef support. The system works well for this c-store chain. Krebs also credits the company's rigorous training program for its success. The staff learn how to order, pull food based on orders from the previous day and determine the amount of thawing time required for frozen items.
"We cross utilize as much as possible to minimize shrink," says Krebs. "We may put something not selling on a hot hold and move it to a case, so we're not just relying on customers to [buy the products in a timely manner]. As a result, our shrink is incredibly low, less than half of the industry standard. This proves how our stores understand volumes, customer patterns and what sells."
Krebs admits that breaking the stigma of c-store foodservice continues to be a bit of a challenge. "Our
offerings don't have to be just roller grill items, fuel and cigarettes. Foodservice is a hard market to break into, and c-stores have the same challenges as others, which is saturation of competition," he says.
Equipment Support
In the c-store channel, smaller footprints and efficient production represent two key equipment attributes.
At Rutter's, stores with foodservice tend to have a larger footprint but surprisingly are not much larger than traditional locations. These consist of a couple of fryers, a high-speed oven and a couple of prep tables.
"When people ask about space for foodservice, I tell them it's easy to fit foodservice into an 11,000-square-foot store, but in smaller locations we'll have to change it up with a couple fryers, stacked speed ovens, microwave, toaster and stacked holding units by the checkout area," says Krebs.
The stackable holding units, which Rutters uses to heat burgers, chicken and other proteins for an hour or less, have set timers and allow the stores to accommodate high volumes by cooking in advance prior to peak periods. Made-to-order kiosks with touch-screens were incorporated into the mix back in 2006.
Like Rutter's, Salt Lake City-based Maverik Inc.'s c-store kitchens include speed ovens, but also utilize pizza ovens, tabletop ovens for bakery products as well as walk-in coolers and freezers. The chain has 315 stores throughout the West. Foodservice comprises 30 percent of sales.
"With equipment, it's all about speed," says Brian Sullenger, category manager for Maverik. "A smaller footprint also is important."
In Des Moines, Iowa, Kum & Go c-stores rely on ovens that provide consistency from store to store that also are programmable for easy use. "Over the past five to ten years, the equipment industry has led with a lot of innovation," says Ben Boulden, senior category manager. "First and foremost, we look for workhorses — equipment that's able to be used for many different food items on the menu and that also is reliable and energy efficient."
Even ultra-small chains like four-store Git'N Go Markets in Clinton, Tenn., continue to move the food needle. Originally known for its hot dogs (stores still sell an average of 30,000 a month), burgers now claim the spot as the top selling food item.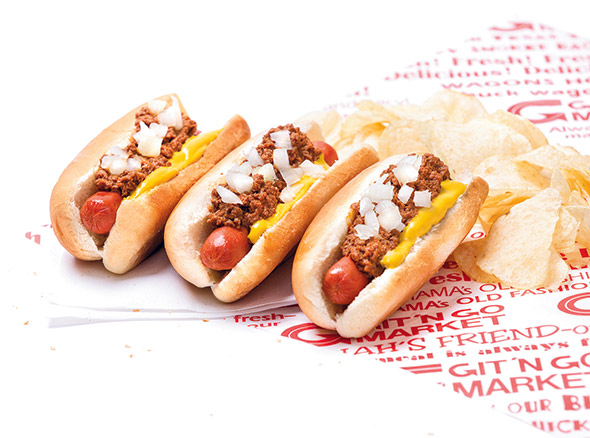 Hot dogs were Git'N Go's top selling item, until they were usurped by the chain's burgers.
"We continually move our foodservice program to fresh, including our ground beef," says William Baine, CEO. "Eggs are cracked, not poured, deli meats are sliced in house daily. And just recently we have moved to baking our own hoagie bread."
A grill serves as Git'N Go's primary piece of equipment, with an oven/proofer combo unit another key piece. "We look for equipment that will automate some portion of the process," says Baine. "For this reason, we have an all-in-one oven/proofer that drastically shortens training time on baking."
A Peek into Kum & Go's Kitchen
Pizza and bakery items are staples at Kum & Go, a family-owned chain of 400 convenience stores.
An open kitchen concept became part of the design with the chain's Marketplace format, introduced in 2016. Customers can easily see the kitchen area as they shop the store.
"Fresh salads were introduced a few years ago and sell well," says Ben Boulden, senior category manager for Kum & Go. "With our 'Marketplace' store format, introduced in 2016, we've begun to include a selection of made-to-order and limited-time-offer sandwiches."
The increased focus on food included ramping up limited time offers, which Boulden says allows for more creativity and signature items. Last year the chain's Chicken & Waffles sandwich LTO became a top seller. Other popular items include seasonal salads, breakfast sandwiches and breakfast burritos.
Kum & Go has seen success with limited time offers, like its chicken and waffle sandwich, which will return with a few tweaks.
"As the lines continue to blur between convenience stores, grocery stores and fast-casual restaurants as a place to grab a fast, tasty meal, many c-stores, including Kum & Go, are stepping up their game on taste, quality and selection," says Boulden. "In years past, c-stores were more focused on having a few simple, key offerings. Now, more and more c-stores have full-blown food programs and dedicated chef teams working on improving existing menu items and developing new ones."
That can mean adding house-made prep to the mix. "One example is our Grande Burritos," says Boulden. "For us to offer a great product, we felt we had to prepare the mixture ourselves instead of buying it premade. This adds another step to production, but gives us a much better product."
"Retailers need to provide experience to get brand loyalty, but may only get a customer two days a week due to other options," says Krebs. "The challenge is being the differentiator."
Channel Perspective
The c-store channel breaks foodservice components into prepared food, commissary, hot dispensed beverages, cold dispensed beverages, and frozen dispensed beverages. These categories combined represented nearly a quarter of convenience retailers' sales in 2017 according to data from the National Association of Convenience Stores (NACS).
"In our industry, foodservice is defined beyond food; it's anything that would be served in a restaurant, plus there is commissary included," says Jeff Lenard, NACS' vice president, strategic industry initiatives.
As cigarette sales struggle and fuel sales remain volatile, c-stores continue to rely on foodservice to save the day when it comes to revenue. In 2017, prepared food made up almost 70 percent of total foodservice sales, while hot dispensed beverages came in second at 14 percent of sales, according to NACS' State of the Industry (SOI) report
Prepared food totaled $411,507 in sales in 2017, up 3.7 percent over 2016 according to NACS' 2017 SOI. Commissary represented just over 5 percent of foodservice in the channel last year, a decrease from 2016. Sandwiches and wraps make up the majority of commissary sales at just over 53 percent, while sides and salads came in second at about 36 percent.
"Retailers that compete in foodservice have to be all in; you're a foodservice operator first, then a retailer," says Lenard.
To a certain extent, says Lenard, QSRs are looking like c-stores in terms of how items are being bundled. "There are plenty of convenience stores with QSRs attached," he says. "But c-stores that don't [have one] also can have multiple types of hot programs, grab-and-go offerings and other items."
C-stores have long taken advantage of the coffee category, and the majority have become destinations for this beverage by commuters looking to gas up their cars or grab packaged food items to go. NACS' SOI report reveals that coffee continues to lead the hot dispensed beverage category at c-stores with close to 60 percent of sales, followed by cappuccino at 18.5 percent and coffee refills at just over 12 percent. Due to the highly competitive environment for these items, however, sales growth in this category was just .7 percent in 2017.
Cold dispensed beverages continue to be a strong seller, with cold brew coffee and frozen blended beverages leading the way. NACS reports gains in this category in sales, gross profit dollars and gross margin percentage from 2016 to 2017. Carbonated drinks lead the segment, with almost 63 percent of sales, an increase of 3.18 gross margin percentage points. Other cold dispensed beverages that led the category with a combined 15 percent of sales included iced coffee, iced cappuccino, iced latte and cold brewed coffee.
One category that was lacking salewise in c-store foodservice last year was frozen dispensed beverages, which makes up 4.7 percent of foodservice dollars, according to NACS. From 2016 to 2017, the category decreased in both sales dollars and gross margin percentage points, however average store sales grew 5.2 percent. Healthier frozen beverages are at the forefront of trends for these products.
C-store Equipment
Heated Display Cases
In terms of size, most units are 48, 60 or 72 inches wide and between 24 and 36 inches deep. These units typically feature between one and three shelves to display food.
While shelf merchandisers offer greater versatility, smaller snack merchandisers tend to be a better fit for front of the counter offerings.
Merchandisers come in a variety of different decor options and include base and bumper colors, various shapes and a selection of profiles for the case and base. Some manufacturers offer accessories geared to enhance the unit's efficiency, such as shelves for scales or packaging; containers or rails to hold tongs, thermometers and other accessories; or built-in thermometers for measuring food temperature.
Typical items c-stores display in these units include cooked proteins, like whole chickens, fried chicken, turkey breast and ribs as well as side dishes such as mashed potatoes, french fries, mac and cheese, and vegetables.
To help determine the type and size of a unit, evaluate the menu items that will go in the merchandiser. Also, look at the different product by daypart. A common mistake is specifying a merchandiser that is too large.
Roller Grills
C-stores need to look at the roller grill's dimensions and capacity to ensure it can handle the volume. Widths vary between 10 inches and 36 inches. This equipment can handle as little as 8 or as many as 75 hot dogs at a time.
Roller grill equipment manufacturers will specify an estimated per-hour capacity in addition to the at-a-time capacity.
Options include flat or mounted bars, the latter of which creates a slant for merchandising and easier accessibility; the design of corral-style units with smaller bars and flat surfaces retain hot dog juices and generally have stainless steel instead of chrome; a finish that is coarse for better gripping, and non-stick rollers.
Electronic or manual controls are available. The more affordable manual units tend to prove more popular but electronic control variations often include time cycles, provide more consistent temperatures and have features that monitor product cooking.
C-store retailers may want to consider bun storage and warmer units, either as a separate purchase or as a component of the roller grill.
Carbonated Beverage Machines
One of the most common mistakes in specifying beverage dispensers in the convenience channel is undersizing or oversizing the unit. Knowing the peak demand stats will guide the buying decision as to proper size and the appropriate number of dispense points.
For self-serve units, merchandising capabilities are typically an afterthought, but should be carefully assessed at the store level. Lighted signage can help encourage c-store impulse sales.
Ice maker dispensers ratings reflect a 24-hour period vs. a more common operating cycle of a busy-then-slow-then-busy c-store environment. C-store retailers need to make sure ice makers and dispensers match the expected peak volume.
Remember to carve out space for storing bag-in-box syrup, which feeds the unit.