Food and nutrition are crucial components of both cancer treatment and prevention. That notion became a driving force for the creation of the Mobile Education Kitchen, which marries the functions of a food truck with the showmanship of the Food Network. The vehicle combines food and nutrition education in a mobile format specifically equipped and branded for The Ohio State University Wexner Medical Center's (OSUWMC) James Cancer Hospital and OSUWMC Nutrition Services.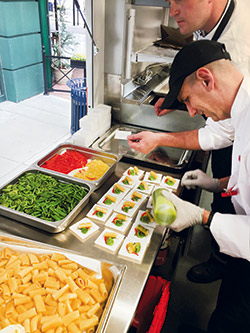 Derek Paradise, sous chef, prepares plant-based menu items."The concept of the Mobile Education Kitchen is to take our knowledge and expertise out on the road and get in front of as many people as possible to help educate on a multitude of subjects including healthy eating, recipe makeovers, and quick-and-easy preparation tips and tricks," says Drew Patterson, culinary director, Nutrition Services.
The vehicle supports community fairs and network-affiliated hospitals and will accompany the medical center's mammography vehicles as requested. Currently, private groups can request the vehicle. The James fundraising efforts, specifically the Celebration for Life event, cover related costs. Consumer interest has been high, with 30 event requests in the first 3 months of the program, and Patterson anticipates participating in up to 100 events before the end of 2018.
"We have been doing community and garden education for many years," says Julie Jones, director of OSUWMC Nutrition Services. "This vehicle makes the process simpler and literally mobile so we can support audiences large and small and use onboard cameras and audio technology to extend the audience through video feeds to remote locations and patient rooms."
The 30-foot-long, 8-foot-wide full-service demonstration vehicle is equipped with internal cameras that show those on the outside what's happening inside. Viewers watch on the two 3-feet-wide by 2-feet-high monitors outside the vehicle. The vehicle includes two seats, one for the driver and the other for a co-pilot, often a dietitian or chef/culinary educator. A chef and dietitian attend most events and customize a live demonstration for the group that requests the vehicle.
The Mobile Education Kitchen operates as a by-request education center on wheels. The vehicle holds a four-burner range, a charbroiler, a flattop griddle, a convection oven, a cold food prep table, an upright refrigerator, an upright freezer and a three-bay sink.
At some locations, a 20-foot long by 8-foot wide canopy can extend outside the truck. People watching the demonstrations can sit under the canopy.
"The mobile kitchen was built with ultimate flexibility in mind," says Michael Folino, associate director, OSUWMC Nutrition Services. The vehicle contains a four-burner range, a charbroiler, a flattop griddle, a convection oven, a cold food prep table, an upright refrigerator, an upright freezer and a three-bay sink. The sink allows the vehicle to meet food code, but guests at most sites receive compostable disposables, limiting the need for full warewashing. A 40-gallon water tank sits on the vehicle, which staff fill at OSU's transportation hub. A generator powers the vehicle's equipment and heats its water.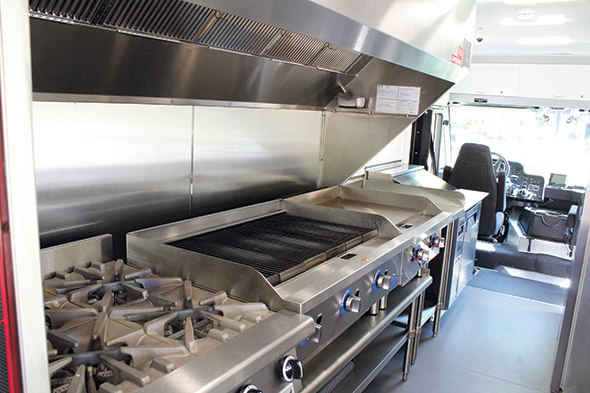 "The kitchen equipment on the vehicle operates on compressed natural gas, which is cleaner than propane," says Jim Warner, program director, health and wellness, OSWUMC Nutrition Services. "The generator is built into the bottom of the vehicle so we don't have to run the vehicle's engine during demonstrations. This reduces the background noise."
A Plant-Based Menu
The mobile kitchen's menu and education outreach focuses on healthy diet choices, including plant-based foods. "The foods have cancer-fighting and other healthful properties," Folino says. "It's important that individuals can prepare these foods at home. So, we tailor menus to individuals who may have limited kitchen and cooking skills. For example, we don't use a $600 mixer that most people in the groups we're presenting to won't purchase. We tailor each event to the individuals attending."
A chef and/or dietitian in the vehicle hands out recipes and preparation tips. "There's a whole generation of people who don't know how to cook," Warner says. "So, we start with basics, such as knife skills and how to read a food label, and we progress into showing people how to prepare fresh food. For instance, we explain why certain techniques, such as soaking beans overnight, maximize the nutritional content of foods. If you cook beans from a dry state, they split. If we soak them, they absorb water, and it's easier for them to cook."
"We see the need to eventually get another vehicle for the greater community," Warner says. "The flexibility of mobile kitchens is important at a time when every bit of real estate in healthcare is heavily used. The vehicle needs a parking spot and potentially some storage support but not a full kitchen."
This vehicle complements a two-acre garden on the university's agriculture campus where cancer survivors attend demonstrations three days a week and select product they want to take home. Other gardens include Ross Community Garden and Growing Wellness Garden at CarePoint East.
The vehicle supports the plant-based menus that have been featured in the main BistroOH! dining room since July 2017 following a pilot program first rolled out at the OSU's Ross Heart Hospital. Ravi Tripathi, MD, an anesthesiologist, initiated the pilot program, and Food and Nutrition Services expanded it to other operations.
The Hospital's Mission The Ohio State University Comprehensive Cancer Center (OSUCCC), which includes the Arthur G. James Cancer Hospital and Richard J. Solove Research Institute (OSUCCC – James) is a National Cancer Institute–designated comprehensive cancer center aligned with a nationally ranked academic medical center and a freestanding cancer hospital on the campus of a public university. The focus of care centers around the fact that cancer is no longer defined solely by stage and location (e.g., stage 3 breast cancer) but rather by its biologic and genetic makeup, according to the center's website, which further states, "There is no routine cancer — it is different in each person. Working together and utilizing state-of-the-art facilities and technology, clinicians and researchers at Ohio State are speeding the development and delivery of treatments that target the molecules and markers fueling each person's unique cancer."
The Future Teaching Kitchen
Another offshoot of patient education will open in the fall of 2018 when The James opens its teaching kitchen. "As we were developing concepts, we asked ourselves, 'What if patients who felt good but couldn't go home had somewhere to learn?' " Folino says. "What if families could come in and have somewhere to spend time together and potentially prepare foods to take home with them?"
That led to creating a space where the Food and Nutrition Services staff could take time away from the day-to-day patient routine and provide a service unrelated to their healthcare needs. "We will work with staff to identify patients who would like to utilize this service and sit with them to customize an experience for them and possibly their family," Folino says.
The intent is to use commercial kitchen equipment that looks and performs like residential equipment to reflect a typical home kitchen. A small dining table will allow participants to sit and enjoy the fruits of their labor together when finished. The kitchen will also include audio-visual equipment so patients can take a recording home. "We will also have a large viewing window so passersby will be able to view what is going on inside the kitchen and hopefully spread excitement about this experience," Folino says.
Key Players
Owner: The Ohio State University James Cancer Hospital and Richard J. Solove Research Institute (OSUCCC – James)
Executive Director, Patient Services and Chief Nursing Officer, OSUCCC – James: Kris Kipp
Director, Nutrition Services at The Ohio State University Wexner Medical Center (OSUMC): Julie Jones, MS, RD, LD
Culinary Director, Nutrition Services: Drew Patterson, CEC, CCA
Program Director, Health and Wellness: Jim Warner
Culinary Educator: David Brue, CCC
Associate Director: Michael Folino, RD, LD
Kitchen Equipment Dealer: Trimark SS Kemp,
Columbus, Ohio
Truck Fabricator: Farber Specialty Vehicles, Columbus, Ohio
Manufacturers' Rep Firm: Zink Foodservice, Columbus, Ohio
Facts of Note
Opened: May 11, 2018
Scope of Project: A full-service demonstration vehicle with cooking equipment and internal cameras that project onto two monitors outsideof the vehicle. Monitors are 3 feet wide and 2 feet high.
Size: 30 feet long and 8 feet wide
Seats: Two seats, one for the culinary educator, who also serves as driver; the other seat is for a co-pilot, dietitian or chef
On-Site Visits: Up to 100 events per year
Hours: No set times; event planners request the vehicle for a function, community event or fundraiser that supports the mission of The James or the medical center.
Menu Specialties: Menus focus on plant-based foods that support a healthy diet and cancer prevention. Chefs demonstrate cooking techniques individuals can use at home. Menu items include vegetable broth with parsnips and julienned peppers with haricot beans. Other popular items include plant-based proteins, such as hummus and power bowls. Menu planners emphasize fiber and vegetable proteins that pack a powerful nutritional punch.
Staff: One culinary educator with support from other Wexner Medical Center staff dietitians and chefs
Total Project Cost: $260,000 for vehicle and equipment, funded by a philanthropy
Website: https://cancer.osu.edu