Sliced, diced, shredded, spiralized, juiced — no matter how foodservice operators use or serve it, fresh produce keeps growing its presence on the plate. Trends like plant-forward menus, farm-to-table concepts, vegan and vegetarian diets, clean eating, and whole foods continue to flourish. And that means more produce coming in the back door — cases and cases of it, all needing to be kept cool, trimmed, washed, drained, processed, prepped and stored again before service.
Designing well-equipped kitchen stations to handle nature's bounty starts with thinking about just that type of linear flow. The first critical step is refrigeration. For best quality, shelf life and food safety, produce must spend as little time as possible outside of refrigeration.
"When we look at vegetable prep, or produce prep in general, we always try to position a walk-in cooler as close as possible to the receiving doors, and the prep station, in turn, as close as possible to the cooler," says Chris Wair, design principal at Indianapolis-based Reitano Design Group. "It might seem obvious, but it's amazing how many times we see kitchens set up where people really haven't thought that through. And when that's the case, you very often see cases of produce being stacked and left out for extended periods before being put away.
As farm-to-table and local sourcing trends become more mainstream, many operators need to rethink their produce receiving areas in addition to prep stations, both of which require more space. Products arriving in bulk from smaller farms, for instance, which may not have sophisticated washing and packing capabilities, could arrive with a lot of dirt in flimsy, conventional boxes. Having a washing/cleaning/storing station near the receiving area can be important for dealing with such products and getting them into refrigeration as quickly and cleanly as possible.
With greater awareness of produce-related food safety issues and rising pressure to control costs, many operators get the "keep it cool" message and plan their facilities to make it easier to accomplish this. For example, one large noncommercial foodservice operator recently inquired about the possibility of designing a produce prep station directly inside of a walk-in cooler as part of a new facility buildout, notes Mike Browne, senior project manager at Webb Foodservice Design. "They wanted to be able to store the produce in the same room where it's being processed, much like many meat-cutting operations do," he says.
Cost and issues related to sanitation and employee comfort, as well as logistics of incorporating water and power sources into the walk-in, prevented the idea from coming to fruition. But Browne predicts interest in such dual-purpose rooms could grow in the future. And the Webb design team was able to develop a workable Plan B for this particular client.
"We ended up taking the same space that would have served as the combined cold box and prep room and cut it in half," Browne says. "One half will be a dedicated walk-in cooler for produce, and the other half, just outside that walk-in, is a prep room that will be cooled through the HVAC system and kept at temperatures in the low 50s."
Design for Efficiency, Ergonomics
Beyond being in or near refrigeration, stations designated for produce prep must also be large enough to accommodate efficient staging and processing of large volumes of bulky products. That includes washing.
High-volume operations often tap automated, large-capacity fruit and vegetable washing, spinning and processing equipment to speed production and reduce labor. In contrast, a typical kitchen requires an area with core components that include a large stainless steel prep table, sinks, enough space to stock necessary supplies and equipment, waste containers for trimmings and easy access to outlets for powering processing equipment.
"We designate as much real estate as possible in a given kitchen because vegetable prep requires a lot of space," Wair notes. "If possible, we like at least a 10- or 12-foot prep table with a knife rack in it or on the wall above it. And we'll often include brackets or runners in the table that can hold 24-inch cutting boards which, like the knives, should be color-coded and only used for produce. You don't want employees having to go all over the kitchen trying to find the tools they need. We always try to include two sink bowls at the station — ideally, 24 by 24 inches and 14 inches deep with a drain board. You need a large volume of water to properly clean produce and allow the dirt to fall away. Whenever we can, we also include a prerinse faucet, like those used in dish stations, which gives you the opportunity to rinse the products properly before getting to the actual washing and cutting processes."
In stations designed for produce prep, Wair also recommends foregoing a garbage disposal in the sink in favor of trash containers for collecting trimmings. "A disposer makes a sink useless as a wash sink," he notes. "If you're using it as a disposer, you can't fill it with water and float your produce for cleaning. And a lot of operators also now prefer to collect and somehow recycle food waste and trimmings as part of their sustainability programs."
It's also helpful to incorporate ergonomics at the front end of produce prep station design. "Coming right out of the cooler, I like to have a 24-inch or so area of the prep table that's lower than the rest," says Wair. "It serves as a staging area for produce boxes or large bags and makes it easier and more comfortable for employees to repeatedly reach in and access product. If you can't build it right into the station, a lower cart that can be rolled up to the table can substitute."
Following produce prep, at the far end of the station, Wair recommends transferring product into deep, see-through polycarbonate storage containers with perforated bottoms that allow any excess water to drain off. Additionally, he suggests storing those containers on speed racks in the cooler. Doing so clearly separates prepped produce from unprepped produce. That makes it easy and efficient for employees to bring products out of the cooler, load them onto a cooking station and wheel them back into the cooler without making multiple trips.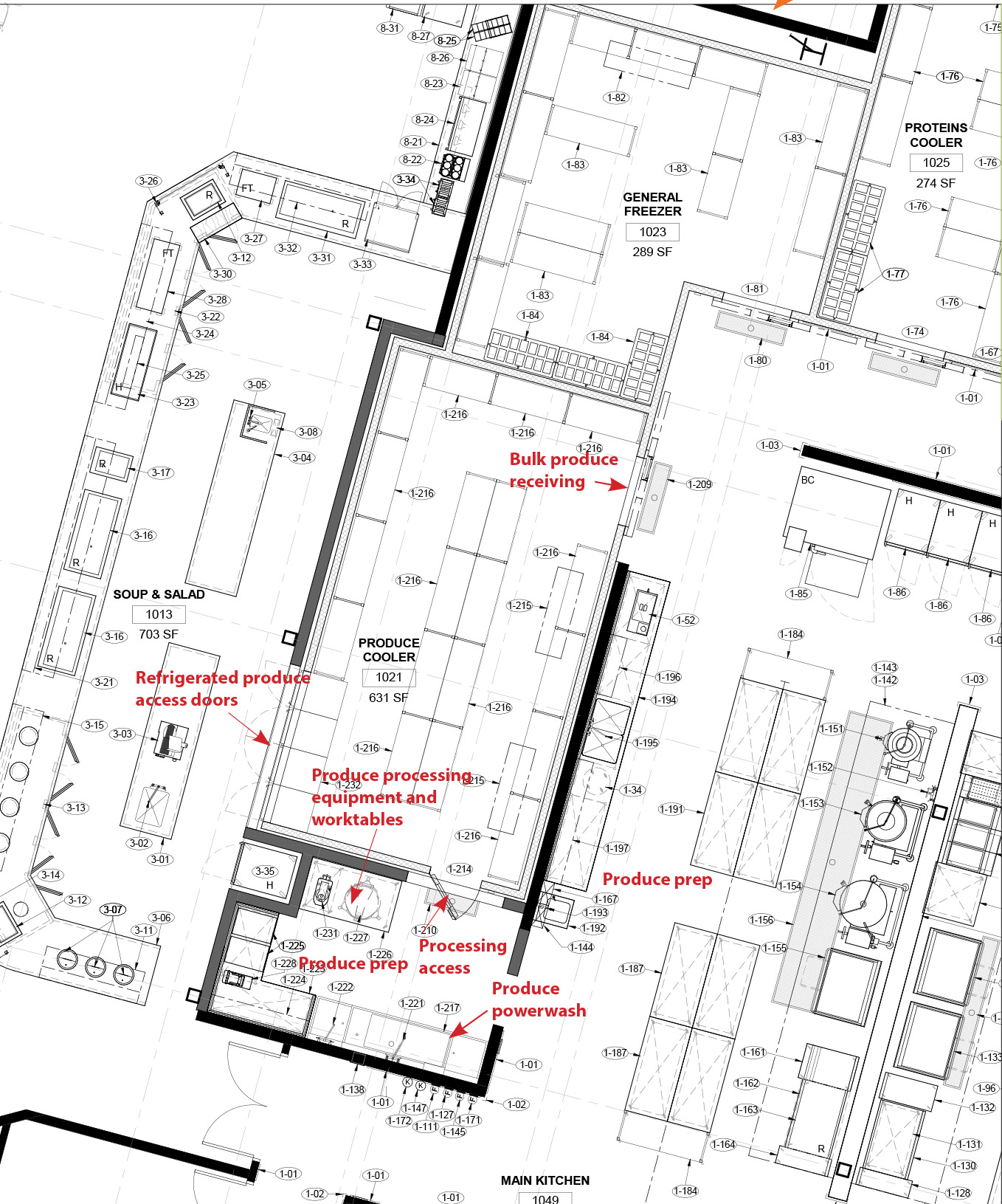 In a recent new-build project for a large noncommercial foodservice operation, consultants added a produce prep room adjacent to a designated produce cooler. The room is cooled through the HVAC system to roughly 50 degrees F to help maintain produce quality and safety during processing. Image courtesy of Webb Foodservice Design
Design and Prep for Safety
Courtney Barton, a former Hyatt Hotels chef and current corporate chef at Chicago-based specialty distributor Testa Produce, notes that handling produce properly and safely hinges on a combination of a well-equipped station, diligent training and careful operations. She stresses the importance of refrigeration, segregation and sanitation and suggests looking to the hotel kitchen model for guidance.
Hotel kitchens typically physically segregate the garde manger, or cold prep station, from protein prep stations to avoid cross-contamination and transfer of potential allergens. Cold prep also sits near the cooler and away from heat sources in the kitchen to help preserve product quality.
Barton adds that prep staff training in every foodservice kitchen should follow strict handling procedures to ensure produce safety and quality. That starts with taking only a case or two of product out of refrigeration at a time, prepping that, refrigerating it and then bringing more out. And employees should have easy access to the right tools, which also should be segregated from those used in other stations.
---
Safety First: Storage and Prep Tips
Store raw, whole produce and raw, cut vegetables packed in ice as they are. Containers must be self-draining, and ice should be changed regularly.
Don't wash most bulk produce before storing it as moisture promotes mold growth.
Store cut melons, cut tomatoes and cut leafy greens at 41 degrees F or lower.
Avoid cross-contamination by storing produce away from and/or above raw meat, poultry and seafood.
Wash produce thoroughly under running water before prepping. The water should be slightly warmer than the temperature of the produce.
When soaking or storing produce in standing water or ice baths, don't mix different items or multiple batches of the same item.
Make sure fruits and vegetables don't come in contact with surfaces exposed to raw meat, poultry and seafood. Prep produce away from designated prep areas for these items.
Clean and sanitize surfaces, sinks, utensils and equipment that staff will use to prep produce. This includes knives and cutting boards.
Source: National Restaurant Association/ServSafe
---
10 Tools for a Well-Organized Produce Station
1. Single-use food-handling gloves
2. Sanitation buckets and supplies
3. Knife rack
4. Drawer or containers for smallwares (peelers, corers, etc.)
5. Cutting boards (color-coded green)
6. Cutting board storage rack
7. Salad spinner(s)
8. Food processor(s)
9. Stackable polycarbonate storage containers
10. Labeling supplies