The kitchen is a hot spot on university campuses across the nation — as well as in corporations, retirement centers, hospitals, food halls and other public spaces. And we're not talking the familiar behind-the-scenes, back-of-the-house commercial kitchen where chefs and cooks do their thing. Rather, these emerging hot spots are kitchens designed and built as teaching facilities, where education, engagement and community building around food are primary objectives.
The concept itself isn't new: Many campuses and other institutions have long featured some version of a demo or exhibition kitchen or station, often utilized for training, guest chef appearances and other food-focused special events. What's newer is their growing popularity and the increased focus on interactive, hands-on programming that supports goals such as healthy eating, teaching cooking fundamentals, team building and cultural bridge building through food.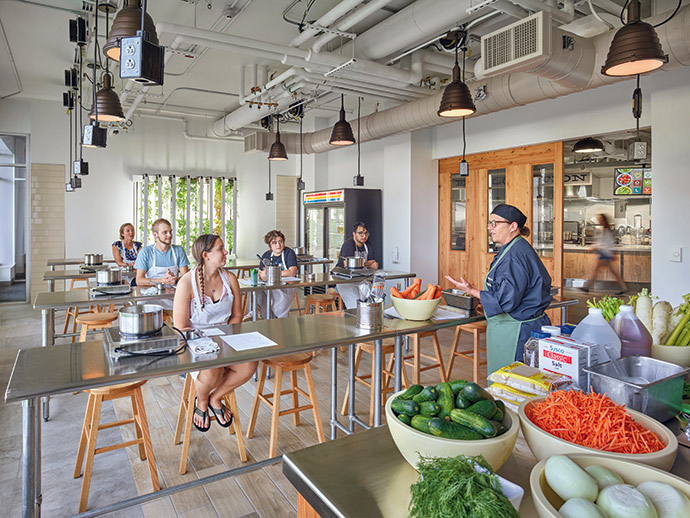 Discovery Kitchen at the University of Vermont occupies a separate room off the dining hall. It can open to incorporate into a regular servery station during meal periods or close off via sliding barn-style doors during teaching kitchen classes and events. Photo courtesy of Ricca Design Studios
Northeastern University in Boston, for instance, has touted a state-of-the-art "Xhibition Kitchen" since 2004. Created in conjunction with the renovation of the Stetson West residential dining hall, the space features overhead cameras that project onto high-definition screens. The basic setup includes induction cooktops, granite-topped counters and round tables for classroom-style seating. Since its opening, Northeastern has hosted nearly 500 chef demonstrations, cooking classes and interactive display cooking events with local and national celebrity chefs and cookbook authors. A member of both the Menus of Change University Research Collaborative (MCURC) and Teaching Kitchen Collaborative (TKC), the school also hosts student groups throughout the year, with events ranging from healthy eating tutorials to an overview of campus dining operations.
Taking its mission to engage and educate students around food to a higher level, Stanford University's
Residential & Dining Enterprises partnered with the Jamie Oliver Food Foundation in 2015 to create The Teaching Kitchen @ Stanford. It offers a popular nine-week course based on a customized version of Oliver's Cook Smart Program curriculum, which focuses on basic culinary skills and nutrition education. Stanford also hosts faculty and staff cooking classes in this space and collaborates with academic departments, from chemistry to humanities, to provide a laboratory setting for courses with food-related themes.
Stanford, too, is part of both the MCURC and TKC, the latter being a network of thought-leading organizations with existing and/or planned teaching kitchens. Launched in 2016, the TKC is jointly led by The Culinary Institute of America (CIA) and the Department of Nutrition at Harvard T.H. Chan School of Public Health. Its premise: Teaching people about food, nutrition and cooking in a small-group, hands-on setting can be a powerful catalyst for enhanced personal and public health. The collaborative offers a variety of resources and guidance to organizations looking to add teaching kitchen initiatives (information at www.tkcollaborative.org).
Small Spaces, Big Impact
The goals aspired to and value created via teaching kitchens may be big, but the spaces themselves need not be. The Teaching Kitchen Collaborative outlines four basic options, depending on program goals, desired curriculum, available space and budget:
1. Mobile Cart: A portable and self-contained unit with a simple cooking element and access to power suitable for simple demonstrations.
2. Modular/Pop-Up Kitchen: A temporary teaching kitchen set up within an existing commercial kitchen or other available room with sufficient space for workstations and access to power, ventilation, water and storage.
3. Pod or Container Kitchen: A self-contained, mobile kitchen (i.e., built from a shipping container) that can be transported via trailer or truck and that typically contains a generator as well as water and waste tanks. Such kitchens offer versatility and the ability to service multiple campuses/locations but require suitable outdoor spaces in which to operate.
4. Built-In Kitchen: A dedicated, permanent kitchen space designed and equipped for full-service operation, ongoing teaching of larger groups and the hosting of educational cooking and team-building events on a recurring basis.
An increasing number of noncommercial foodservice organizations now make the investment in built-in kitchens, says Lenny Condenzio, chief operating officer and executive principal at Ricca Design Studios. "You don't need a lot of square footage to do a very effective and inviting teaching kitchen," he says. "Six hundred to 800 square feet is plenty. It can be a separate room or a portion of a room that can be closed off as needed, often adjacent to a dining hall or servery, which creates efficiencies for storage, etcetera. We've even designed a teaching kitchen element directly into a serving line."
That project, at Kansas State University's Kramer Dining Center, features a fully equipped teaching platform dubbed The Plate. It hosts classes and culinary workshops taught by dining services' staff and guest chefs and provides food and wellness programming for residence hall students.
"They didn't want to dedicate a whole room for it, so it's integrated into one end of the servery. It has enough space to pull tables up in front when desired," Condenzio notes. "When there's a class or a demo doing on, a video camera positioned above the line projects the activity onto big screens overhead. Otherwise, the screens are just used for other communication or merchandising purposes. However you're configuring it, you don't want to design a space that will only be used a couple of times a week," Condenzio cautions. "Flexibility and adaptability are important."
Another recent Ricca project, at the University of Vermont, incorporates a teaching kitchen in the newly renovated Central Campus Residence and Dining Hall. Dubbed Discovery Kitchen, the space provides experiential culinary education focused in three key areas — health, culture and sustainability — and familiarizes students with where their food comes from and how to prepare it. A separate room off the dining hall, it can function as part of the regular servery station during meal periods, or staff can close it off via sliding barn-style doors during teaching kitchen events.
It, too, is small — less than 800 square feet — with rows of prep tables and stools, induction burners with drop-down power connections and space for approximately 20 students.
That capacity jibes with recommendations from Rebecca Oetjen, facilities project manager at the CIA in Hyde Park, N.Y., which has 42 teaching kitchens across its campus. They range from multipurpose kitchens where classes such as Culinary Fundamentals take place, to bakeshops, restaurant and production kitchens that serve students and the public alike and double as learning labs.
"Our classes have a maximum of 20 students, each with their own workstation," Oetjen says. "The average teaching kitchen for a class like Culinary Fundamentals will be 600 square feet and allows for individual workspaces roughly 24 by 36 inches, with cutting boards and room for their mise en place. We also have banks of ranges with two students working together to share burners."
While many of the CIA's kitchens include specialty sections for instruction in things like meat fabrication and pastry arts, Kari Kinder, manager of equipment and materials, says there's an increasing focus on versatility.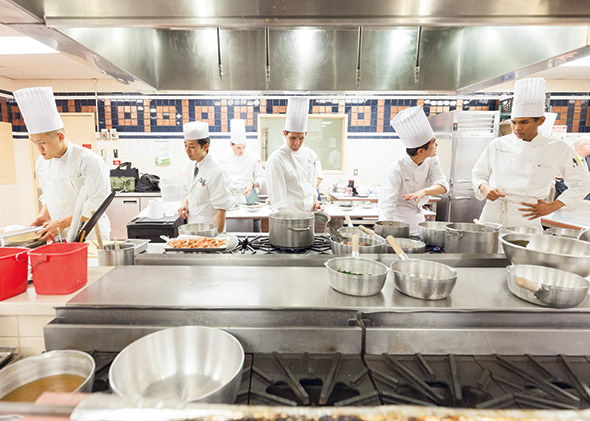 The average kitchen for teaching basic culinary fundamentals at the Culinary Institute of America's New York campus is 600 square feet, where students share banks of ranges. Photo by Phil Mansfield
"That speaks to design, but even more importantly to equipment," Kinder says. "As we renovate and move forward, all kitchens must now include three key pieces to give us maximum efficiency and versatility: blast chillers, combi ovens and a pressurized skillet or kettle. In addition to these core items, we typically have open-burner ranges, a plancha and pizza oven. With that mix, we can teach the vast majority of the required curriculum."
On the design side, Kinder adds that the culinary school's mantra of mise en place — "everything in its place" — is critical. Students and instructors need sufficient and convenient access to ingredients and tools at workstations. "And they shouldn't have to waste class time figuring out where things like garbage, foils, wraps and gloves are, or getting to those supplies," Kinder says. "Everything needs to be well organized, easy to get to, and the instructor needs to have a clear line of sight to every station."
Design for Flexibility, Adaptability
Whether designed to teach advanced culinary techniques to future chefs or cooking basics to college seniors, adaptability represents an important attribute every teaching kitchen should have. To that end, Condenzio and Oetjen advise thinking carefully up front about how the space might be used and what types of programming could be offered.
Will it be primarily used for demos? Will programming include hands-on prep and cooking by students, necessitating individual or shared cooking stations? Will classes/presentations be televised or recorded? Can the kitchen tap common storage areas, particularly refrigeration, or will its location and programming require dedicated storage and cooler space?
"It's a lot easier and less costly to design for these things from the beginning than to go back in later and retrofit to accommodate additional types of programming," Condenzio cautions.
That's a lesson that staff at the University of Missouri learned. Its 660-square-foot Culinary Development Kitchen (CDK) was built as part of a 2014 dining hall renovation. Executive Chef Eric Cartwright notes that programming offered through the CDK has been hugely popular and that the variety of ways staff use it has grown.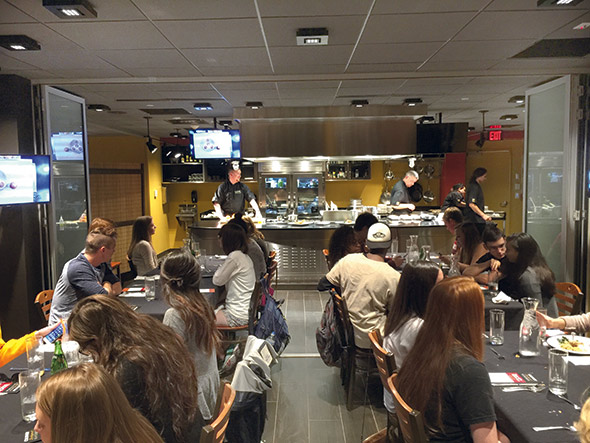 Students enjoy the programs at the University of Missouri's teaching kitchen. Two popular events include the Culinary Discovery Series dinners and hands-on Culinary Nutrition Series cooking classes. Photo courtesy of the University of Missouri
"Initially, we didn't have a clear idea for programming," Cartwright says. "We knew we wanted to use it for testing recipes, training employees and demo-style teaching events. It serves all those purposes, but it has also evolved to include our Culinary Discovery Series dinners, which serve up to 32 attendees, and our new Culinary Nutrition Series cooking classes, which include hands-on cooking and are limited to 12 participants."
Designed to look like a commercial kitchen with a residential aesthetic, the CDK's equipment battery includes a charbroiler, refrigeration, two induction burners, a gas range and two convection ovens in a custom island suite. On top of the roughly $100,000 cost of the kitchen itself, Mizzou invested roughly $40,000 in AV equipment, including remote-controlled cameras that project all of the action onto multiple TV screens.
While it performs beautifully and meets most programming needs, Cartwright says he sometimes wishes the kitchen was designed to enable more people to gather around the stove. And now, as students perform more hands-on prep work, he is looking into purchasing tables that adjust from dining height to counter height.
Consider the Audience
As with commercial kitchens, teaching kitchens must have sufficient ventilation, power and water to support both instructor/chef needs and the needs of students for cooking activities. Beyond that, their design should be relevant to the audience.
The CIA requires commercial-style kitchens and equipment for its culinary student base. Other teaching kitchens, such as those serving a general, non-culinary population, are best designed with residential-style equipment, according to Condenzio. "That's been a key learning," he says. "The equipment use in class should approximate in scale what attendees may be using at home to apply what they've learned."
Considering the audience also extends to thinking beyond those physically attending teaching kitchen events. That's where designing for audiovisual capabilities comes in, and it's an important consideration in the age of social media and YouTube. Integrating cameras, video screens and recording equipment is critical in this regard, but so is a strategic approach to lighting, acoustics and materials selection. Popular commercial kitchen choices such as stainless steel and subway tile, for instance, are too shiny and reflective to work well during filming.
Ricca's design for a new teaching kitchen at Ohio University's Jefferson Marketplace illustrates an approach that checks both the residential and media boxes.
"It's designed to be camera ready," Condenzio says. "The hood is up and out of the way, and the cabinets and refrigerator are finished in wood veneer to avoid issues with reflection. The tiles on the back wall are dull for that reason too. The equipment is all residential, and the ceiling is exposed with pipes for hanging video camera connections and lights. It's within a large marketplace operation, adjacent to a New York-style deli station, and is visible to people outside through window walls. But when you're in the room, it's pretty much soundproof."
Yet another audience-driven consideration when selecting teaching kitchen equipment: the microwave. "We're so often focused on the traditional front range, oven and refrigerator, but college students, in particular, are comfortable with a microwave, and there's a lot you can do with it. At Ohio University, that's something we went back and decided to include for that reason. It's kid friendly and appropriate for the audience."