Wood-fired cooking is hot, both literally and figuratively. The cooking method that was once used strictly for pizza now shows up all across the menu, from appetizers to desserts. Placing a wood-fired oven on a cookline visible to diners adds the one-two punch of eye-catching drama and subtle, smoky flavor overtones. Simply adding one piece of equipment could provide chefs with nearly limitless opportunities for menu expansion.
Customers know and like wood-fired cooking, according to food industry market research firm Datassential. Forty-three percent of consumers surveyed for its Menu Monitor report say they either "like" or "love" wood-fired foods. Because of that, the term "wood-fired" shows up on 16 percent more menus than just 4 years ago, according to Datassential. Even with that increase, the survey found it's still comparatively rare on menus, showing up on just 2 percent of menus overall and only 3 percent of casual-dining restaurant menus.
Trendsetter
Located in the trendy West Loop area of Chicago, Bad Hunter bills itself as a "vegetable-forward" restaurant, which might seem like a bit of an odd place to find a wood-fired broiler. But Executive Chef Dan Snowden says that while Bad Hunter uses wood-fired cooking for its chicken and steak dishes, the technique really shines in vegetable cooking. "We do some direct, high-heat grilling of carrots and mushrooms," he says. "We also do some charring of vegetables in the actual embers of the fire."
Chicken and steak are popular wood-fired options at Bad Hunter. As with many chefs, Snowden's love of open-fire cooking harkens back to his youth. Recalling his time as a Cub Scout, he says, "I loved wrapping up a baked potato in aluminum foil and throwing it right into the fire. I think it really imparts an incredible flavor that you can't really get from any other way."
Part of the reason vegetables take so well to wood-fired cooking has to do with basic food science, Snowden says. With meats, he explains, "it's difficult to impart smoke because it has to get through all that fat and into the moisture. But a mushroom has a negligible amount, if any, of fat and is 90 percent moisture. So, all that smoke gets absorbed, and it translates amazingly on the plate."
Snowden uses a 36-inch wood-fired broiler with an adjustable cooking grill on a hot line, which he describes as "very small" at about 10 feet in length.
The Concept
At the 45-unit Firebirds chain, wood-fired cooking is more than just a technique. It's actually part of the chain's name: Firebirds Wood Fired Grill. "We have built a concept around it," says Steve Sturm, Firebirds' corporate executive chef. "We believe that it adds to the energy of the building." That energy starts even before the patron enters the restaurant, as the aroma of the wood-fired grill wafts into the parking lot. "Eighty percent of what you taste comes from your nose," he says. "It really sets a nice expectation even before you come in the door."
The "From the Wood Fired Grill" category on Firebirds' menu includes such items as slow-roasted prime rib and a chili-rubbed Delmonico steak. The chain's No. 1 seller is a wood-grilled salmon with Key lime butter. Firebirds also grills the shrimp and chicken that go into the salads.
The wood fire imparts flavor to individual ingredients, Sturm says. "For our vegetarian black bean soup, we'll take all the vegetables and grill them over the wood-fired grill so that you don't have to put in bacon to give it smokiness. It comes naturally from the wood-fired grill."
Each Firebirds' unit has a grill ranging in size from 57 to 72 inches. On the larger grills, one-quarter of the grill surface functions as a resting area to let proteins stand after cooking, so the juices redistribute throughout the meat. For the smaller grills, the proteins stand in a resting pan next to the grill to maximize the useable cooking area.
Going Haywire
Everything's bigger in Texas, and Haywire is no exception. Multiconcept operator Front Burner Brands operates this 580-seat, 3-story restaurant, which serves locally sourced "Texas comfort food." The first floor is a whisky lounge, and the second floor features the kitchen and main dining area. The top floor is an outdoor seating area with an Airstream trailer as the main attraction.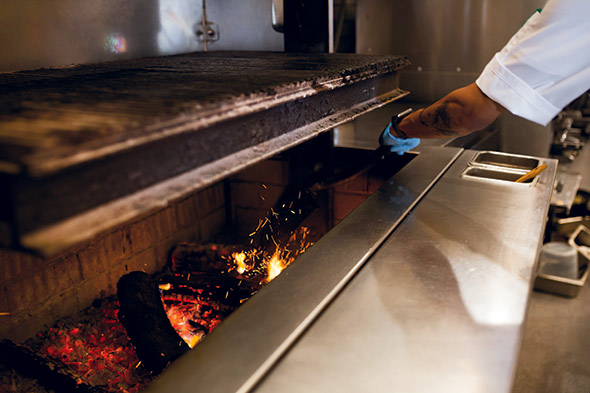 A wood-fired charbroiler serves as the focal point of Haywire's cookline.
At Haywire, a wood-fired charbroiler serves as the focal point of the cookline. "We really use it for all our grilling except steaks," says John Franke, Front Burner's corporate chef. Culinary staff cook all other proteins, such as chicken, skirt steak and hamburgers, on the grill. The same applies to vegetables. "Our salsa is a smoked tomato poblano salsa," he says. "When we're starting up the grill in the morning with all the mesquite wood, that generates a ton of smoke. We throw all the tomatoes and poblanos in there, and that becomes our de facto smoker for those vegetables."
Besides the drama that an open fire lends to the dining experience at Haywire, Franke likes wood-fired cooking due to the flavor complexity it adds to dishes. "Go to a restaurant that has gas grills, and you basically get black hash marks. There's no added intense flavor." A wood-fired grill, he says, "flares up every now and then. Especially when you get into breads and vegetables; it adds a complexity, another layer. The flavor is just unsurpassed over what we could normally do."
Like Bad Hunter, Haywire also uses a 60-inch wood-fired charbroiler with a grill that staff can raise or lower in relation to the fire.
What to Know
While wood-fired cooking brings excitement and flavor to a restaurant, it also brings some drawbacks and special considerations to the table. Ventilation, for example, has to be carefully thought out, as it affects both the air inside and outside the restaurant. Last year, local health officials closed a restaurant in Cambridge, Mass., after neighbors complained that smoke was seeping into their apartments.
Snowden notes that Bad Hunter has installed a 4-foot hood system just to cover the wood-fired grill. The same holds true at Firebirds, where the hood for the wood-fired grill has a higher temperature rating and a larger capture area than a standard hood.
Along those same lines, hoods require more frequent cleaning, which factors into the overall cost of operation. Sturm calls the cleaning process "significantly more rigorous," adding that "you can't wait to clean your hoods every 90 days. We're cleaning them every 28 days." Many operations install fire suppression systems, which are better equipped to handle the extreme heat of a wood-burning oven.
Wood-fired cooking also necessitates a different type of staff training. Line cooks who are trained on traditional flattops or griddles don't always find the transition to wood-fired cooking a simple one. Unlike traditional methods of grilling that can evenly distribute the heat and control it by zone, the hot spots on a wood-fired grill can shift, depending on where the wood is burning hottest at that moment. Franke trains cooks to find the hot spot by holding their hand over the grill. When the heat feels so intense that you need to pull your hand away in less than a second, "that's your hottest spot, and that's what you work away from," he says, comparing the heat transfer pattern to the rays of the sun. "The further away you get, the cooler it gets," he adds.
Additionally, staff must be specially trained on the proper way to start the fire. Franke has seen employees take shortcut methods, such as using egg crates, cardboard or even fryer oil to try to get a fire going quickly. Documentation can play an integral role in the training process to help avoid these problems.
During wood-fired cooking, staff must closely monitor a variety of other factors, says Sturm. The crew member "has to regulate the wood and the temperature. You're adding another whole level of things to monitor and master in addition to all the other things you have going on."
And unlike traditional cooking methods, which only need an electrical or gas connection for their energy, wood-fired cooking means the operator must also consider wood storage. An outside storage room or shed is preferable, although not practical for every location. It's also important that the wood be kept dry because if its moisture content goes much past 15 percent, Sturm says, "it's using the BTU to evaporate the water in the wood, so you're losing a lot of energy just boiling the water." Finding a location to store additional wood for peak periods, along with grill brushes, shovels and other necessary paraphernalia, can also be an issue in tight back-of-the-house areas.
Even with the extra hassles, these chefs all agree that the positives to wood-fired cooking far outweigh the negatives, and they all say the return on the investment in wood-fired equipment in terms of flavor, drama and usefulness is a solid one. "There are a lot of potential hazards with [wood-fired cooking], but if you have the right training in place, it's really worth it and not difficult to maintain," says Franke.
Sturm feels that many chefs don't understand the versatility of this cooking method. "You can smoke, you can sear, you can grill, you can heat, you can flavor anything you want in a natural state," he says.
"It's such a primitive way of cooking," says Snowden. "It really brings cooking back to the root of what we're doing this for — making things taste great."
Movin' Out
If you can't go to the wood-fired oven, why not bring the wood-fired oven to you? That's the theory behind an ever-increasing number of food trucks that have wood-fired ovens installed inside them. On the higher end of the spectrum sit behemoths like the 900 Degreez truck that operates out of Orlando, Fla. It's a 35-foot, 33,000-pound converted container which carries a 3,500-pound wood-fired oven inside. 900 Degreez promises an artisan pizza in 90 seconds, and an all-glass exterior lets patrons watch the action from the outside.
On a more reasonable scale are trucks like the Mobile Pie Truck, based in Mt. Kisco, N.Y. Like many such trucks, this one is self-contained, with its own water, refrigeration and wood storage areas. But unlike other trucks, which have the wood-fired oven inside and serve from inside the truck, once the Mobile Pie Truck is parked on location, "everything is done from the outside," chef John Heitmann explains. "There's a hole cut into the side of the truck, so we set up tables outside. We just turn and serve the people."
Mobile Pie Truck cooks outside its food truck instead of the more traditional inside cooking approach. Staff go beyond pizza to cook items like lamb chops (seen at right) and even chocolate chip cookies.
As with most wood-fired oven trucks, pizza serves as the big draw for the Mobile Pie Truck. But this operation also roasts steaks, lamb chops, vegetables and fruit such as pineapple and grapefruit. Bartenders use the roasted fruit in specialty drinks. For dessert, the truck offers chocolate chip cookies. Heitmann says the cookies can be a challenge because of the need to "balance the evenness of the heat on the bottom and the fire going on the top. The flame's got to be just right so it doesn't burn the top of the cookie," he says.
To produce high-volume food for catering events, the truck uses a system of stacked hotel pans. Initial prep occurs off-site, with the finishing done at the mobile location. "We'll put it into hotel pans and then stack the hotel pans," Heitmann says, "so you're getting height and width. What happens is the bottom pan is warmer and the top pan is warmer because of the way the oven is set up, where the heat is on the floor and with the flames going around the top. So those two pans would be the first pans to come out, and you can add pans as you go."
Wind and external temperature are the big issues the truck has to overcome when it's on-site, according to Heitmann.
Outweighing those problems, though, is the truck's portability, Heitmann says, which allows it to go places larger trucks couldn't.