Plant-based diets and the rise of vegetarian concepts may grab the headlines these days, but make no mistake: Americans still love their meat. The U.S. Department of Agriculture (USDA) contends that 2018 will be a record year for red meat and poultry consumption, exceeding 222 pounds per person. And NPD Group reports protein tops the list of items consumers say they want more of in their diets. With production up and protein prices down, it's all good news for foodservice, where burgers, steaks and chops remain cash cows.
Every Wolfgang's Steakhouse unit includes a special temperature- and humidity-controlled room in the back of the house where USDA Prime beef is dry aged for an average of 28 days. Photo courtesy of Wolfgang's Steakhouse
While meat stars in dishes from upscale to casual and familiar, it's a bit of a diva in the back of the house. Especially when purchased fresh and in bulk, it demands strategic design of storage and prep areas, kid-glove handling and extra-vigilant staff training to ensure quality and safety.
Whether beef, pork, lamb, poultry or seafood, cross-contamination issues drive handling decisions and the design of meat-prep areas. Operators must make every effort to segregate proteins and keep raw product from coming into contact with produce or other items, says Eric Schmitt, vice president of Rapids Foodservice and Contract Design, Marion, Iowa.
Steaks are always cut fresh, in-house at Sizzler restaurants. Photo courtesy of Sizzler"The fallback on meat prep is ServSafe, which says in part that operators need to dedicate separate spaces for the breakdown and preparation of proteins," Schmitt says. "And that includes sinks, which are often dictated by codes. In many jurisdictions, for example, you're not allowed to have a single prep sink. If you're doing any kind of meat prep that isn't just thawing it in a package, you're required to have a sink for proteins and a separate sink for produce washing."
In small kitchens, where separate spaces for meat prep aren't practical or possible, operations come into stronger focus to ensure that cross-contamination doesn't occur. In such cases, dedicating certain areas to meat prep during specific, limited times of the day or shift, followed immediately by complete sanitizing and resetting, can take the place of physically separated areas, Schmitt says.
Segregate for Safety
At Sizzler USA restaurants, where fresh steaks cut in-house are mission critical, various scenarios play out in the back of the house. Older units with smaller kitchens feature dedicated prep areas for proteins just outside of the cooler. Newer, larger units typically have their own protein room, a dedicated walk-in that keeps meats and most of their prep processes physically segregated within a refrigerated environment.
"It really depends on the space available. If we have a walk-in big enough to be able to put a cutting table right inside, we do. That's the ideal," says Ralph Iglesias, senior director of food safety, training and brand compliance for the family-style casual dining chain. "If not, we create segregated areas in the back of the house for protein handling. We're very, very cautious and follow storage hierarchy and cross-contamination protocols. As a brand, we returned to cutting fresh steaks in-house about 15 years ago, and our first goal is always safe food. All the freshness in the world doesn't matter if your food isn't safe."
To that end, Sizzler units without dedicated protein rooms utilize strategically positioned prep areas. Comprised of stainless steel tables where steaks are cut and portioned for service, they're used only for meats and salmon and for a single type of protein at a time.
And the chain goes farther to ensure safety by physically segregating those tables with 18-inch-high stainless steel walls on either side.
"Those walls are an extra safety measure to contain any juices that might spray from steaks or fish being cut," Iglesias notes. "The result is a very contained and well-organized space. And we don't set it up next to another prep station; rather, it's right next to the walk-in to keep the transfer of cold product into and out of the cooler quick and efficient."
Once steaks are cut, staff place them in stainless steel hotel pans at a maximum of three layers high, with butcher paper in between the layers. Staff then cover and date the pans before placing them either in refrigerated drawers (kept at 38 degrees F) directly below the chargrill on the line for service or in the walk-in as replenishment stock. Staff then clean and sanitize the cutting station so it's ready to use for the next protein item.
Iglesias adds that Sizzler extends its protein segregation practices to utensils and smallwares that staff use for prep and cooking. All knives, cutting boards and tongs that staff use with red meats are red or have red handles, for instance, while those same items used to cut fish are blue or have blue handles.
Butchery Buzz
Lowry Hill Meats, a next-gen butcher shop and delicatessen in Minneapolis, puts whole-animal butchery and specialty meat cutting on display. Its design includes a butcher-style meat cooler with viewing windows and a bar in front of the meat prep area. Photo courtesy of Lowry Hill MeatsWhile many types of foodservice operations give proteins starring menu roles, they get even stronger play at specialty meat-centric concepts. And current trends toward farm-to-table, nose-to-tail cookery and artisan, hand-crafted foods put in-house butchers and processes such as dry aging on-site in the spotlight.
Lowry Hill Meats, a big-buzz, urban neighborhood butcher shop/delicatessen in Minneapolis, is one of a new generation of concepts not only bringing whole-animal butchery and custom meat cutting in-house, but also designing its facilities to put the process on display.
"Lowry Hill is a very artisan concept driven by the owners' vision for getting people more involved in knowing where their food comes from," says Schmitt, who led the design and equipment specification for the operation. "They source everything locally and want to show the process of breaking meats down and processing them in-house."
Central to meeting that goal is a custom walk-in cooler, with two large viewing windows, that sits near the shop's entrance and gives customers a view of the half- and quarter-carcasses that hang from stainless steel racks bolted into the ceiling. Meat grinding for Lowry Hill's burgers and fresh sausages takes place within the walk-in, as well.
A cutting station sits immediately adjacent to that refrigerated meat locker. In open-kitchen style, a bar fronts the station, giving customers a place to sit, watch and engage with the meat cutters as they work.
In an operation such as Lowry Hill, all of the key design considerations relative to cross-contamination and food safety came into play, of course, but Schmitt says another key to its functionality was simply allowing enough space for efficient handling of large pieces of raw meat.
"For any spot handling raw meat, you need to design for that product to flow safely, quickly and easily from receiving to refrigeration to processing to cooking or retail sale," Schmitt says.
Schmitt lists some key questions that can help operators think about what they need: "Do you have easy access to the trucks delivering it? Is there a short, clear path to the cooler or freezer? What processing steps can actually take place within the cooler? Are your prep tables large enough for the level of protein breakdown that your staff will do? If you're just bringing in preportioned, packaged meats, you don't need as much prep or cooler space, but if you're cutting meats on-site, you need to allow space for that. Do you have all the necessary equipment and tools available to make it easy for staff to transport and handle raw meats safely and efficiently? Is the prep area large enough to allow not just for meat cutting and trimming, but also for packaging and supplies? Have you planned for floor drainage near meat storage and handling areas for proper cleaning and sanitizing?"
As a hybrid retail butcher shop and foodservice operation, Lowry Hill Meats required a separate cooler for non-meat items. And the Rapids team constructed a floor-to-ceiling wall to isolate the meat-cutting area from other prep areas and the kitchen, which serves a menu of chef-developed sandwiches and also handles catering orders. Two separate three-compartment sinks help prevent cross-contamination between the two sides of the operation, which meant additional grease traps.
"They added significantly to the project's cost," Schmitt notes, "but those types of things are really nonnegotiable if you're planning this type of concept, and the owners knew they wanted to do it right."
Aging in Place
Before hitting the grill, all steaks at Sizzler USA restaurants are freshly cut on-site in dedicated refrigerated protein rooms or prep stations. Strategic positioning of the stations avoids cross-contamination issues. Photo courtesy of Sizzler USAAt Wolfgang's Steakhouse, a 14-year-old upscale steakhouse chain with units in the U.S. and Asia, USDA Prime steaks aren't only cut on-site, they're dry aged in dedicated aging rooms built into each unit's back of the house. The rooms range from 200 to 400 square feet and dry age between 5 to 10 tons of USDA Prime beef each year, depending on location and size.
Since its founding in New York City in 2004, Wolfgang's has grown to 19 units, and its site-selection strategy always incorporates the aging rooms, according to Peter Zwiener, president. "If we're building from scratch, we design the rooms in from the start," he says. "Where space allows, we'll position it as a separate room connected to the kitchen area. But depending on the building and how much space we have to work with, it might even be located in the basement."
Zwiener points out while dry-aged steaks serve as a specialty of the house at Wolfgang's Steakhouse, the process itself isn't put on display or part of the show. One reason for that is flavor.
"Our aging rooms are designed for one purpose only: to perfectly age our beef. We don't want anything else happening there or interfering with that process," Zwiener says. "Anything you introduce to that space could ultimately be absorbed into the flavor of the meat, so we keep it pretty pure."
Aged in sub-primal cuts, the beef remains in the rooms for an average of 28 days, during which time it loses 15 percent to 20 percent of its weight to evaporation. Keys to proper dry aging, Zwiener says, are temperature (slightly above freezing), humidity (around 70 percent) and constant, gentle air flow.
When ready, staff transfer the meat to a cutting station just outside of the aging room. In addition to losing weight to evaporation, it also develops a hard, brown crust during aging, which must be trimmed off before the meat can be further broken down.
"The butchers will trim off and discard an inch to inch-and-a-half crust all around —roughly another 20 percent," Zwiener says. "That's done on very large prep tables with very large knives. Then, the meat is ready to be further broken down with a band saw, cleaned and portioned into steaks."
At meat-centric restaurants like Wolfgang's Steakhouse, the care and precision that goes into receiving, storing and cutting meats carries over to the final step, as well. The chain cooks all its steaks in broilers that reach temperatures between 1,600 degrees F and 1,800 degrees F, charring the outside while cooking the interior to customer preference.
"It's the best equipment solution for us," Zwiener says. "It cooks very fast. Every customer gets their steak just how they want it, and the beautiful charred exterior seals all of the delicious juices and dry aged beef flavor inside. That's what people come to us for."
Lowry Hill Meats
The floorplan design for Lowry Hill Meats, which operates as a hybrid retail butcher shop and foodservice operation, isolates the meat-cutting area from other prep areas in the kitchen. The floorplan here identifies the key areas in the main kitchen and prep areas.* Image courtesy of Rapids Foodservice and Design.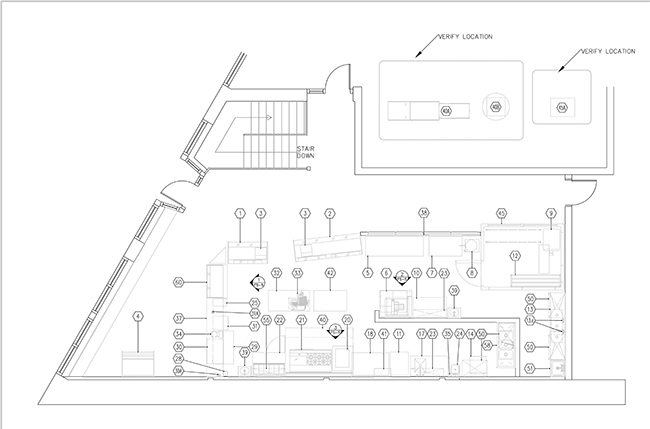 Equipment Highlights
1 Closed deli display case
2 Closed meat display case
3 Price meter scale
4 Air curtain refrigerator
5 Trimming and cutting
boning table
6 Meat saw
7 Stainless steel worktable
8 Piston stuffer
9 Mixer-grinder
10 Timming and cutting
boning table
11 Reach-in freezer
12 Shelving unit
13 Three-compartment sink
13a Prerinse
14 Undercounter glass washer
17 Worktable with sink
18 Reach-in refrigerator
20 Cook-and-hold cabinet
21 Gas range
22 Raised rail refrigerated
prep table
23 Wall shelf
25 Garbage can
28 Dipper well
29 Compact undercounter refrigerator
30 Espresso machine
30a Espresso machine
filter system
31 Ice maker
32 Worktable
33 Slicer
34 Coffee grinder
35 Paper towel dispenser
37 Fabricated counter
38 Sneeze guard
39 Wall-mounted hand sink
40 Hood
41 Fire suppression system
42 Worktable
45 Walk-in cooler
50 Wire wall shelves
51 Mop sink
55 Two wall shelves
58 Three-compartment sink
60 Air curtain refrigerator
*Numerical gaps indicate a spare number in the floorplan.
5 Prime Meat-Prep Design Tips
Minimize distances between receiving, prep and refrigeration areas.
Organize to follow ServSafe refrigerated storage hierarchy rules (top to bottom, based on minimum internal cooking temperature): ready-to-eat food; seafood; whole cuts of beef and pork; ground meat and ground fish; whole and ground poultry.
Isolate protein prep tables and add barriers to contain juices and avoid cross-contamination.
Add color. Stock prep stations with color-coded tools and cutting boards — red for red meats, blue for seafood, yellow for poultry.
Provide separate, dedicated sinks for proteins.