The true heart of every restaurant is its cookline. That's where the magic happens, and ultimately it is the portion of the back of the house that strongly influences critical operational elements, from overall volume to speed of service, food quality, safety and kitchen labor.
Outside of real estate costs, cooklines can represent the biggest part of a new-build's opening budget given the fact that its firepower represents safety hazards, codes and permitting requirements — all of which impact design. And the fact that kitchens keep getting smaller and are increasingly on display means sophisticated design solutions play an important role in ensuring both form and function.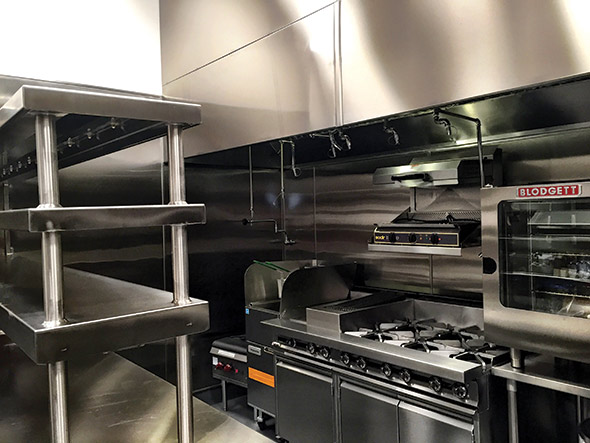 Packing a lot of firepower into a small amount of space, Hashiri restaurant's battery includes a stockpot range, fryer, plancha, charbroiler, six-burner stove, half-size combi oven and electric wall broiler. Photo courtesy of Myers Restaurant Supply
In designing cooklines a few key considerations come into play very early in the process, well before the actual equipment is identified. The menu tops that list.
Start with Menu Specifics
"Hotline design is driven first and foremost by the menu, by the chef's or operator's vision for what they want their food to be," says Michael Scheiman, vice president of development and design at Myers Restaurant Supply in Santa Rosa, Calif. A classically trained chef who earned high accolades on New York's fine dining scene before moving to California, Scheiman joined Myers five years ago as part of a career shift and now leads the company's design team.
He begins designing each cookline by talking shop with the chef or owner.
"I talk with them about their food, where and how they've been trained, about the types of ingredients they'll be using and how they plan to produce their hot items," Scheiman says. "Take sauces. Some chefs like to finish plates with sauces that are already prepared and kept hot on the line. Others like to make their sauces a la minute. In that case, they need all of the components required to bring sauces together at the last minute within reach. It's important to design the space for that into the line."
Leif Billings, regional director, Northeast, for Chicago-based Next Step Design, agrees restaurant cookline projects need to start with the chef's vision and style. While a standard rule of thumb says the kitchen should account for roughly 33 percent of an operation's footprint, a similar standard does not exist for cookline-specific space allocation, he notes.
"It really depends on the chef and the menu," Billings says. "Typically, you're starting with some kind of a wish list of equipment from the chef. So we can say, OK we have this much space for the cookline, what can we fit within that? Then it's a careful balance of meeting with the chef and/or the operations team to make sure we're able to fit in what they need to produce the menu in the most efficient, cost-effective ways possible."
Individual chef preferences aside, the majority of cooklines have a lot in common. Where space allows, the typical battery includes some combination of grill or charbroiler, plancha or griddle, standard or convection oven, and range — all tucked beneath an exhaust hood and, increasingly, including in-station refrigerated drawer space. Depending on chef, menu and budget, additional specialty items might include wok stations, pasta cookers, pizza ovens, combi ovens and rotisseries.
Scheiman notes that chefs increasingly look to incorporate sous vide for proteins. "It's a great solution because you can get a commercial machine for well under $300. Then, all you need is a plastic bin for water," he says. "I'm designing many more sous vide stations into standard hot lines these days, which means allowing power for them and a water-compatible countertop area next to where the chef finishes the proteins with a quick grill or sear on the line."
Space, of course, always represents a challenge. Fitting desired pieces of equipment and landing areas into the cookline is like a game of Tetris in particularly tight spaces.
Chef James Syhabout's Commis in Oakland, Calif., features a small, open kitchen that can handle the multicourse, high-end tasting menus that earned the restaurant two Michelin stars. "His cookline consists of a 36-inch French top and a 36-inch plancha with ovens below. That's it," says Scheiman of the cookline he helped design. "But he also has a half-size combi oven that he uses for baking insanely good sourdough bread to order. So his kitchen is a blend of versatile standard equipment with a special piece used for a signature item."
Designing cooklines with flexibility becomes even more important when there's no designated chef or if an operator has yet to lease the space. In such instances, Billings recommends creating standard batteries with durable and fairly generic equipment, providing extra utility hookups and keeping as much as possible on casters. "If you don't have a chef saying, 'This is the equipment I need' and 'This is my menu,' we generally go with a traditional hot line — fryer, griddle, chargrill, a couple of open-burner ranges and a convection oven or combi, for instance," he says.
Right-Size the Line
While trends toward smaller kitchens make it imperative for designers to conserve space, shortchanging kitchen and cookline capacity directly impacts an operation's odds of success. If too small or ill equipped to keep up with the volume of orders coming in, quality suffers and wait times rise. As such, the number of seats in the restaurant should also guide the size and capacity of the cookline.
"Everyone wants as much space as possible for revenue-generating seating, but if you over-seat the restaurant and under-build kitchen infrastructure, you're not going to be able to support those seats," Billings cautions.
Available space for ventilation impacts cookline dimensions, as well. "Sometimes, you're restricted by the amount of CFM (cubic feet per minute) you're able to exhaust from the building. You may know that you need 30 feet of cooking equipment, but you can only get in 28 feet of equipment because you're limited by a certain amount of CFM," Billings adds. "Or you might simply be very limited in terms of available space for a hood. In cases like that, we have to go back and figure out what we can eliminate from the line and consider ventless cooking alternatives."
Scheiman applauds manufacturers, who he says have stepped up to help designers and operators meet the shrinking-kitchen challenge. "We're still getting the firepower we need, but we're able to squeeze a lot of capacity into a small amount of space," he notes. "Manufacturers realize there's often a need to be able to produce the same amount of food in a 600- to 800-square-foot footprint as in a 1,500-square-foot one."
Hashiri, in San Francisco's Mint Plaza, is a case in point. The 42-seat restaurant, where tasting menus run $250 to $300 per person, turns out elegant Japanese cuisine from a small kitchen with a compact cookline designed by Scheiman. The cookline includes a stockpot range, fryer, plancha, charbroiler, six-burner stove, half-size combi oven and electric wall broiler.
When designing cooklines that aren't especially tight on space, Billings typically starts with a fry station on one end, followed by a griddle, chargrill, open-burner range (ideally with pot filler faucet) and/or French top, and convection or combi at the other end. Between each station or key piece of equipment, he places a spreader table. These inserts provide landing space for employees and an area to keep tools and ingredients close at hand. They also keep fryers and equipment with more delicate controls, such as combi ovens, separate from open-flame equipment.
Firepoint Grill's main cookline flows from fryers at one end to a double convection oven at the other, with spreaders used between each key station. Specialty wood-fired equipment pieces, including a grill, rotisserie and pizza oven, bookend the main cookline. Photo courtesy of Next Step Design
The Next Step Design team followed a similar flow at Firepoint Grill, a new 300-plus-seat polished-casual restaurant in Newtown Square, Pa. The 2,500-square-foot open kitchen has a roughly 20-foot main cookline that's bookended by specialty wood-fired equipment, each isolated under its own hood.
The main line includes a fryer station, 24-inch plancha, 10-burner range with ovens underneath, 36-inch plancha and double convection oven, with spreaders interspersed along the line.
Another cookline component that Billings likes to add, as is the case at Firepoint Grill, is a so-called belly rail. Like spreaders, they're an efficient way to keep seasonings and other ingredients organized and within easy reach for line cooks.
Firepoint Grill's open kitchen layout features a 20-foot main cookline. Floorplan courtesy of Next Step Design