Designing deli and sandwich stations for optimum functionality requires working within the designated footprint. Where space is ample, the station design can address both aesthetics and efficiency, building extra fresh ingredient displays into the design and equipment to allow customers to "eat with their eyes."
To that end, Terry Pellegrino, a principal at Minneapolis-based design consultancy Rippe Associates, recommends refrigerated make tables with pans that are flush rather than recessed. "They make it easier for customers to see the ingredients, and they're also easier for employees to access," she says. "They can cost a bit more, but in the long run it's worth that extra investment."
Where space allows, she says backup storage that doubles as ingredient displays can add great visual appeal and send freshness messages. Examples here can range from positioning a walk-in cooler directly behind the line, to using roll-in refrigerators to display ingredients, to glass-door reach-in refrigerators and/or bread storage cabinets with angled shelves that enhance visibility.
For one college dining facility, Rippe Associates designed an island with the salad bar on one side and the deli/sandwich station on the other. The deli side flows from plate pick-up and bread display at the near end to soup wells and a self-service panini station at the far end. Illustration courtesy of Rippe Associates
"It's all a matter of the look and feel the operator wants, but also what the operation can support on an ongoing basis," Pellegrino says. "If you're going that route, you do need to take some care. Some people think they can keep racks of fresh produce looking nice, but you have to be committed to maintaining those types of displays properly."
Pure aesthetics aside, it's important from a functionality standpoint to build plenty of back-up refrigeration into deli and sandwich station designs.
For 1,000-plus-unit Firehouse Subs, station configuration relies on a mix of refrigerated prep tables of varying sizes with the capacity for storage of backup pans of prepped sandwich ingredients below. To maximize flexibility the chain uses cold tables with T-bars that easily adjust to accommodate different-sized pans.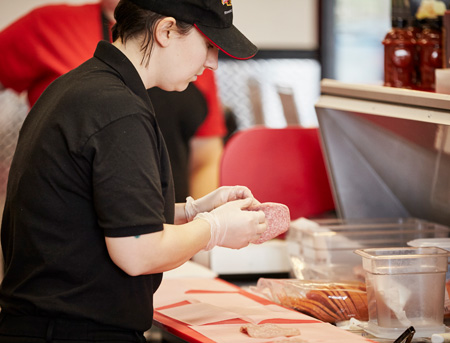 Proteins and cheeses come first in Firehouse Subs' front-facing sandwich make line, then staff place the items into a steamer on the back line. Photo courtesy of Firehouse Subs
Where space is particularly tight, the chain gains flexibility with make tables of varying sizes. "We've learned to be very agile in terms of how we set up our line," says Rich Goodman, vice president of operations services for the Jacksonville, Fla.-based chain. "On our back line, we'll typically have 6- or 8-foot tables, but in front we might have a mix of table sizes to get to what we need — whatever works best for the particular operation. In general, about the smallest we like to go for the front line is 6 feet, however. In very small locations, such as our new unit in the Jacksonville Airport, our sandwich station is very tight, so we keep the most-used ingredients on top and store the rest in the reach-in underneath. It requires more frequent replenishment, but as long as we have product ready to go and sufficient storage in back, it works."
Panini Placement
Wherever possible, Pellegrino positions heating equipment next to, not behind, proteins in sandwich station layouts.
"Depending on the type of equipment the operator is using, we like to put the fast-bake oven or conveyor, right next to those protein ingredients on the front line," Pellegrino says. "The one exception to that is panini grills, which typically do need to be positioned either in back or at the end of the line because they take longer and you don't want to create a log-jam. Everyone loves paninis, but one of the biggest complaints we get about them is how long it takes to heat the sandwich all the way through. If it's an operation that's likely to be high-volume, we always recommend investing in panini grills with microwave or other accelerated cooking technology. We've also started doing self-service panini stations in operations such as campus and B&I dining facilities as a way to create efficiencies in the sandwich stations and keep things moving."