It's that time of year — the National Restaurant Association and other outlets have released their top food and beverage trends to watch in 2018. As always, we added our thoughts on how those trends will impact equipment selection and design.
Here's FE&S' take on the five trends in the coming year.
Top Trend: Food Waste Reduction
Yay! It's finally here; what so many in our industry have been preaching has made it mainstream. The NRA's What's Hot Culinary Forecast 2018 lists food waste reduction — in all its glamour and glory — as a Top 4 overall trend In its January edition, FE&S will begin to chronicle what foodservice operators from all industry segments can do to reduce food waste in a special series.
E&D Impact: Enhanced composting and recycling bins; improved signage with clearer graphics, photos and color schemes for collecting post-consumer waste; tracking, operating and data analysis systems for measuring and monitoring over-production; infrastructure throughout a restaurant or foodservice operation to collect and redistribute food waste for reuse, composting and/or donations to local food banks and farms for animal feed.
Top Trend: Natural Ingredients/Clean Menus
Unprocessed or so-called clean menu items will grow in popularity in 2018. Examples include fresh veggie and grain bowls, homemade sauces and dressings, chopped salads, produce-packed burritos and on-site juicing and smoothies that focus on plant-based quality proteins while using little to nothing out of a box. Fast-casual restaurants will remain on the forefront of this trend but expect foodservice operators from all segments to participate.
E&D Impact: More prep space out front or in back for fresh vegetables and salads to promote menu transparency; extensive refrigerated serving lines; lower, open serving and ordering counters; earthy furnishings; juicing and smoothie-making equipment; expanded undercounter refrigeration and produce displays and fresh-focused graphics and signage.
Top Trend: Chicken
Andrew Freeman & Co. believes chicken will continue to be hot next year in all forms. Expect to see chicken sandwiches and chef-driven incarnations of the affordable protein.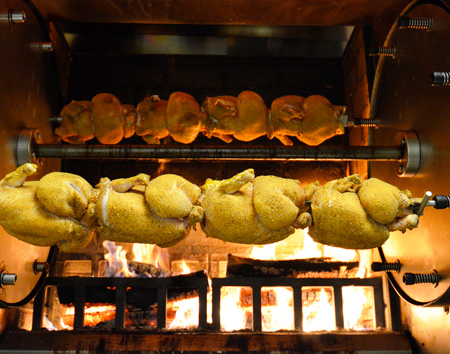 Photo by Judy Grimaldi
E&D Impact: Increased specification of rotisserie ovens and grills; specialty wood-fired equipment for chicken and other meats; higher-end fryers for fried chicken; fun tabletop items like baskets, family-style serving ware and other vessels for serving the ultimate comfort food.
Top Trend: House-brewed Beer and Barrel Cocktails
More restaurants will look to brew their own beer, or partner with local breweries and then incorporate special taps to showcase and serve those beers. Others will continue with the barrel aging cocktail trend, whipping up lower-alcohol punch varieties and drinks, then aging them in barrels to meld flavors and increase the potency. House-brewed beer was listed as the Top 7 trend under alcoholic beverages on NRA's list.
E&D Impact: Greater use of on-site brewing equipment such as tanks, more space on the bar to display taps, barrels with spouts and the integration of these barrels into the design of the space to showcase them, a wider array of beer glasses such as growlers for larger parties and even take-home occasions in markets where legally allowed.
Top Trend: House-made, Nonalcoholic Beverages
New-wave soft drinks that work with filtered water, in-house soda taps and often skip sugar in place of freshly squeezed juices, herbs and other natural flavorings, were listed as the top beverage trend by the NRA's 2018 What's Hot survey. Also look for things like nitro coffee, kombucha on tap, more mocktails and gourmet lemonades.
E&D Impact: Enhanced water filtration systems; higher-end soda taps, with both functionality and aesthetics for positioning on a bar or in view of the customer; cold-pressed juicing equipment; more displays of fresh herbs and garnishes at the bar and beverage stations; pretty glassware, and the addition of nitrogen kegs and taps for cold-brew nitro coffee.