While equipment may be the backbone of any commercial kitchen, if it's not ergonomically and thoughtfully placed, it won't perform to its full potential. The same might be said of staff. Wasted movements and wasted steps cost operators time and money. But effectively designed workstations optimize equipment and labor to create a best-of-both-worlds situation that keeps kitchen workflow moving smoothly.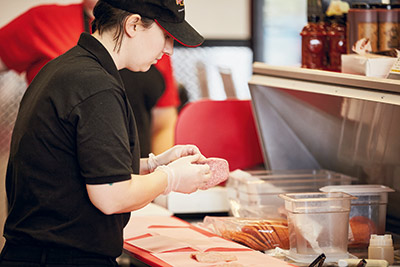 An effective foodservice workstation begins with a clear definition of its purpose. This is the first critical contact point where the synergy between equipment and labor comes into play. Kristin Sedej, president of S2O Consultants in Chicago, defines the relationship by asking two questions about the workstation: What is it supposed to accomplish? How many people do you need to accomplish that task?
And the menu defines the purpose. "It's everything — it's the starting point," Sedej says.
Juan Martinez, principal of the Miami-based consulting firm Profitality, agrees. "Menu leads — everything else follows," he says. The menu determines the necessary labor, and the labor then helps determine the size and setup of the workstations, as well as the optimal placement of the workstations in the kitchen. Future changes in the menu, however, could demand a rethinking of workstation placement or composition. For instance, a menu shift toward more sandwiches and salads and away from hot entrees could necessitate more cold prep tables or the installation of refrigerated storage at a workstation.
Efficiently Ergonomic
Ergonomic considerations must be a major factor in designing an effective workstation. Martinez explains designers should consider two types of ergonomics. The first is the physical, or anthropometric: How tall am I? How far can I reach? The second is the cognitive, which he describes as the mental capacity to process information. There is a limit to how much information an individual can process, he says. "You can tell someone 10 things at one time because you think it's efficient that you told them 10 things at one time — but they can't process it."
In the workstation design process, both types of ergonomics carry equal importance. The anthropometric means placing equipment and storage within reach, and the cognitive requires logic to the placement.
The vertical placement of equipment, for example, represents one of those factors where the physical layout of the workstation becomes critical. Martinez has seen workstations that, in order to raise microwaves, were placed so high that shorter workers couldn't reach them. "Employees just deal with it," he says. "They figure it out at the cost of efficiency, and the impact is worse quality, worse throughput and discomfort." Height used intelligently, though, can free up valuable counter space, for example, when mounting a horizontal conveyor bun toaster just slightly above the sandwich area to clear up room on the production counter.
Another consideration in workstation placement is the width of the aisles. It can be a challenge to find that sweet spot with just enough room for the kitchen crew to pass each other comfortably or work in parallel. It's critical to note the steps between the processes, Sedej adds. Aisles that are too wide can lead to increased steps and can also eat up valuable kitchen space. While an added step or two might seem unimportant, in a busy, high-volume QSR or casual environment, one or two extra steps multiplied many times over the course of a day can result in a major slowdown in the production process.
No matter the design of the workstations, they have to feed the workflow of the operation in a logical and efficient way. "Location is critical to facilitate flow and efficiency. If I'm assembling and I'm getting fed by the grill, and then I have to put it in an expediter station, the grill better be close to me. And the expediter station better be close to me," Martinez explains.
Suite Stuff
One workstation approach is the all-in-one cooking suite, generally viewed as a beautiful (albeit expensive) piece of equipment. But is it right for all operations? We asked our design experts to weigh in.
"It truly depends on what you're trying to accomplish," says Sedej. "To put a cooking suite into a 24/7 diner doesn't make any sense."
Martinez agrees. "For a typical fast-growing QSR, fast casual or even a casual dining operation, all-in-one suites really aren't the best," he says. "The challenge with bigger suites is that they can become inflexible when it comes to production because you can't move them."
As Martinez notes, the very thing that makes workstations so attractive — the all-in-one concept — may also work against them in the future. Menu innovation is critical to long-term success in the restaurant industry, he adds. "The menu of today will not be the menu of tomorrow," he says.
As menus evolve, workstations have to keep up. But unlike standalone pieces of equipment, which operators can move, swap out or upgrade individually, the all-in-one suite and its individual components remain unchangeable for the most part.
For an operation that wants the "wow" factor of showing off their culinary crew, though, suites can be an attractive option. But it's important that the cooking suite features the necessary pieces of equipment in an ergonomic placement. "They're beautiful and can be very efficient if they're designed right," says Sedej.
With that beauty, however, comes a higher price tag. "If you're in an upscale, open kitchen and you're not worried about labor and you're not worried about the cost of a piece of equipment, they're magnificent pieces of art," says Martinez.
Cost represents a major factor when considering cooking suites. Obviously, the price of suites will vary widely depending on the equipment they include. But it's not uncommon to see suites retailing for more than $20,000, and Sedej notes that she has seen some custom suites selling for more than $100,000.
Tweaking the Original
In a perfect world, restaurants feature impeccably laid out workstations, with equipment that fits seamlessly around them and no hidden problems ever popping up. But restaurants rarely operate in a perfect world, and the design process can bring forth lots of unexpected surprises to work around. That's what Mark Sabbe, executive chef of Chicago's Marchesa, found out during the design and construction phases of the restaurant.
Open since September, the 3-story, 225-seat casual restaurant in Chicago's River North area features a seasonally changing menu focusing on French, Spanish and Italian cuisine. Sabbe came into the project after another chef had left. "When I inherited this project," he says, "there was already a design and a plan for the kitchen. It needed some tweaking. The architect, while having a basic knowledge of kitchens, had never worked in a kitchen. So he and his assistant — who are incredibly talented and very capable — did some things based on what the existing chef at the time had requested. But it hadn't really been thought out in terms of dinner service."
Another consideration Sabbe had to deal with was a decision made by the majority partners to include a chef's table in the kitchen. So the kitchen design and placement of workstations, he notes, was defined "by what the majority partners were looking for, which was the opportunity for people [at the chef's table] to look at the kitchen and see it being worked."
On top of that, Sabbe says, "We got a great deal on some used equipment, which was great in some ways and tied my hands in others because now I had to spec my line based on the equipment that we owned." With a charbroiler, a pair of fryers and a 10-burner stove to work around, he had to do some creative workstation design.
The first decision was to use an area off the basement bar and wine room for a prep kitchen. Since the restaurant is not currently open for lunch, "the whole place is essentially going to be prep during the day," Sabbe says. The downstairs workstation consists of wheeled prep tables, which will serve two functions. After they're used for food prep in the daytime, "during the course of dinner service, the tables will slide over and be the collection point for the dirty dishes before they go through the dishmachine."
In the main kitchen, Sabbe consulted with line cooks he'd worked with in the past to design the optimal work area, primarily when it came to the amount of space needed between the equipment and the make tables. In one of his previous restaurants, he says, the space for the line cooks was a fairly tight 27 inches. "This was all relatively skinny guys, so it worked really well for them. But if you get more than two or three people on that line, it's hard to get around each other," he says. So he added another three inches in width to allow the line cooks to move around each other more effectively. "I wanted to make sure there was less than three feet of space in between the line and the prep tables because if it's too much space, it's an encumbrance. If it's not enough, it's an encumbrance," he says. The prep tables, holding 1/3 and 1/6 pans, have refrigerated storage underneath for ingredients.
What makes for a good workstation from a chef's perspective? To Sabbe, it's a combination of accessibility of ingredients, ergonomic functionality and access to equipment. "I'm trying to make sure that [my cooks] have the tools to get done what they have to get done, with an eye toward what makes for the fastest service," he says, adding that, on a busy night, even saving just a few seconds per plate "is a huge savings."
Workstation Chain Approach
Future workstation designs at Firehouse Subs will reflect changing consumer patterns, like the shift toward more third-party delivery and online ordering. With more than 1,070 units in 44 states, the Firehouse Subs chain produces millions of sandwiches daily. Even though the chain's restaurants vary widely in terms of their physical layouts, their workstation setup is surprisingly similar between units.
In the front of the house, explains Rich Goodman, vice president of operations services, "we have a cashier greeting and order-taking station, which typically houses two POS stations and allows for a queue line going down in front of the counter." The food prep area features two lines, one of which faces guests while the other faces away.
The line facing guests consists of three separate workstations, Goodman says. At the first workstation, a staff member assembles the meat and cheese for each sandwich; at the second, a staff member dresses the sub roll with condiments and produce. At the final station, the sandwich is finished off. The prep line at the back wall has two workstations, one for slicing and toasting the bread and one to steam the completed sandwich.
Refrigerated make tables in flexible sizes help Firehouse Subs work around the chain's sometimes-tight floor plans, Goodman says. "The make tables come in 2-foot, 4-foot, 6-foot — even up to 8-foot sections," he says. "At minimum we're looking for at least a 6-foot refrigerated make table. That's tight, but in smaller environments we can get by with it. Ideally, we would like to see at least 8 feet of line. I've seen 10 feet; I've even seen 16 feet."
Perhaps somewhat surprisingly, "the kitchen design flow has not changed much in our 20-year-plus history," says Goodman. "One thing changed about seven years ago. The meat and cheese assembly was in the middle and the first station was the dressing of the bread. It was actually a suggestion from the field to try swapping the two, and the line became more efficient."
New product introductions can have a major impact on the smaller restaurants, according to Goodman. That can mean dropping back to smaller-sized pans in the make tables. "If you're one of those [operations] with the 6-foot table and we introduce a new product, you're going to have to use more 1/9-size pans or store some stuff underneath for the less frequently ordered sandwiches. That's part of the challenge my team has. Let's take the worst-case scenario, and how would you recommend the make table be set up?"
Goodman says that the design of future Firehouse Subs restaurants will adjust to suit changing consumer patterns, most notably the increase in off-premise ordering and eating. "That's been a big shift over the past five years," he says. "Whether it's third-party delivery, internal delivery or online ordering, we're seeing fewer people dining in our dining room and more people taking it to go. As we look to build the Firehouse Subs of the future, we're going to keep that in mind."
No matter how the front of the house may evolve, Goodman says there's one essential ingredient for a good back-of-the-house workstation: "Ergonomic layout. In a perfect world, I'd like to be able to put somebody in one spot and they can do everything without moving," he says. "It's all about getting that food out. Shaving steps is shaving seconds."
---
Tips from the Experts
Industry consultants Juan Martinez and Kristin Sedej have some tips for planning and executing workstations that work. Martinez says to consider custom-made workstations, claiming they can often result in more efficiently designed workstations than off-the-shelf models. "Off-the-shelf pricing is better. Custom made is more expensive." But, he says, "custom made can be more efficient, where off-the-shelf may not be as efficient." He also points to the fact that some manufacturers make so many custom models nowadays that the end cost may not be significantly higher than for off-the-shelf models.
To Sedej, the key to effective workstations starts with asking the right questions at the beginning of the design process. "Every design goes back to, 'Do we know what we're going to be and what we're trying to accomplish?' " she says. "Ask as many questions as you can in the beginning, but be flexible to allow those answers to change. You've got to keep labor costs and food costs in control, and design is a major tool in the toolbox to do that. It's important to try to get it right."