The Captain James A. Lovell Federal Health Care Center (FHCC) partnership with the U.S. Department of Veterans Affairs (VA) and the Department of Defense (DoD) formed the nation's first single, fully integrated federal healthcare facility. In addition, the FHCC contains Naval Health Clinic Great Lakes and community-based outpatient clinics. In total, the FHCC cares for nearly 67,000 eligible active military members, their family members, military retirees and veterans each year.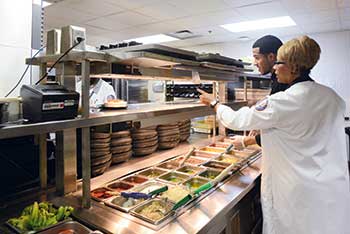 CS2 Phillip Collins, Navy culinary specialist, reviews a tray ticket with Wanda Parks, a registered dietitian and division officer for Nutrition and Food Services. Photo by Israel Molina, Captain James A. Lovell Federal Health Care CenterWith continuous adjustments and attention to detail, the four-year-old patient room service-style approach brings positive customer approval. Prior to the conversion, the program was a cook-chill operation. "We were the first in the VA to support the VA mission to implement room service-style dining," says Wanda D. Parks, MA, RD, LDN, registered dietitian and division officer for Nutrition and Food Services (NFS). "The conversion to room service brought improvements in the medical center's emphasis on patient-centered care and excellence in patient care and customer service. Our patients also feel a greater sense of dignity and respect with our room service and enhanced dining."
For years, NFS provided a three-week cycle menu and patients didn't have much choice in terms of what and when they ate. "Room service offers patients more autonomy with what they choose and when to eat with a larger selection of food items and expanded mealtimes," Parks says.
Room Service and Enhanced Dining
Through room service, Parks' operation serves 450 meals and snacks, including breakfast, lunch and dinner, daily. The average daily census at the FHCC includes about 140 inpatients and residents who reside at the facility. Approximately 75 to 100 patients from several residential programs also consume meals in the Lovell cafe's patient dining room in another building on campus. Patients check in when they enter the dining room, place their meal orders and tell the host where they want to sit. Patients then receive meals from a staff member as if they were in a commercial restaurant.
Patients in the main hospital receive room service. The hospital consists of acute medicine, community living center, ICU, and mental health units. Patients in three residential programs receive enhanced dining, also known as restaurant-style dining. These patients are housed for care at the facility from six weeks up to six months.
Room service is available to patients from 6:30 a.m. until 7 p.m. Patients or a family member place orders through the call center; if necessary, an NSF call center associate takes their orders bedside.
The Fulfillment Process
The fulfillment process begins when tickets from orders are printed in the room service kitchen. Staff preparing trays use a room service table that holds hot foods, such as vegetables, gravy, pasta, pancakes and sausages; two grills with refrigerated cabinets underneath; a combi oven; fast-speed oven; a food warmer to keep food items such as soup hot until needed for plating; five air curtain refrigerators; a freezer; tea dispenser; plate warmers for the cooks, hot plates; and a table for sandwich preparation with a cold drawer beneath.
A line-starter receives the cold ticket and a cook receives the hot ticket. A middle facilitator reads the ticket and receives the hot items from a cook. The facilitator also retrieves salads and other cold items from air curtain refrigerators sitting in the work station and places these menu items on the patient's tray alongside the hot food.
Next, an expediter checks the order for accuracy, sets a timer for 10 minutes and places the tray in a transport cart. The cart must leave the kitchen within 10 minutes. Six ambassadors transport carts to patient floors within six zones and deliver trays to patients in their rooms or in patient dining rooms. NFS strives to provide patients and residents their meals within 45 minutes upon placing an order.
At various times throughout the day NFS staff or nursing removes soiled trays from a patient's bedside or dining room and places the trays on soiled carts in designated areas. NFS staff returns soiled carts to the main kitchen's dish room for cleaning. In addition to the six ambassadors required on any given shift, the staff includes employees to run a shift in room service, including three people working the cold side, two cooks, one foodservice supervisor, one cook supervisor, two dish room employees and others working in the warehouse.
"One shift overlaps another, so we might have up to 60 people, including admin staff, working between the two kitchens on any given day, but roughly 20 to 25 people per shift meet our needs," Parks says.
Necessary Modifications
"We had to make a lot of modifications to our kitchen for room service, and our enhanced dining," Parks says. "We purchased room service assembly tables that contain hot wells on top and refrigerated drawers beneath, air curtain refrigerators, several combi ovens, rapid-cooking ovens, grills, carts, cookware, flatware, china and new tray delivery carts."
Parks attributes the success of room service to the support leadership gave the program. Finding a room service consultant to assist with the initial assessment, potential cost, and feasibility of implementing room service were essential. "Planning and gathering input from team members, including nursing, foodservice staff, information resource management, the room service consultant, and leadership was a must," Parks says. "Everyone's questions were addressed on many levels. Dietitians educated nursing on all shifts involved in patient care prior to the 'go live' date."
Parks also attended leadership meetings and provided education and training to nursing and medical professionals introducing room service. Continuous employee training since the implementation keep things running smoothly, she says. Patient satisfaction scores have increased tremendously since advancing from the cook-chill delivery system to room service, while food cost and waste have declined.