Sitting on the western edge of campus, a 2.2-acre garden at the 55-year-old St. Jude Children's Research Hospital in Memphis, Tenn., serves as a teaching tool for patients and their families. The garden also provides food for the hospital's culinary operations and serves as a venue for fundraising events such as the St. Jude Garden Harvest.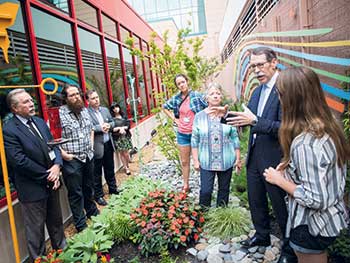 James Downing MD, president and CEO of St. Jude Children's Research Hospital, meets with associates in the Butterfly and Hummingbird Garden. The red container at left holds hummingbird nectar. "We invite patients and their families to the garden so they can be in a healing environment and feel like they have a chance to get away from the noise and dust of the city," says Dave Reeves, director of St. Jude Culinary Operations. "We are working to make the garden an engaging place, with educational opportunities as well as comfortable places to relax and find some peace in the midst of a trying experience."
Approximately 50 hospital employees and individuals in the community have volunteered to support the garden. "Some of the produce grown there can also be purchased through a weekly produce subscription so that purchasers can prepare and consume the food at home," Reeves says.
Garden Volume
The garden's 74 raised beds provide nearly 3,000 pounds of produce with more than 40 planted varieties, such as lettuce, radishes and tomatoes, for retail dining operations. Reeves' team provides meals for 72 inpatients each day. Daily retail volume totals nearly 3,800 transactions, which includes a large number of outpatients.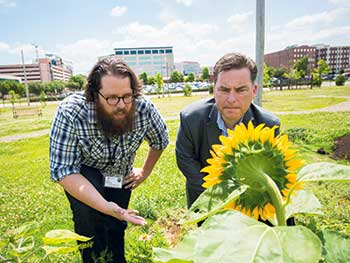 Kevin Krueger (left), CPSM, manager of purchasing and sustainability, Culinary Operations, St. Jude Children's Research Hospital, discusses best practices for growing flowers and produce in the garden with Dave Reeves. Photos courtesy of St. Jude Biomedical CommunicationsIn response to a suggestion presented in an employee town hall meeting, St. Jude recently created a Butterfly and Hummingbird Garden in the heart of its main campus. Employees from multiple departments worked with experts from the Memphis Zoo and Memphis Botanic Garden to design and create the space, which creates educational opportunities for patients and siblings.
This project keeps with the mission of St. Jude Children's Research Hospital, which is to advance cures and means of prevention for pediatric catastrophic diseases through research and treatment. Consistent with the vision of founder Danny Thomas, no child is denied treatment based on race, religion or a family's ability to pay.