Smoothies (and their sibling juices) have taken over a new corner in the health arena as a way for consumers to pack more nutrients into their day.
Photo courtesy of Real Good Juice Co.
Smoothies in all forms — from classic beverage form to thicker, nut, granola and berry packed bowls — are taking the nation by storm, particularly in urban environments where a younger generation of eaters looks to improve its diets and fuel its day.
In fact, smoothies now account for $5 billion in sales a year with the foodservice industry serving more than 1 million a year, according to Technomic. The Chicago-based research firm reports limited-service concepts represent about 68 percent of smoothie volume.
Even the once-popular frozen yogurt cafes are evolving. Many now offer fresh fruit smoothies infused with live and active probiotic cultures. Frozen yogurt chain Red Mango, for one, changed its name to Red Mango Yogurt Café Smoothie and Juice Bar. The chain now has more than 300 locations across the U.S. with expansion plans abroad.
Trending Smoothie Flavors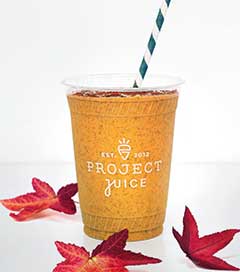 Photo courtesy of Project JuiceGreen smoothies, like juice, continue to lead the pack in health-inspired blender beverages. Kale, spinach, and greens in general have all increased their presence on beverage menus. Kale in particular has increased a whopping 400 percent over the past four years compared to other greens, according to Datassential's MenuTrends data.
Other savory smoothie ingredients include avocado, ginger, celery, parsley, cucumber and cilantro. And add-ins like whey protein, almond butter, nuts, flax, chia and hemp seeds pack more protein in the punch. Operators often combine superfoods like maca powder and goji berries with all-natural sweeteners like dates, beets and agave nectar as well as alternative milks like almond and coconut milk and coconut water, according to Datassential.
Project Juice Test Kitchen, which has expanded across California since first opening in 2015, serves a Marina Greens smoothie with cold-pressed orange and lime juices, coconut water, aloe, kale, spinach, avocado and spirulina.
According to research from IBISWorld, the originally perceived high sugar content of some smoothies and juices has forced the industry to adapt its offering, which has led to more cold-press juices made by hydraulically chopping and crushing produce such as spinach, kale and ginger without using heat.
In fact, Project Juice offers a line of pre-juiced, bottled juices and soups for short-term cleanses meant for health-focused and active individuals, which in turn impacts equipment and supplies selection.
Smoothie E&S
As smoothie ingredients and recipes change, smoothie and juice bars have had to introduce specific equipment to meet their expanding meal-in-a-beverage needs.
"We are mostly looking for a high-powered, standard-sized blender capable of finely shredding super cold product," says Jon Schiff, founder of Real Good Juice Co., Chicago. "The most important thing for our blenders, though, is durability, since we put them through a lot and need them to stand up to whatever we throw in them." The chain sets up shop in Whole Foods as well as in smaller, stand-alone retail spaces throughout Chicago.
Real Good Juice receives nine deliveries a week to maintain a constant circulation of fresh product. Prep occurs in smaller kitchens at the back, with items stored in walk-in coolers as well as in undercounter refrigeration out front by the serving counter. When making its juice, the chain uses cold-press, centrifugal style juicers to maintain more of the ingredients' nutrients and create "a cleaner taste," says Schiff.
Juice It Up!, an 80-plus unit chain undergoing fast expansion as of late, also relies on high-quality commercial juicers and blenders to get better yields as well as top-of-the-line refrigeration to maintain freshness, according to Carol Skinner, vice president of marketing for the chain.
"At our smaller locations, it can be tight at times, so we provide extensive training and resources to ensure our operators order the right amount of produce for each delivery to ensure they aren't under- or over-utilizing their precious cold storage space," says Skinner.
Many smoothie bars, like Real Good Juice and Juice it Up!, also use refrigerated prep tables and undercounter drawers loaded with protein powder, dry superfoods and other ingredients for easy scooping.
While durable blenders handle whole fruits and vegetables, operators also look for quieter ones that can work hard without all the noise. A pull-over lid allows staff to blend and forget. Rinsers, like at coffee shops, help staff quickly rinse out blender containers in between blends, while sanitizing them in bigger batches in undercounter dishwashers or three-compartment sinks.
Smoothie Bar Design
Smoothie and juice bar owners tend to go for both aesthetics and function in designing their spaces. Many look to display or showcase fresh ingredients as well as the blenders, while keeping lines and menu boards simple and bright to create a feeling of cleanliness and health.
"Our store design is clean, crisp and white with hints of California vibes, exposed brick and succulents," says Schiff of Real Good Juice Co. "Our mantra is written on the wall across from our colorful menu board, and a list of the local farmers we buy our organic, fresh produce from is above the cooler. We want our guests to know that we can name where every ingredient they are putting into their body came from." The mantra Schiff refers to reads as follows: Good is good. But real good is gooder than good. Cause good is just good. Which is good, just not real good.
Qwench Juice Bar and DRNK coffee + tea in Los Angeles takes a similar fresh approach, displaying fresh fruits and veggies in a 20-foot-wide, clear bin raised up behind the serving counter with a misting system to keep the produce fresh and crisp.
Many smoothie and juice bars also integrate technology into its spaces, not only to cater to a younger crowd comfortable with using touchscreens, but also to maximize labor.
At Real Juice's Whole Foods outposts, customers can order and pay for their smoothies using a tablet kiosk, which sends the order to another kiosk near the smoothie maker. Customers can then move down the line to pick up their customized smoothie once ready. The system also includes a loyalty program, noting frequency of visits to offer discounts after a certain number of smoothies and juices are purchased.
Smoothie Bowls
Modeled after the acai bowls first made popular in Hawaii and Los Angeles, smoothie bowls have become the next evolution at many smoothie and juice bars nationwide.
As the breakfast-all-day rage presses on, these bowls offer a dairy-free alternative to yogurt or cereal in the morning while offering a more chewable snack in the afternoon. Many will start with a green smoothie or acai and other fruit smoothie base made thicker by bananas and almond butter. Granola, nuts, coconut flakes, honey drizzles, fresh fruit and other ingredients are added on top, like a new twist on build-your-own frozen yogurt bowls that can be eaten with a spoon.
With a nearly 3 percent increase in popularity since just a few years ago, according to IBISWorld, smoothies are poised for continued growth in an increasingly health-conscious food community.