Assistant Manager, Berkshire Dining Commons
University of Massachusetts Amherst
Educational background: Bachelor's degree in Agriculture Management from University of Delaware
Years in foodservice: 12, including over 6 years at UMass in both Berkshire and Hampshire Dining Commons
Age: 42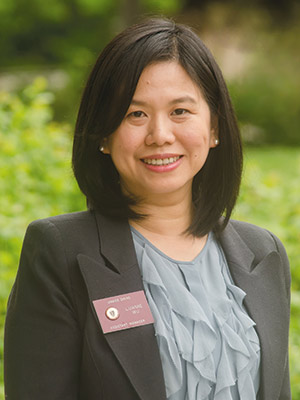 LuAnne WuFE&S: What attracted you to the foodservice industry in general, and to the campus dining segment in particular?
LW: I enjoy working in a fast-paced environment and especially working with a large, diverse group of people. I really enjoy interacting with others because I learn a lot of interesting things from different people's perspectives and experiences. Further, my work here enhances my ability to communicate effectively with others and to actively listen to staff, which is essential to improving their performance.
I especially enjoy working closely with chefs and local farmers, and developing and creating new seasonal menus using fresh, local ingredients for our international/street food station.
FE&S: What's the best career advice you have been given?
LW: The 5 Ps: Proper Planning Prevents Poor Performance. No one beats you when you're ready.
FE&S: What's an important lesson you've learned about working in this segment?
LW: The importance of teamwork.
FE&S: What trends and future directions in campus dining are most exciting to you?
LW: An avid supporter of healthy eating and sustainability, UMass dining is focused on healthier beverages, tea, sparkling water and smoothies instead of sugary beverages and products containing high-fructose corn syrup.
Another exciting trend is that we're shifting away from traditional meat-based protein and toward plant-based protein sources, such as quinoa, lentils and chickpeas. We're also implementing innovative new international cuisine concepts and expanding our street food/noodle bowl station, utilizing local, sustainably grown foods. These concepts provide opportunities for many students to explore different authentic international cuisines and for the international students to enjoy a taste of home.
FE&S: Where do you see the biggest need for change or improvement?
LW: The biggest opportunity for change that I see is repurposing food waste. For example, leftover steamed rice could be converted to delicious vegetable fried rice. Traditionally, fried rice was made from rice cooked a day ahead of time and refrigerated, which helps to dry the grains out enough to give fried rice a good texture. We need to think about more simple strategies like this and get creative with leftovers to minimize food waste.
FE&S: What's one of the biggest professional challenges you have overcome?
LW: While working in the IT industry in international sales for eight years, I traveled frequently to Europe and Asia but found that the values didn't match with the family farm values I knew growing up. I moved from Taiwan back to the USA with a family of five, which was quite a challenge. But I soon adapted and settled and began to work at UMass Dining. I was able to use what I experienced abroad and successfully enhance our international station with authentic Asian cuisines.
FE&S: What are you most proud of?
LW: I'm proud to be involved in planning and executing 50-plus special events during the school year. Examples include our annual Welcome BBQ for more than 10,000 people, Chinese New Year Special, Provost Dinner events, Chancellor Events and Guest Chefs Series. Creating unique and memorable dining experiences for customers with a great team has been my proudest professional accomplishment.
FE&S: Complete the sentence as it relates to your campus dining program: "I really wish we could …"
LW: … implement our UMass Dining model at other institutions and, in particular, in elementary and secondary schools. UMass is changing the way people eat. If heathy eating habits/concepts start early in childhood, the whole spectrum of healthy life will be a brand-new chapter.
FE&S: What keeps you in this industry?
LW: Being able to provide different dining experiences to customers and creating diverse and exciting special events for them. Being able to communicate and work efficiently with a large, diverse group of staff and culinary professionals is also something that I'm passionate about and look forward to on a daily basis.