OceanView's Counter Culture, 3rd Kitchen and Spice bring new flavors and dining adventures to this sprawling campus.
Oceanview Terrace, a residential dining venue at the University of California San Diego (UC San Diego) in La Jolla, Calif., was marked for renovation in 2014 due to its age and infrastructural needs. "The Housing, Dining, Hospitality [HDH] leadership team took this opportunity to transform the facility into a modern, new take on campus cuisine," says Steve Casad, HDH director. "This dining location serves customers with dietary restrictions and all customers who like flavorful, great-tasting global cuisine, wood-fired pizzas and baked goods."
Located adjacent to the Marshall residence halls, the new OceanView serves as the dining hall for Thurgood Marshall College, named after the first African-American associate justice of the Supreme Court of the United States. The Oceanview Terrace operation closed before the 2015-16 academic year for renovations and opened in January 2017.
The OceanView project involved a complete gutting and redesigning of the entire second floor, along with a staircase that now joins OceanView with the student study space on the floor below. The lower level previously contained cold and dry storage equipment for holding food that team members transported upstairs to Oceanview Terrace. Now, all OceanView storage sits on the second level. The first level also houses a relocated commissary kitchen for making salads, sandwiches and parfaits delivered to nine operations on campus.
Comfortable seating enables students to relax, converse and study. Digital screens provide campus information. Photo courtesy of Matthew Hansen, Housing, Dining Hospitality, UC San Diego OceanView, which received LEED Silver certification, features three restaurant concept platforms. Both traditional printed menus and online menus designate which items comply with vegetarian, vegan and gluten-friendly designations.
Customers can see the majority of fresh ingredient production from start to finish. Each self-contained platform includes an equipment package that corresponds to its specific part of the menu. The refurbished seating areas feature floor-to-ceiling glass windows overlooking the Pacific Ocean. Murals highlight historically significant moments of Marshall's years on the Supreme Court. The open patio features some overhead coverage but is no longer enclosed. Heaters warm customers on chilly days. The second floor also holds a meeting room that serves as a private meeting and dining area.
Food Production
Ingredients arrive on the lower level, and team members take them upstairs to the second level and place them into two walk-in coolers, a walk-in freezer and dry storage. The back-of-the-house production areas contain prep space for vegetable cutting, prep sinks, a six-burner range for making sauces, a steam-jacketed kettle for making from-scratch pizza sauce and a charbroiler for preparing chicken wings. This back-of-the-house area also contains an ice machine and warewashing.
Culinary staff working behind the scenes also use ingredient bins, bakers prep tables, an 80-quart floor mixer,
a holding/proofing cabinet and dough divider/rounder to make pizza dough. They also prepare muffins, cheesecake and other desserts in this area and bake them in convection ovens.
Front-of-the-House Platforms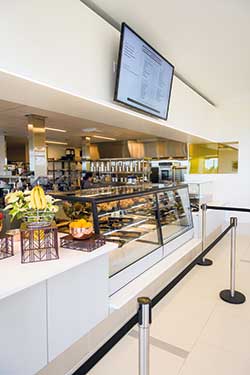 Counter Culture operates 24 hours a day, 7 days a week. Display cases feature baked items in a brightly lit environment that attracts customers' attention. Photo courtesy of Matthew Hansen, Housing, Dining Hospitality, UC San DiegoOceanView contains three platforms: Counter Culture, 3rd Kitchen (which serves as a three-concept island) and Spice. Each platform or sub-platform contains its own digital signage, its own queue and its own point-of-sale equipment so it can be opened and closed independently of the others. Counter Culture is the campus' first 24-hour foodservice operation; 3rd Kitchen opens at 10:30 a.m. and provides food for late-nighters until 1 a.m., 7 days a week. and Spice operates Monday through Thursday from 10:30 a.m. until 8 p.m. but closes for 2 hours between 2 p.m. and 4 p.m. It also closes at 2 p.m. on Fridays when many students take a break from campus dining.
"Strategic consideration was given to comingle the points of service in the dining area with seating to create a more interactive experience for customers," says Leo Acosta, HDH assistant director of operations. Each station contains refrigeration and worktables and offers bottled beverages and chilled water.
Counter Culture features bagels, scratch-made desserts, espresso and gelato all day and all night. "The 24-hour operation decision was an easy choice due to the fact that our resident population are typically night owls," Acosta says. "Our data indicates that overnight usage exceeds usage during a standard business day on campus. While our late-night markets on campus were a good first step to serve night owls, we also realized that the campus also needed a safe space for students to study and dine and obtain food options they didn't already have."
This platform contains a countertop mixer, refrigerator, conveyor toaster, induction cooker, drink blender, coffee maker, ice transport cart, water filtration system and drop-in cold pans. It also includes an espresso coffee grinder and espresso coffee machine, as well as a gelato merchandiser, dipper well and refrigerated and ambient bakery cases.
At 3rd Kitchen, team members use a six-ton deck oven to bake personal round pizzas and larger pies that are cut into slices. Customers find a sub-platform, Sliceria, featuring slices of par-cooked New York-style margherita pizza, the archetype of Neapolitan pizza, and other pies created with cheese, pepperoni, vegetables and turkey sausage. Team members refire the slices for 45 seconds in the 800-degree F oven and pass them to customers. The platform also specializes in fire-roasted Torrey's chicken wings and garlic knots, dubbed garlic cuscinos ("cuscino" is Italian for pillow).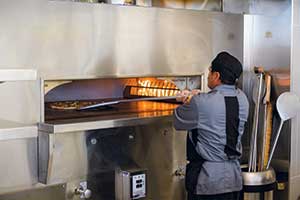 Photo courtesy of Matthew Hansen, Housing, Dining Hospitality, UC San Diegohe sub-platform Scholars Pizza features individual specialty and build-your-own pizzas containing customers' choices of ingredients such as artichoke, spinach, chicken, vegetables and sausage. "OceanView is also the first residential dining facility on campus to have a traditional, scratch pizza and dessert baking program," Acosta says. Team members make dough in a designated bakery area in the back of the production space, but they stretch the scratch-made dough in full view of customers who queue while waiting for their custom creations or one of seven signature pies. A secondary set of deck ovens further back in the production area will allow team members to bake pies to be delivered throughout campus. The delivery program is slated to begin in six months to a year.
Another sub-platform at 3rd Kitchen, branded 40-40-20, features salads and assists customers to select salads with healthy portions of 40 percent leaf greens, 40 percent veggies/seeds/legumes, and 20 percent protein/dressing. This platform offers salads such as house blends, fattoush Greek, jalapeño kale
Caesar, spicy Thai, strawberry spinach or build-your-own.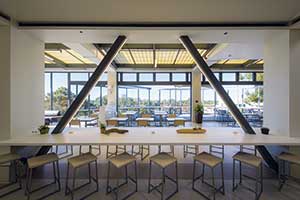 Sleek visual lines bring an ultramodern ambiance to the seating area. Photo courtesy of Matthew Hansen, Housing, Dining Hospitality, UC San Diego"Spice and 3rd Kitchen were inspired by the collaborative effort between the Union of Jewish Students, Muslim Student Association and Housing Dining Hospitality, as well as Thurgood Marshall College," Acosta says. "They collaborated on a recommendation for kosher and halal offerings on campus with the idea to better serve the devout population and those that adhere more casually to the religious guidelines." A quality assurance chef must supervise and verify kosher offerings. Spice operates as a glatt kosher operation, which means adhering to the highest kosher standard for processing food.
The Spice platform contains prep space, along with a six-burner range, grill, rotisserie oven, cook-and-hold oven and warewashing equipment that staff use here exclusively. "The menu is designed to appeal to customers who want kosher and halal foods and also for those who just like the menu selection," Acosta says. The menu features berbere beef meatballs, rotisserie harissa chicken, apple and fennel coleslaw, Egyptian-style edamame spinach falafel, green beans with mushrooms and almonds, lemon couscous with spinach and scallions, herb-roasted red potatoes, sauteed asparagus with red onion, Indian sweet potato and chickpea, lemon basmati rice and roasted broccolini with tomatoes. All the pans holding food are used exclusively at this platform.
Outdoor seating offers additional space to dine and enjoy the view. Photo courtesy of Matthew Hansen, Housing, Dining Hospitality, UC San DiegoOceanView's sustainable features include the use of Energy Star kitchen equipment when applicable and LED lighting. "The platform design allows for cross-functional use of staff and front-of-the-house prep resulting in greater labor efficiency during nonpeak times," Acosta says. "In addition, menu design helped assist with a lean inventory model with many ingredients utilized at a multitude of platforms, including salad and pizza proteins and choice of vegetable toppings." A preconsumer waste program is in place here and at other UC San Diego dining operations.
OceanView team members received extensive training in preparing dough from scratch and preparing food while customers look on throughout the 18-month menu design and staff on-boarding process. Since OceanView's opening, customer traffic has increased by approximately 40 percent compared to patronage prior to the previous facility's closure.
Facts of Note
Overview: Enrollment, 35,821 (Marshall College residents, 1,156); 6 residential dining hall locations, 2 full-service restaurants, 2 food trucks, 3 specialty locations, 6 market locations
OceanView Dining Opened: Jan. 9, 2017
Scope of Project: Complete renovation and remodel of a residential dining facility, including servery and seating
Size: 13,000 sq. ft.
Seats: 200
Average Check: $6.70
Average Daily Sales: $14,427
Hours: Counter Culture, 24 hours, 7 days a week; 3rd Kitchen, 10:30 a.m. to 1 a.m., 7 days a week; Spice, 10:30 a.m. to 2 p.m., 4 p.m. to 8 p.m., Monday through
Thursday, and 10:30 a.m. until 2 p.m. on Friday
Menu Specialties: Customizable stone-hearth pizzas, salads, fresh-baked desserts, coffee and gelato bar, and certified kosher and halal-friendly global cuisine
Staff: 31 full-time career staff and 139 part-time student employees
Total Project Cost: $10 million
Equipment investment: $2.5 million
Website: https://hdh.ucsd.edu/DiningMenus
Key Players
Owner: UC San Diego
Thurgood Marshall College Director of Residential Life & Associate Dean of Student Affairs: eeman agrama-minert
Housing, Dining, Hospitality Director: Steve Casad
HDH Assistant Director of Operations: Leo Acosta
HDH Associate Director of Business Planning: Ralph Dauphin
HDH Executive Chef: Vaughn Vargas, CEC, CCE
Manager at OceanView: Enrique Lopez
Supervisor of Kosher Kitchen: Rabbi Yehuda Hadjadj from Chabad of UCSD, a Jewish organization on campus
Architect: Stenfors Associates Architects (SSA), Los Angeles; Jeffrey Stenfors, AIA, LEED AP, principal architect
Campus Architect: Matt Smith with assistance from HDH's Dennis Jones and Frank Prado
Interior Design: Orness Design Group Inc., San Diego; George Orness, president/senior foodservice design consultant; and Ken Relethford, LEED AP, vice president and senior designer
Construction: Barnhart-Reese Construction Inc., San Diego
Equipment Dealer: Economy Restaurant Equipment & Supply Company, San Diego