Bowls offer the perfect serving vessel for convenient, customizable and all-in-one nutritious meals consumers seek beyond bread and buns.
Four Bowl Types Reaching Mega-Popularity Status
SmoothiBowls
More fast-casual restaurants and smoothie/juice outlets now include smoothie bowls. The beverage-turned-meal offers consumers the chance to add custom toppings for extra crunch, flavor and nutrition.
Modeled after the popular acai (pronounced: ah-sah-EE) bowls in Hawaii, Australia and California, smoothie bowls at Graze Kitchenette start with a fruit base. The bright, magenta-colored superfood native to tropical Central and South America comes packed with antioxidants and is thought to help prevent or relieve many health issues.
Graze Kitchenette is a small concept housed inside Chicago's newly opened Revival Food Hall. Mason Edelson, who co-owns Graze Kitchenette with chef Sarah Jordan, incorporates frozen, pureed acai imported from Brazil with frozen banana and only a touch of coconut water to maintain a thicker consistency. Other ingredients, like frozen mango, and homemade pecan and cashew butters also help create a thicker, 100 percent gluten-free and vegan base, which customers can then choose to top with everything from granola to fresh fruit and other superfoods like cocoa nibs, hemp or pumpkin seeds and goji berries.
The product offers an alternative to yogurt or other dairy-based breakfasts or snacks.
Grain Bowls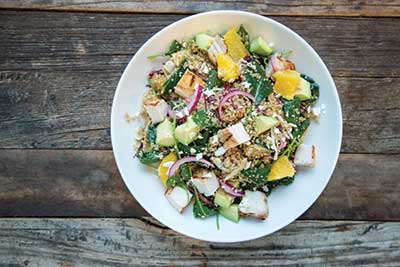 MixtMore fast-casual concepts now offer grain bowls as a heartier, more balanced — yet still nutritious — alternative to straight salads that customers can order with or without meat.
At Mixt, a nine-unit chain with locations in San Francisco and Los Angeles, customers can design their own grain bowl by starting with bases such as organic farro or quinoa mixed with lettuces, kale or cabbage. Next, they choose from more than 80 toppings, including additional raw or cooked vegetables, toasted nuts, legumes, eggs, meat proteins and house-made dressing, according to Leslie Silverglide, co-founder.
The chain already served quinoa and farro as salad toppers, so the switch to using them more prominently as a base required no changes to equipment, design or operations. The same custom-designed bowls used for the salads also work for the grain bowls. Signature bowl items include the Zesty bowl, with quinoa, kale, grilled chicken, feta, oranges, avocado, cabbage, pickled red onion and fresh herbs tossed in a house-made lemon herb vinaigrette as well as the heartier, more filling Sombrero bowl, with quinoa, cabbage, Mexican chorizo, sharp cheddar, black beans, cherry tomatoes, toasted pumpkin seeds, scallions and cilantro jalapeño vinaigrette.
Just Salad, a fast-casual chain with 30 units throughout New York, Chicago, Hong Kong and Dubai, has also expanded its menu beyond greens to include grains in bowl form. The Seoul Bowl adds Asian flavors with a mix of organic quinoa and farro, shrimp, roasted broccoli, carrots, pickled red onions, cucumber, crunchy onions and a dusting of furikake, a Japanese seaweed-umami seasoning, all tossed in a miso ginger vinaigrette with a spicy, sriracha drizzle.
Egg Bowls
Swapping the bread for the bowl, some chains offering breakfast use eggs as the base, providing a starch-free alternative. Last October, Freshii introduced a new line of breakfast bowls, including a kale-based, green smoothie bowl and two egg-based variations.
The Mexican-inspired Huevos bowl uses scrambled eggs as the base for kale, avocado, aged cheddar cheese, black beans and house-made salsa fresca and fiery barbecue sauce. The Green Eggs and Kale Bowl combines scrambled eggs with kale, feta cheese, cherry tomatoes, broccoli and pesto sauce.
Poke Bowls
FireFin Poke ShopPoke, the popular Hawaiian staple, has found its way into mainstream America in bowl form. Amidst a rash of new, fast-casual poke concepts popping up from coast to coast, rice and noodles have become the base for the chunks of raw tuna mixed with soy sauce and scallions that once stood alone.
At FireFin Poke Shop in Chicago, customers can choose from eight Hawaiian-inspired poke bowls. A make-your-own poke bowl option includes a choice of purple rice, greens or gluten-free noodles as the base topped with Ahi tuna, salmon, snow crab, chicken or tofu. Add to that various sauces, vegetables and garnishes like pickled ginger, seaweed and toasted coconut flakes. The Classic Hawaiian bowl includes purple rice topped with ahi tuna, ono sauce, sweet onions and cucumber.
---
Better Bowl Bases
As bowl trends soar, so do the variety of ingredients that serve as a base.
Ancient grains like quinoa and farro for salad alternatives
Pulses, legumes and beans for vegetarian-friendly bowls
Acai, banana and other superfoods for nutrient-dense smoothie bowls
Eggs and/or potatoes for breakfast bowls
Lettuces, kale, spinach and mixed greens for salad bowls
Raw tuna and other fish for poke bowls
Proteins and veggies for heartier lunch and dinner bowls
Bowls by the Numbers
62% of consumers are likely to try bowls at a restaurant.
56% of those surveyed are likely to try bowls from retail outlets.
47% of consumers surveyed are aware of bowls.
41% of consumers surveyed think bowls are innovative and adventurous.
17% increase in bowls making an appearance on menus over the past four years.
16% of U.S. restaurant menus feature the term bowls.
Source: Datassential