By leveraging chef-driven menu items, Anthony Bourdain-endorsed sites and ethnic specialties, modern day c-stores earn a spot in the foodservice space.
A variety of trends continue to point toward a favorable environment for convenience store food today. Younger consumers associate little, if any, stigma with c-store food; equipment advances make for easier-to-execute food programs in small spaces; and consumers overall remain keen on food experimentation.
"I think you are seeing a generational shift in attitudes come along. The younger generation, Millennials and Generation Zers, don't have the preconceived notions of c-store food that previous generations had," says David Portalatin, vice president, industry analyst – food consumption, for The NPD Group. "We're also seeing people purchasing more meals for off-site consumption, either eating in the car or taking food home."
Also, food trends today gear toward localizing to a particular neighborhood or market, Portalatin points out, and c-stores in particular have a reputation for cultivating community connections. "It's about hitting them at the point of value and experience," he says. "There's even a Michelin-starred street food vendor in Singapore. Consumers are open to great food anywhere today."
All those trends bode well for c-stores. Another factor supporting the c-store food evolution? Equipment advances.
"Equipment developments definitely helped change the landscape for convenience store food," says Jeff Lenard, vice president of strategic initiatives for NACS, The Association for Convenience & Fuel Retailing. "It has transformed things. Stores can fix hot, prepared meals very fast. What you can now do in a small space is remarkable."
Today's c-store operators are far more educated about equipment and menu creation and far more interested in what's available, adds Mike Lawshe, president and CEO of Paragon Solutions, a c-store design and consulting firm based in Fort Worth, Texas. "They are bringing in multiple ovens in test kitchens to try them out before rolling them out. It's no longer a canned program. Operators are now more interested in going a little further with food and creating their own brand."
Overall, the curve continues to quickly ramp up for c-store food, says Lawshe. "It's an entirely different world right now. C-stores are hiring chefs, both on staff and/or to help them create menus, or hiring chefs as consultants if hiring isn't an option. They are investing more in the physical space allocated for food, in presentation, equipment and in competent employees that can make the equipment sing. C-store operators are definitely taking food seriously."
The Gold Standard: Sheetz and Wawa
It would be impossible to talk about foodservice in the convenience store industry without mentioning two dominant players: Sheetz and Wawa. Both based in Pennsylvania (in Altoona and Wawa, respectively), each squarely connects its identity with food. Wawa's claim to fame is its hoagies. Sheetz dominates the made-to-order (branded Sheetz MTO) space and is a leader when it comes to touchscreen ordering systems.
Each of these privately owned family businesses holds a spot on the Forbes list of America's Largest Private Companies. Wawa comes in at No. 36 with $8.9 billion in revenues, and Sheetz ranks at No. 55, with $6.3 billion in revenues.
The two chains also share strong roots in favoring foodservice over gasoline. In fact, Wawa didn't even add fuel until 1996. Its business evolved from the dairy home-delivery model back in the 1960s. In similar fashion, Sheetz grew out of dairy stores. And both remain in expansion mode.
"They are both food-forward c-stores, have been doing it for a long time and are really good at it," says Portalatin.
Portalatin places 7-Eleven at the other end of the food spectrum, as it offers a wide array of grab-and-go items rather than food freshly prepared on-site. "The landscape of foodservice in the c-store industry is vast," he notes. "And the majority of c-store operators fit somewhere in the middle of the spectrum."
Within that wide spectrum of c-store food, a unique set of operators find success. They clearly reflect the adage that c-stores have evolved from being gas stations that happen to sell food to now being food stores that happen to sell gas.
That notion holds 100 percent true for Joe's Kansas City Bar-B-Que, which gained notoriety for being both a restaurant and a gas station.
An Anthony Bourdain Endorsement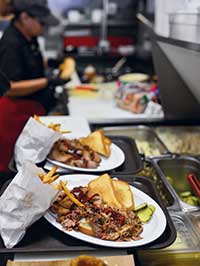 A Joe's Kansas City Bar-B-Que classic, the pulled pork brisket. The restaurant does a 60/40 mix of dine-in and takeout business. Photo by Bonjwing LeeThe gas station/c-store connection holds no stigma for Joe's Kansas City Bar-B-Que in Kansas City, Kan. "It works in our favor, actually," says Doug Worgul, director of marketing. That novelty of eating great food in a gas station drives business, although Anthony Bourdain gets the credit for putting the operation on the map. He anointed the restaurant 1 of the 13 Places to Eat Before You Die and now customers regularly take pictures next to the in-store plaque to declare they have accomplished that task.
"There is a sense of discovery for people when they drive up. It feels like they discovered a little hole-in-the-wall spot," says Worgul. "We succeeded here because the food is really good. It's consistently good, day in and day out. You cannot cut corners."
It might reside within a gas station, but this c-store operates like a restaurant. Owners Jeff and Joy Stehney (the Joe in the restaurant's name is a nod to a former business partner) ended up owning the gas station a bit by circumstance.
After they discovered a knack for barbeque and won several competitions, family and friends started to inquire about catering. That led to the need for storage and equipment, which brought the Stehneys to their neighborhood gas station. The owner at the time ran a small fried chicken business on-site and agreed to let them have some cooler space. Eventually the Stehneys wanted to go into the restaurant business full time and ended up buying the gas station site.
"There were some really practical reasons for starting their restaurant in a gas station space," explains Worgul. For starters, the couple knew they wouldn't be making a ton of money right off the bat and the gas station/convenience store offered consistent cash flow and instant potential customers.
Since opening the first gas station location, Joe's Kansas City Bar-B-Que has expanded with a pair of traditional restaurant sites and added the 180 Room, a 120-seat private event space that offers a more upscale experience. The company expanded again in 2016 when it built a USDA-certified smokehouse facility to cook and freeze barbeque for nationwide shipping.
Worgul recognizes there may be more opportunities to meld the c-store and restaurant pieces together in the future. For example, adding refrigerated cases to sell vacuum-sealed take-home bulk items.
Originally, the gas station property included a liquor store, but that shut down 10 years ago. Since then, the kitchen has expanded to include six smokers plus a sausage grinder and stuffer the staff use to provide homemade sausage to all sites.
The standard equipment package at a Joe's Kansas City Bar-B-Que includes warming ovens, deep-fat fryers, a 10-burner gastop stove, a flattop grill, tilt skillets, a steam kettle and steam tables for to-go stations.
Pulled pork rates as the house specialty, of course, but the Z-Man Sandwich is also "insanely popular," says Worgul. The Z-Man consists of slow-smoked beef brisket and smoked provolone cheese, topped with two crispy onion rings on a toasted Kaiser roll. Burnt ends are also very popular.
Don't Fence Me In
C-store locations like Joe's exist all over the country and continue to gain notoriety as the growing culture of foodies seek eclectic sites and off-the-beaten-path food experiences.
Ethnic foods, in particular, keep drawing notice. NACS highlighted four such gas station restaurants in the Washington, D.C., area in its annual Ideas 2 Go program. The 2016 video highlights some amazing food in c-stores. For example, R&R Taqueria, which also earned acclaim for its lamb taco enchiladas on Guy Fieri's "Diners, Drive-ins and Dives" television show, and Seoul Food D.C., which launched with a food truck prior to opening a restaurant within a gas station.
Do these food-forward operations represent the c-store norm? No. But they remain part of a growing group, and their success will continue to influence their peers to move in that direction.
And those are just the chains creating their own food presence. It doesn't even begin to mention the far-more-common approach of oil giants partnering with QSR brands such as Subway or Pizza Hut. It's a big, melting pot of an industry, and food is increasingly the winning formula.
Can Food Equal C-Store Salvation?
While salvation might sound a bit strong, today's convenience store owners and operators clearly recognize the need to look beyond historically core profit centers, namely tobacco and gasoline. Once heralded as a thriving part of the business, tobacco profit margins have become tight, regulations tighter and every State of the Industry Report that NACS publishes points toward the industry's decreasing dependence on tobacco.
Gasoline presents a slightly different story but certainly brings its own volatile profit margin structure.
The stats tell the story: overall, 69.2 percent of total industry sales in 2015 — the most recent yearend data available from NACS — were motor fuels, but motor fuels only accounted for 39.5 percent of profit dollars. In contrast, foodservice — albeit a broad NACS definition that includes prepared food/commissary foods, as well as hot, cold and frozen dispensed beverages — had a mere 20.8 percent in-store sales contribution but accounted for 33.7 percent of profit dollars.
So, while tobacco and fuel are long-proven traffic drivers for the c-store industry and will likely never disappear, foodservice presents a much brighter beacon of hope for growth.
In fact, 69 percent of convenience retailers report optimism about their business prospects for the first quarter of 2017, according to a January 2017 NACS survey of retailers. And enhanced food offerings were cited specifically as a primary reason.
"Consumers want more food in different places," says Lenard. "Gas stations are now the cool kids."
Foodservice in convenience stores is important right now and will continue to be so, adds Portalatin. "C-store foodservice is a bright spot," he adds. "C-stores are geared toward growth in the restaurant space."
Smoke Signals: Signs of Foodservice Success in the C-Store Segment
Profit margins. Numbers don't lie, and it's hard not to notice when the industry reports 33.7 percent gross profit dollars for foodservice, compared to the 16.8 percent gross profit dollars earned from cigarettes — the industry's No.1 in-store sales seller. Foodservice currently ranks at No.2 in the in-store sales category.
Growing numbers. Store count has increased by 63 percent in the last three decades. The end of 2016 marked a 0.2 percent increase (340 stores). The official store count at the end of 2016 was 154,535. In comparison, the total U.S. restaurant count decreased by 1 percent, although the overall restaurant count wins on sheer numbers, hitting 624,301 total restaurants as of spring 2016.
Source: 2017 NACS/Nielsen Convenience Industry Store Count, The NPD Group/ReCount Spring