Today's beverage menus earn equal attention in the food lineup.
Bars earn key placement in today's restaurant designs.If you haven't noticed, beverages now play a much more integral role in the overall foodservice experience. Stop into any newer, modern restaurant and you've probably noticed more prominent placement of the bar. Many customers will come for happy hour specials, a quick drink and snack or even belly up for a full, more casual meal. Even on the non-alcoholic front, beverages help boost the bottom line as menu pricing becomes more sensitive and operator profit margins continue to tighten.
"There seems to have been a generational shift when it comes to beverages, and especially around alcohol," says Tom Pikro, managing director of Bevmark, a California-based food and beverage consultancy. "There used to be a general concern or even fear around alcohol, but that has faded, thanks in part to Millennials who use cocktails as entertainment vehicles for a more social life. Women are drinking as much beer as men and while the wine industry has always prospered, a lot of the anxiety
and snobbery around it has gone away."
Beverages play a key role in the restaurant industry — virtually every restaurant offers at least one type of non-alcoholic beverage, according to Datassential. Craft beer continues to gain market share — one in ten consumers prefer craft beer to large-scale brands — and signature cocktails continue to drive away-from-home consumption of alcoholic beverages.
Here, we take a closer look at major shifts in beverage categories.
Craft Beer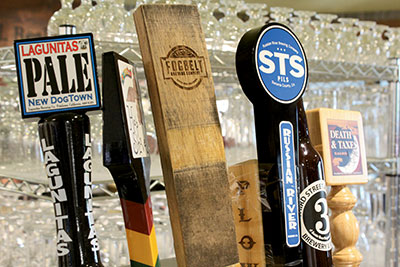 Craft beer continues to gain market share.Craft beer remains strong, even as other beverages enter the market and take off. After considerable growth over the last several years, craft beer now appears on more than half of all restaurant menus (among those locations that serve alcohol), according to Datassential. The rise in popularity of craft beer plays a key role in shaping beer menus, from an increase in variety of beer styles to more unique flavors and ingredients. Menus at times reflect the evolution, describing beer as having pear, blood orange, grapefruit, coffee, blueberry, bourbon and caramel notes.
Varieties such as IPAs and Double IPAs remain the most popular styles over stout, milk stout, pilsner and wheat beers, but low-alcohol beers represent the fastest growing segment, with light-bodied saison beers popular among day drinkers since they can be consumed in larger amounts.
Cider is faring increasingly well; retail sales alone were up 12 percent in 2015, according to market research firm IRI, and more cider-focused bars have popped up nationwide.
Unique Wines
More people now drink wine, specifically unique, small batch, even biodynamic and sulfite-free natural wines made from grapes grown without pesticides.
"Restaurants seem to be trying to demystify wines and make them more pleasurable with food," says Pikro. "They're moving away from more expensive bottles and getting into what's more sellable, as well as offering more wines by the glass."
Modern wine tap technology has helped restaurants, bars and wine bars, which have experienced a resurgence, offer more wine by the glass. At Spoon and Stable in Minneapolis, for example, a system that taps the wine bottles while leaving the cork in place to maintain freshness and reduce waste allows the restaurant to offer more wines by the glass.
Classic Cocktails and Mocktails
Refined cocktails are on the rise.Cocktails, as one might expect, continue to trend. But rather than load up drinks with multiple spirits, mix-ins and garnishes, bartenders these days keep things simple, revisiting authentic, classic recipes for drinks with five ingredients or less.
Restaurants and bars keep reverting back to refined cocktails that make for clean, easy drinking but still feel high end because of the classic nature. "They're not loaded up with Blue Curacao and other mix-ins," says Kasey McDonald, a former bartender and culinary R&D manager at CSSI Marketing + Culinary, Chicago.
Batched and barrel-aged cocktails are having a moment, too. These include booze-forward, aged Manhattans, negronis and Old Fashioneds held in wood or wine casks so they take on some of that extra residue and taste. "Restaurants can easily charge a premium of at least $5 more for cocktails that have aged 3 months," McDonald says.
Coffee and Tea
Brewed coffee still accounts for the lion's share of total coffee incidences, according to Datassential's 2016 Buzz Annual Report on coffee. Outside the home, however, restaurants are seeing the benefits of partnering with local, craft and specialty roasters to offer a better brew.
Tea menus are also more central to the dining — or after-dining — experience. The more well-known and top menued tea varieties include green tea, black tea, and chai, according to Datassential. At the same time, more ethnic-centered variations continue to grow in popularity. This includes bubble tea, milk tea, lavender tea and matcha, the Japanese green tea purported for its health benefits.
House-Made Sodas, Beverages and Water
Custom beverages drive interest.Offering a scratch-made soda or drink option can differentiate operators from the competition, according to Datassential.
At Clover Food Lab in Boston, for example, the hot honey ginger beverage remains popular in the winter, while regulars reach for the concord grape drink in the summer. Twisted Root, a Texas-based burger chain, makes its own root beers, and Blaze Pizza offers a blood orange lemonade and various types of housemade agua frescas using prickly pear, Key lime and other fruits.
Even plain-old filtered and bottled water — including those with flavor add-ins — are becoming more popular as customers turn away from sugary sodas. Bottled water remains a top growing beverage category in and away from home; servings of bottled plain and sparkling (seltzer) water ordered at restaurants and other foodservice outlets increased by 12 percent in the year ending February 2016 compared to the same period last year, according to The NPD Group. Case shipments of bottled water shipped from broadline foodservice distributors to commercial and non-commercial foodservice outlets increased by 6 percent in the same period compared to a year ago.
Juices and Smoothies
Kale, spinach and greens in general have all increased their presence on beverage menus and particularly in cold-pressed juices, which are made using a hydraulic press without the need for heat, according to Datassential.
Smoothies still reign, too, especially around health-focused fast-casual outlets. Many will start with a fruit and/or vegetable base with options for added whey protein, nuts, seeds, alternative milks, coconut water and more.
Turning the tables in beverage will unlock the opportunities for added revenues and brand loyalty even more.
Better Bar Design
It's no secret that restaurants and hotels continue to put a much keener focus on their bars to expand new revenue streams and boost the bottom line.
"Guest expectations are higher today than ever before," says Rich Fogel, founder of Bar Starz, a beverage operations and systems consultancy that works with major hotel and restaurant operations worldwide. "They want amazing food, but also great drinks as well."
Designing a killer bar — not just a lineup of fantastic cocktails — is the first step to success. Ideally, the operator and bar consultant — or in some cases, the foodservice consultant — will determine the nature of the bar program and the cocktail menu, including what types of drinks will be served, what type of bar is most desired and the potential volume, before any design has been finalized. This helps prevent major changes and complications later in the development process.
After establishing the concept and menu, operators and/or consultants must decide on the style, from a shotgun shape to a 3- or 4-sided bar, to a half-island or a curved bar. Shotguns are the most common, but offer fewer opportunities for social interaction, like a 3- or 4-sided bar would. While popular, one drawback is the restocking difficulties they present. Curved bars have great visual design appeal, but as Fogel points out "most equipment is square." This leaves many gaps where liquid and debris can collect.
When serving hand-crafted cocktails, designers must make room for all the tools, ice, rinsing sinks and well liquor the bartender will need within a hand's reach so they don't need to turn their back on the customer, according to Fogel. Just like in foodservice, transparency and showmanship are all part of the experience.
When it comes to the back bar, working bottles should be easy to reach, with higher shelves used only for display and merchandising. Some glassware displays are acceptable, but liquor sells, glasses don't. Better to have the proper glassware for drinks, but stored in glass chillers or elsewhere behind the bar, according to Fogel.
Specialty ice machines can make larger cubes, or from molds, but if going the latter route, Fogel recommends installing a door or drawer freezer to hold enough backup ice for busy service.
Most skilled bartenders now prefer to juice their own lemons and other citrus and even make their own tonics, syrups and tinctures for more natural mix-ins, so there needs to be adequate space for electric or hand-pressed juicers, bottles, racks and some prep space, says Fogel. Some bars now display their fresh herbs along the bar top, spraying them with a little water to keep them fresh for service.
When installing taps for craft beer, avoid putting them at the back bar, which causes bartenders to again turn their backs to the customer, says Fogel. Named tabs — not unnamed ones, though sleek — help speed up service so staff don't have to memorize the handles.
Bar design, just like restaurant and foodservice design, comes down to mathematics and equations. "When you take the emotion out of the process and analyze the nitty gritty, that's the difference between serving hundreds of drinks in a day — consistently well — or not being able to pay the bills."