Relax a bit and loosen your tie. Modern fine dining hits a new, more comfortable stride.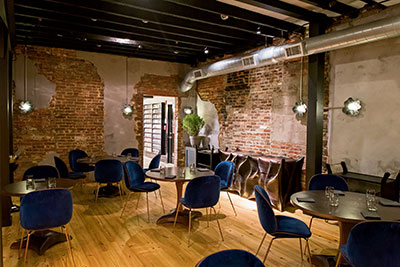 With just 8 tables and seating for 30, The Shaw Bijou's 700-square-foot dining room breaks the traditional fine-dining mold by virtue of both its size and its more casual decor. It offers a high-end but comfortable, dinner-party atmosphere. Photo by Kevin CarrollReports of fine dining's death at the hands of the recession have, to borrow from Mark Twain, been greatly exaggerated. Fine dining dead? Au contraire! According to leading industry research firms, the segment has regained any and all recessionary losses and now outperforms the industry as a whole.
Sure, economic realities and consumer belt-tightening hit high-ticket operations extra hard during the recession. Many weaker players succumbed, and some of the highest-profile chefs in the industry sought refuge in more casual, less pricey territory. But as the economy rebounded, so did fine dining. Data from market research firm Technomic Inc. shows the segment grew between 6 percent and 7 percent in 2015, double that of the full-service segment overall.
Fine-dining traffic leveled off in 2014 and 2015 after coming back strong in 2012 and 2013, but it's now growing again, according to NPD Group. The Chicago-based research firm tracked 2 percent increases in the segment in both the second and third quarters of 2016, and the trend appeared to be holding as the fourth quarter got underway, according to Bonnie Riggs, restaurant industry analyst at NPD. "The numbers aren't huge," she says. "But they're impressive, particularly in light of the fact that all other major industry segments reported either no traffic gains or traffic declines of 1 percent to 3 percent in the second and third quarters. Fine dining is one of few bright spots right now."
The segment's performance reflects operators' willingness to adapt and cater to changing consumer tastes. In a November Robb Report feature, journalist and food writer Alan Richman observes — and laments — what he sees as a move by the fine-dining segment to shed its traditional trappings and inch closer to the center. He further points out that snobbery, elitism and "being a gourmand" no longer go hand in hand.
From a historical perspective, Richman writes, "Fine dining was never intended to be democratic. From the start, it was a demonstration of wealth and privilege, a remembrance of Michelin-starred European vacations, a joyous struggle with a wine tome too heavy to lift, a stimulating battle of wits with a snooty sommelier, and then, finally, the meal: a lot of overly sauced food followed by a cheese course that made no sense ... it is an expression of culture, the most enlightened and elegant form of nourishment ever devised."
But democratic it has become and increasingly so. Since coming out of the recession, American operators and chefs continue to redefine fine dining as an expression of modern culture on their own terms and in the context of the times in which we live.
Del Frisco Restaurant Group concepts have evolved to a more modern, stylish format as its target market for fine dining has expanded. Photo by Gary Moss"Guests today are still discerning and have an anticipation for a flawless dining experience, but they want a less formal environment and desire to be in a more social setting," notes Mark Mednansky, who recently retired as CEO of Del Frisco's Restaurant Group, based in Southlake, Texas. The company operates the high-end Del Frisco's Double Eagle Steak House, Sullivan's Steakhouse — billed as comfortable fine dining, as well as its newer, more casual Del Frisco's Grille. "While 10 to 15 years ago, our segment focused towards building male-dominated, white tablecloth steakhouses and a menu with big, bone-in steaks and Napa cabs, we have evolved to a modern, stylish format, and our target market for fine dining has expanded. ... The only thing we haven't changed is the level of service. This is the one area of fine dining we will never change. Diners expect top-level service, and they will get it, whether they are dining with us at Del Frisco's Steak House or Del Frisco's Grille."
Umberto Gibin opened the upscale Italian restaurant Perbacco in San Francisco 10 years ago. Having received classical training in top-flight restaurants and hotels in Europe before moving to the U.S., he's been a figure in the fine-dining segment for more than 30 years. He, too, says casualization represents the overriding trend in the segment and sees two major forces driving that. The first is simply a desire among consumers for more relaxed, comfortable dining experiences — Michelin star-worthy cuisine and service, minus the white tablecloths. The economic realities fine-dining operators face account for the second factor.
Umberto Gibin, a 30-year fine dining veteran and owner of San Francisco's Perbacco, believes the fussiness of classic fine dining is no longer desired or practical. Photo by Eric Wolfinger"The economy dictates some changes, largely because of the cost of labor," Gibin says. "When I started in the industry, fine dining meant a waiter would have three tables and two assistants to help him take care of those tables. That sort of fussiness is no longer desired, but it's also no longer practical. With minimum wage increasing, more restaurants — even those serving very high-quality food — are having to cut back on service. Concepts are changing to enable them to operate with fewer servers in the dining room and fewer skilled cooks in the kitchen. Everything is more expensive, and you can't pass it all on to the guest by increasing menu prices or you'll price yourself out of the market."
That said, the market still does and always will demand truly fine dining, Gibin asserts. The challenge for operators, Mednansky adds, is to meet expectations for a standard of excellence while embracing modern fine-dining consumers looking for a more relaxed atmosphere and more inventive cuisine. "Today's fine-dining consumers have disposable income and are more than willing to spend on dining experiences, as long as they feel they're getting their money's worth," he says. "While it's imperative to remove the stuffiness from the experience, we need to ensure the quality of food, presentation and service aren't lost. We now have a great opportunity to showcase creativity and think outside the box."
Here's a look at how three fine-dining operations — two brand-new variations on the theme and one iconic property working to balance traditional expectations with modern sensibilities and challenges — are doing just that.
All of the Fine, Less of the Fuss: Temporis
Evan Fullerton (left) and Sam Plotnick started Temporis as a pop-up concept. The brick-and-mortar version, opened late last year, offers high-end dining in an intimate environment that enables the two chefs to do 80 percent of the food preparation themselves. Photo by Harvey PlotnickChefs Sam Plotnick and Evan Fullerton, both of whom came up through the industry working under traditional, classically trained fine-dining chefs, struck out on their own late last year to open Temporis, a high-end, contemporary American restaurant in Chicago's West Town neighborhood set to open Jan. 5, 2017. The tasting menu–only concept, whose opening menu was priced at $110 per person with optional $95 per person wine parings, enables the duo to be extremely focused, precise and creative. Its small size — 10 tables and 28 seats, doing 1 turn per night — enables them to offer guests an experience that's more like a swanky yet comfortable dinner party than a big, fussy night out.
Plotnick says the concept, as well as the duo's move outside the bounds of more traditional fine dining, reflects a trend he sees reshaping the high-end restaurant scene in Chicago and other major cities.
"If you think about fine dining today compared to 10 or 15 years ago, there's so much great talent out there. It's easier for people to learn to cook than it used to be. Historically, if you wanted to be a good chef you'd have to spend a few years in France and/or work under some of the three-Michelin-star guys in New York to be taken seriously," Plotnick says. "You had to follow an exhaustive apprentice system. That's still true to some degree, but it's becoming a little less restrictive and the system no longer necessarily follows that classical format."
I
The new 28-seat Temporis in Chicago turns out creative, multicourse, $110-per-person tasting menus showcasing seasonal ingredients. Photo by Harvey Plotnickn Chicago, Plotnick says, this continues to result in the emergence of many more intimate, chef-led fine-dining restaurants. "We have all these young chefs opening great places. It's likely that they couldn't be where they are today if they'd had to follow the old-school format. If you look at traditional big names in fine dining, like Eleven Madison Park, Daniel and Le Bernardin, they're much larger and business-account driven. These newer, smaller restaurants are built on a completely different business model and have such a different sense of creative intimacy."
The trend, he adds, is the result of not just young chefs blazing their own trails but also changing consumer expectations. Specifically, Plotnick says, younger consumers with money to spend aren't interested in big and grandiose as part of the experience. "The older generation may still have those expectations for what a fine-dining restaurant should be, but a lot of younger guests want a quieter, more intimate space that lends itself to the idea of a more creative, chef-driven menu," he says.
At Temporis, guests get exactly that. On a typical busy night, you'll find 6 or 7 people working in the 1,200-square-foot restaurant's kitchen, a roughly 9-by-14-foot space tucked around the corner from the dining room. The restaurant uses a fairly standard and minimal equipment package, Plotnick says. There's no traditional pass with an expediter. The two chefs work side by side with Fullerton handling most of the live cooking, much of it on a small robata grill, and Plotnick doing most of the artistic plating and finishing. Plotnick estimates he and Fullerton do 80 percent of the work to produce the 8- to 10-course tasting menus.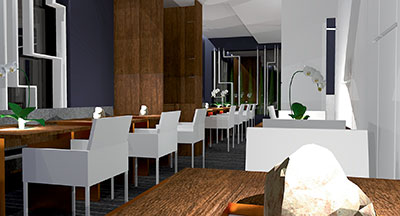 This rendering of the newly opened Temporis depicts a modern yet soft dining room. Specialized LED lighting enables the team to adjust the color and warmth of the light as the night goes on and custom-designed tables feature center "trap doors" in which the chefs can place hydroponically grown herbs, flowers or vegetables that might be incorporated into a dinner course. Image courtesy of Morris Architects PlannersAs in the kitchen, the front-of-the-house staff is small — usually consisting of four servers that work the dining room as a team executing a formal yet comfortable service style. "We want it to be precise and top level, but not overbearing or finicky. It's not about the presentation of the service; it's about the fact that everything seems to happen around you exactly the way it should and in a way that makes you comfortable. No more and no less," Plotnick says.
Modern yet soft, the dining room features warm, dark walnut cabinetry and creamy tones. Specialized LED lighting lets the team adjust the color and warmth of the light as the night goes on. The custom-designed tables do not feature starched white cloths, candles or flower vases. Rather, the warm wood tables feature built-in center "trap doors" in which the chefs can place hydroponically grown herbs, berries or greens that might be part of a dinner course.
"It's the sort of thing, if we were doing a much larger restaurant and pitching the idea to a group of investors, would likely get shot down," Plotnick says. "But if we have only 10 tables and it's a 28-seat restaurant, we have the freedom to experiment and can control our own destiny."
The Zuckerberg Effect: Fontainebleau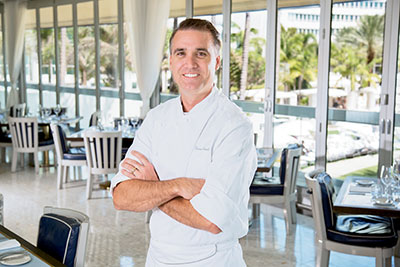 Thomas Connell, executive chef and vice president of culinary operations at the Fontainebleau, says the hotel's fine-dining operations are more relaxed today in terms of ambiance and style, but are no less focused on the highest standards of culinary excellence and providing exceptional service. Photos courtesy of Fontainebleau Miami BeachThe iconic Fontainebleau Miami Beach hotel, synonymous with glamor, celebrity and the jet-set lifestyle since its opening in 1954, today offers three signature restaurants that reflect the evolution of fine dining, according to Thomas Connell, vice president of operations, culinary. Connell joined Fontainebleau as executive chef in 2010 after spending more than 20 years as an executive chef for the Ritz-Carlton Hotel Company, including at the Ritz-Carlton, South Beach, and at Hotel Arts in Barcelona, Spain.
Fine dining today, says Connell, retains its sharp focus on cooking with integrity and finesse, but at the same time it's a bit softer, more casual and much less pretentious.
"More than a decade ago, maître d's stopped wearing tuxedos in part because fine-dining operators began to realize that they were maintaining an environment where the staff dressed better than the guests," Connell notes. "Now, we don't even have our managers wear ties. The food and quality remain top-level, but service is more relaxed. The money in society has shifted. The guy in jeans and a simple shirt could be the richest guy in the room. We call it the Zuckerberg perspective. There are a lot of young, very diverse, successful people with money now — not just older guests who climbed the ladder for 40 years and want to indulge. We make sure that our people understand that and build our culture accordingly."
The Fontainebleau caters to affluent guests, tourists and locals alike at its Hakkasan, Scarpetta and StripSteak restaurants. Each operates independently and provides guests with completely unique experiences: Hakkasan, an upscale Cantonese-style restaurant, lounge and nightclub; Scarpetta, an Italian fine-dining destination; and StripSteak, a high-end chop house created by James Beard Award-winning chef Michael Mina. Each, in its own way, is big, bold, sexy and elegant.
StripSteak at the iconic Fontainebleau hotel in Miami represents a new generation of upscale steakhouses. With two levels and more than 12,000 square feet of dining space, it's more about charisma and hospitality than stuffiness and tuxedoed waiters.In fact, Connell says he sees fine-dining restaurants, at least in hotel settings, getting bigger — a function, in part, of economic pressures the segment has faced over the past decade. "If you're not getting the revenue to cover your costs, particularly as average checks for fine dining haven't been increasing and in many cases have declined, you have to get it in volume," he notes.
Making space for more revenue-generating seats has seen fine-dining kitchens contract relative to the front of the house, Connell adds. Fine-dining concepts also use fewer kitchen employees, in part because it's harder to find qualified staff.
"That's our biggest challenge," he says. "There's been a real change in the kitchen, and it's tough to find people who have the passion and commitment required to work your way up. It used to be very competitive and cutthroat. Everyone was polite when the chef was around, but when he wasn't, someone would sabotage your mise en place just to get a notch ahead of you. Nobody questioned the chef's orders. That's not so much the case anymore, and young cooks expect fast advancement without putting in time and hard work. As a result, we have to change the way we work with them. We have to be mentors and leaders more than 'bosses.' "
With kitchens being more compact and labor pressures mounting, Connell says equipment and design serve as critical elements in the success of any fine-dining operation. In the Fontainebleau's kitchens, the design of each station allows for maximum efficiency. "Every cook has just one pivot foot to access everything he or she needs. If they have to take two steps or more to do what they need to do, that's too many."
The Fontainebleau's upscale northern Italian concept, Scarpetta is a AAA Four Diamond Award winner. It seats 452, with James Beard Award-winning chef Scott Conant at the helm in the kitchen.Each kitchen also uses a smaller, more compact and more multipurpose equipment package compared to what traditional fine-dining kitchens used 10 or 15 years ago, Connell says. Planchas, induction ovens, and compact combi ovens that provide greater efficiency and flexibility serve as workhorses. "Reliability is critical," he notes. "There's a lot of new high-tech equipment, but much of it just doesn't stand up to the abuse of a busy, hot and steamy kitchen. It seems to always need repair."
A glass-walled display kitchen serves as a showcase feature at StripSteak. The hero station here, Connell says, is the 6-foot-long charcoal grill. "It has a pulley system, and the whole deck can be raised or lowered to adjust the heat. We do 200 to 400 steaks on it in a single night, rares on one end and well-dones on the other. It has a seasoning rack below and a resting rack above. There's virtually no verbal communication required among the staff. If a ticket calls for a medium rare Chateaubriand, that cut is placed at the medium rare section of the grill. The cook knows the cut and, because of where it's staged, knows it should be cooked medium rare. When it's done, it's set in the medium rare section of the resting rack. It'll be taken from there, sliced, plated and finished, and nobody has to say a word."
Hakkasan employs a similar system for the wok station as does Scarpetta for the pasta station. "Everything revolves around those key stations, and they're set up so that the chef does nothing but manage the cooking."
It's the quality of the cooking, after all, that sets fine dining apart. While some aspects of the segment are changing, what will and should never change, Connell says, is the integrity of the food and the ingredients, and the focus on fundamentals. "A saute will always be a saute, a braise always a braise, and the art of grilling a steak to perfection is timeless. These are basic, essential skills that will always be required. The equipment supports it, but ultimately, it's the chef, the ingredients and the technique that create true fine-dining experiences."
A Ticketed Affair: The Shaw Bijou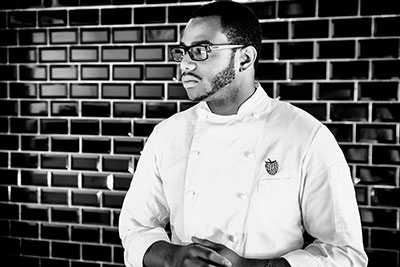 A contestant on Bravo's "Top Chef" and veteran of top-tier kitchens, Kwame Onwuachi promises refined yet approachable cuisine and a completely unique fine-dining experience at The Shaw Bijou. Kelly Gorsuch created Gorsuch Holdings as a luxury brand company spanning several industries, including hair salons, construction, design and now restaurants. He's the force behind The Shaw Bijou, a high-end dining destination in Washington, D.C., and says his motivation when entering any new market is to improve upon, not just replicate — to create "unique products and concepts that introduce a fresh angle to existing industries."
That's what he and his team, including executive chef and co-owner Kwame Onwuachi, have done at The Shaw Bijou. Open since Nov. 1, 2016, in the city's historic Shaw neighborhood, the restaurant resides in a two-story Italianate-style row house. Its first-floor dining room measures 700 square feet, with 8 tables and 30 seats. The dining room flows into a roughly 500-square-foot kitchen in the rear of the space, which turns out multicourse tasting menus showcasing Onwuachi's take on modern, globally influenced American cuisine.
Rather than traditional reservations, guests purchase dinner tickets in advance, at a per-person price of $185. Tax, service and beverage options are additional.
"I knew when I got involved in this project that I wanted it to be a luxury brand," Gorsuch says. "To deliver the best service and food in the modern marketplace, you have to have an idea of where your food costs are going to be. It made sense to me as I started thinking about best business practices for a restaurant to go with a ticketed fine-dining establishment."
Guests at The Shaw Bijou begin their dining experience at the cocktail bar on the second floor, where they enjoy the first course. Photos by Kevin CarrollServing dinner Tuesday through Saturday from 5:30 p.m. to 10 p.m., The Shaw Bijou represents a unique fine-dining format. Gorsuch says the objective was in part to create a very small, highly focused concept that would enable the group to attract a chef of Onwuachi's caliber — a chef contestant on Bravo's "Top Chef," he's also a CIA graduate and veteran of top-tier kitchens including New York's Eleven Madison Park and Per Se.
"I wanted to give him a small enough concept where he could control it. Every chef's nightmare is that they're cooking for 200 tables and it's very hard to control the product. We could have also turned the second floor into dining space, but that's why we chose not to. Instead, the second floor houses a small cocktail bar and a private club and dining space that should open in January."
Renovated to provide an experience akin to a fine dinner party at a friend's house, The Shaw Bijou takes diners into different parts of the restaurant during their visit and each table experiences the same flow, but at its own pace. Upon arriving, a staff member greets and checks in guests before escorting them upstairs to the cocktail bar. While in the cocktail bar, guests relax over a drink as staff serve the first course. The guests then head downstairs via a staircase in the rear, which leads into the 500-square-foot kitchen, where they enjoy their second course. When ready, guests get seated at their table in the dining room to relax and enjoy the remaining courses.
"It's very professional and ultra-high-end in terms of food and service, but we wanted to dress it down," Gorsuch says. "We're not in ties. We're making a conscious effort to make it feel like you're in someone's home. We've taken the formality out where you just sit at a table and have 10 people fuss over you for three hours. Instead, we circulate people through the restaurant to make them feel more comfortable with the whole place."
The Shaw Bijou's kitchen has a residential appearance to make guests feel comfortable as they enjoy their second course there. A 200-bottle spice wall (seen on the right) provides an Instagram-worthy moment. During their stop in the kitchen, diners find a space that Gorsuch designed to have a residential appearance and ambiance. One long cookline at the back features two cook stations, including two ovens flanking two built-in refrigeration units, three cooktops, a broiler above and a combi oven at one end. A functional design feature in the kitchen is a 200-bottle spice wall. "Kwame uses spices from all over the world," Gorsuch says. "The wall is functional, but it also photographs well. In the world of Instagram, that's important."
A basement prep kitchen supports the main kitchen upstairs, and, given that the tasting menus are set and tickets are sold in advance, Onwuachi and his team of six to seven cooks know exactly what they need and what to expect each night.
While newly opened and still growing its clientele, Gorsuch observes that the crowd has been trending slightly younger than he anticipated. Located in an affluent neighborhood, there's no shortage of customers willing and able to splurge for a great dining experience. "There are a lot of foodies in D.C., a lot of money and people here definitely want exclusivity. But times have changed; they don't necessarily want to flaunt it or get hammered over the head with it."
[Editor's note: After slashing prices in mid-January, The Shaw Bijou closed its doors Jan. 15, 2017]