School districts toss out one-size-fits-all programs for K-12 foodservice.
Despite the fact that K-12 school districts in the United States contend with tight budgets, outdated infrastructures and challenging federal nutrition requirements, many school districts continue to overhaul programs and menus with the goal of scoring higher marks for food quality.
Healthier school meals mark the most notable change, driven by growth in farm-to-school initiatives that make greater use of locally sourced ingredients.
Close to 50 percent of school districts now have farm-to-school initiatives, according to the School Nutrition Association's (SNA) School Nutrition Operations Report, The State of School Nutrition 2016. That's up from 37.5 percent in 2014, when the majority of updated nutrition standards for school meals went into effect.
In addition, 18.4 percent of school districts report having partnerships with chefs or for recipe development, an increase from 12.3 percent in 2014.
Variety has become a hallmark of school foodservice programs. Some of the most popular food options include Mexican and Asian food items, prepackaged salads and salad/produce bars, according to SNA's survey. In fact two-thirds of the respondents say their school district offers those items on a consistent basis. Roughly 45 percent of the participating school districts offer locally sourced fruits and vegetables, vegetarian meals and gluten-free options.
What hasn't changed since 2014 is the type of service, with cafeteria lines still the most prevalent format. Grab-and-go kiosks are making a showing, however, with a quarter of schools saying they make use of that format.
Even with restricted budgets, nearly 82 percent of surveyed districts report plans to purchase new equipment in 2017. Serving equipment leads the list of planned purchases, followed closely by utensils, trays or tableware, with each category cited by more than 40 percent.
A number of districts have implemented a renovation project in the past two years. Approximately one-quarter have renovated production areas or serving areas/lines, while 16 percent have overhauled dining areas. New construction projects are less common, tackled by only 17 percent of the districts. Even fewer have new construction plans set for the next two years; they made the list for just between 11 and 15.7 percent.
Decentralizing Production
Portland Public Schools follows government initiatives to provide students with healthy and nutritious meal options.Oregon's Portland Public Schools ran its heat-and-serve school lunch program through a central kitchen up until 10 years ago, when the district sold the building. At that time foodservice operations shifted to kitchens at the district's 85 school sites, and the method changed to speed-scratch cooking — no easy feat for a district serving more than 48,000 students.
"We serve about 11,000 students for breakfast, 20,000 for lunch and 3,000 for dinner," says Gitta Grether-Sweeney, senior director of nutrition services for Portland Public Schools. "We also have a fresh fruit and vegetable program, as well as serve meals to 5,000 students a day during the summer."
The current process has proven beneficial. The district takes delivery of fresh and frozen food ingredients at a central warehouse and then trucks the ingredients to each school. The district focuses on farm-to-school items, purchasing 38 percent of ingredients from local sources. For example, 100 percent beef patties come from nearby Washington State, which is considered part of the district's food shed.
Along with clean labels on all food and ingredients like spices and sauces, meat is antibiotic-free.
"Ideally, we're looking to avoid preservatives and high-fructose corn syrup," says Grether-Sweeney. "Some items, like our locally sourced marinara sauce, are prepared for consistency, cost savings and quality."
Popular menu items are conventional and include pizza, seasoned chicken legs and thighs, ravioli and hamburgers. The team also seeks to challenge the palates of its students with new offerings like shawarma chicken, street pork tacos, teriyaki meatballs and nutritious sides such as corn salad, kale salad, broccoli slaw and garbanzo bean and tomato salad with basil.
Portland Public Schools' kitchens range from small inefficient operations to large and spacious back-of-the-house areas. Because the average age of these production centers is 75 years, a number of considerations must be taken into account when adding new equipment. "I need to conduct load studies, since we don't have the updated infrastructure for electricity, plumbing or gas," says Grether-Sweeney. "Footprints and space also are factors with our limited space."
For example, the district went with ventless dishwashers, since the schools had no space or utility support for hoods.
A convection oven serves as the sole piece of cooking equipment in kitchens at the district's elementary, middle and high schools. Multipurpose uses of this equipment include roasting vegetables, making grilled cheese sandwiches and cooking rice. District kitchens also include Energy Star-rated refrigerators and freezers.
The Portland School district will upgrade and replace equipment as necessary. One recent kitchen renovation involved adding a serving line and salad bar, plus swapping out a two-compartment sink for a larger three-compartment sink.
The addition of ergonomic utility carts allows staff to more efficiently transport food from freezers and refrigerators to work areas. In addition, the district is replacing old wooden shelves with adjustable wire shelving in storage areas and walk-ins.
"We're going back to retrofit as much as possible within the limitations we have," says Grether-Sweeney.
New kitchens are also in the works, with plans for combi ovens, steam-jacketed kettles and updated equipment. "Although these will have limited space, the areas will be more efficient with a greater number of serving lines than we currently have," says Grether-Sweeney.
In addition to outdated infrastructures and limited space, finding and retaining employees can be difficult. Consequently, Portland Public Schools has recently implemented an aggressive recruiting program in an effort to fill staff positions.
"We're hoping with this outreach to get vacancies filled, as we deal with 10 percent absenteeism on a daily basis," says Grether-Sweeney. "That is our biggest challenge."
Systemic Change to Self-Select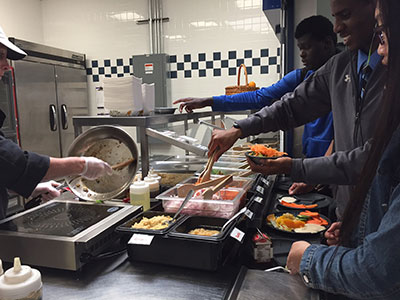 Custom, cook-to-order stir-fry meals are now an option for high school students within Vermont's Burlington School Food Project. Choices include raw vegetables, noodles or rice and proteins.Vermont's Burlington School Food Project has brought a revolutionary change to the district's 10 schools, which serve 3,800 students, mainly refugees from 40 different countries.
Thirteen years ago, the district implemented a farm-to-school program to educate students about food in a nontraditional way. Changes were made to enhance the foodservice program's nutrition, such as replacing processed cheese with cheddar and white bread with wheat. The schools then started buying vegetables, dairy, beef and chicken locally.
Fast forward to today. The evolving program now includes custom stir-fry meals, where Burlington's 1,100 high schoolers choose raw vegetables, noodles or rice and proteins that foodservice staff then cook to order. In an effort to expand on students' foodservice education, the district also offers a student-run food truck and after-school gardening and cooking programs.
"This couldn't have happened without systematic change to allow kids to self-select," says Doug Davis, the district's director of foodservice. "We've had salad bars for K through 12 for the last 15 years, as well."
The district seeks to keep its dollars local to support area farmers, while simultaneously emphasizing the food's freshness to its students. Kids make their own lunch choices, which has encouraged the majority to create and consume a healthier meal.
Executive chef Pat Teague introduced upscale, 24-ounce grab-and-go salads, similar to what one might find in a fast-casual concept. The initial concern was that these items would only appeal to female students, but that has not been the case, as male athletes have been purchasing the salads in droves.
This was a signal to Davis and Teague to not make presumptions about student preferences. "We do a decent job marketing and labeling the salads so kids know what's inside," says Teague. "And it's convenient, since they often stick the salads in their backpack or bring them to class."
With more than 50 percent of students on the free and reduced lunch program, the goal is to provide a decent quantity — as well as quality — meals.
Unlike the cooked-to-order program, the Burlington school district uses a basic menu rotation, but with different variations. Monday is pasta; Tuesday and Friday are stir-fry; Wednesday is street food like steak and cheese subs; and Thursday schools feature a burrito station.
Like many districts, Burlington struggles with outdated infrastructure that impacts its equipment use. Buildings are between 30 and 100 years old. Although high school kitchens tend to be larger, the smaller kitchens are just 15 feet by 15 feet.
"Our buildings are so old, we need to make sure newer equipment can be accommodated," says Davis. "The utilities need to be looked at, and equipment has to be reflective of the school's size and necessary production capacity."
High school kitchens tackle the majority of production, which includes preparing food from scratch and catering orders. Kitchens include double-stack gas convection ovens, steam kettles, tilt skillets, ranges, holding cabinets, warming units and Energy Star–rated freezers and refrigerators. Refrigerated salad bars and heated serving stations also are part of the lineup.
The program showcases front-of-the-house production. With stir-fry, only 20 percent of the prep occurs in the back of the house; 80 percent is made to order in the front of the house. Students fill a vessel with a choice of 12 vegetables, which a staff member stir-fries in sesame oil and soy sauce before placing the food in a container with noodles, rice and/or proteins.
"Also, the way we display cooked-to-order salads is unique, as well as our preparation methods," says Teague. "For example, twice a week we prepare stir-fry with two induction burners, while weekly we have a pasta station with induction burners that use a Teflon saute pan to prevent sticking."
Burritos and steak and cheese sandwiches are prepared in a tilt skillet, which also is used to saute chicken, top round, shrimp and tofu. Steamers are used daily for vegetables, rice, pasta and reheating items.
The district purchased grills for preparing chicken to top Caesar salads as well as burgers and top round for steak salads.
"We're always trying to innovate and be responsive to the kids' needs, but until we can perform physical site-based upgrades, we're maxed out," says Davis. "The way lunch is scheduled, it can be challenging with the number of kids and the amount of time they have to eat. I would rather see a schedule built around lunch than vice versa."
Commissary Cuts Costs
A central commissary serves as the starting point for Macon's Bibb County Schools' foodservice program. Food is prepped and then sent out in bulk.Macon's Bibb County Schools, the only district now using a single commissary setup in the state of Georgia and the Southeast region, made the switch in 2000 as a cost-saving measure.
"We had many old buildings that we've been renovating, and it quickly became apparent that it would cost more to fully equip individual kitchens than to build a central facility," says Dr. Cleta J. Long, school nutrition director for Bibb County Schools. "A construction management firm that was overseeing our building projects bounced the idea off of us, and we agreed."
The public school district serves 25,000 students in pre-K through 12th grades, as well as a couple of Head Start programs, a charter school, a school for those with learning disabilities and a program for students with emotional and behavioral issues. This totals about 40 locations.
Prior to settling on a central kitchen, Bibb County Schools conducted a feasibility study on five foodservice models. In addition to the commissary, alternatives included a hot plate system, a combination of the two (hot plate plus commissary) and contracting with a management company.
"We looked at all the models and did a cost-benefit analysis," says Long. "This determined that the central commissary was our best bet."
The district then embarked on installing the operation. This turned out to be its biggest challenge, considering the limited number of experienced companies that had accomplished this feat from the ground up. Adding to the difficulties was the fact that the entire operation had to be overhauled, which meant transforming individual kitchens to more streamlined bulk-type systems.
"We ended up collaborating with the district's nutrition division, the state health department and others who were specialists in operations and could guide us," says Long.
The result was a 25,000-square-foot labor-saving commissary where scratch cooking takes place using food with no preservatives or additives.
The district accepts deliveries at the central kitchen's warehouse. Staff then prepare the food in bulk via a cook-chill system according to requests from school foodservice managers. For example, a manager requesting 300 pasta sauce servings will order 10 bags, which hold 30 servings each. Staff then place batch buckets of food on a hoist, and they get released into kettles, which heat the product. It is then pumped into gallon bags and chilled. Orders are placed two days in advance, and each school holds only three days' worth of inventory.
The commissary's main equipment includes three 100-gallon kettles, two with agitators, and a cook tank. The bakery area produces whole-grain rolls, breadsticks, cookies and muffins with muffin and cookie depositors, two double-rack ovens, a proofer/retarder, a dough cutter, a spiral mixer and a 4,000 pound-capacity flour silo.
"We can set a computer to the amount of flour needed, and it dispenses automatically into a bowl," says Long.
A meat prep area employs a fast automatic slicer. In the ingredient control area staff weigh and measure all food components to ensure accuracy. This includes a 30-capacity can opener.
Bibb County Schools' commissary also includes a packaging area with overlay, shrink wrap and film seal machines. One produces 4 inch x 4 inch seals on plastic dishes, another seals 5 inch x 7 inch plastic trays with film for breakfast, salads and deli sandwiches. The overlay machine seals afternoon snacks.
Software helps manage the back and front of the house, including handling recipes, inventory, production and analysis.
The warehouse accommodates 1,200 pallets at one time and has two freezers that hold 300 pallets each. The district uses six refrigerated trucks on four separate routes to transport food daily to the schools.
Bibb County Schools' new and retrofitted finishing kitchens measure about 1,500 square feet and include between one and three double-stack convection ovens and a steamer. The district is starting to phase in combi ovens in some locations.
"We initially had retherm ovens, but these were too slow, so we went back to convection ovens," says Long. "Because we have limited equipment, we need to think through the preparation process in advance."
The district's freezers and coolers were deemed too small for the number of students being fed, so those had to be upsized. Also, electrical outlets were added to the ceiling instead of the floor to provide added hookup efficiencies.
"Building a kitchen is similar to building a home," says Long. "We've been able to improve each one, even though we're using the same layout and footprint. It has worked out really well."
Healthier Menus for Time-Starved Students
Q&A with Tracie Suter, Illinois School Nutrition Association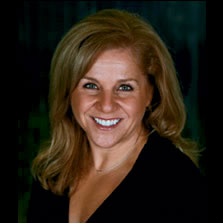 Tracie Suter, SMS President Illinois School Nutrition Association www.ilsna.net
Assistant director of nutrition services Valley View Public Schools
Bolingbrook, Ill. www.vvsd.org/domain/44From the need to produce healthier meals to feeding time-starved students, the pressure on school foodservice has never been greater. In order for K-12 foodservice to thrive, though, operators will need to leverage smart foodservice equipment packages and strengthen their supply chain relationships. To help facilitate both, the Illinois School Nutrition Association will host an equipment-only event Jan. 26-27 in Utica, Ill.
Here, Tracie Suter, SMS, assistant director of nutrition services for Bolingbrook, Ill.-based Valley View Public Schools and state president of the Illinois School Nutrition Association speaks about current school foodservice issues.
FE&S: How has school foodservice evolved in the past five years?
TS: School meals were pretty significantly overhauled beginning with the 2012-13 school year. USDA mandates presented a challenge for some, but I think this caused us to really take a different approach to how we were servicing our customers. Increased numbers of fruits and vegetables, lower sodium products, and whole grains forced school food operators to look at what they were currently doing and make some changes so that were able to maintain participation and customer satisfaction.
FE&S: Describe how those changes affected your operations.
TS: We saw a resurgence of salad bars, alternative serving solutions, grab and go models and stand-alone kiosks to accommodate different methods of serving. Fresher and healthier items began surfacing and finding new and innovative ways to prepare and enhance foods became the norm.
Fresh fruit and vegetable displays are more common in school lunch lines today. Scratch and speed scratch cooking, made-for-you meals, flavor stations in the front of the house and the back of the house are popular as foodservice operators are learning to cook once again, often adding herbs and spices instead of sodium to flavor the products.
I feel that we've grown so much as an industry. Though it was not always easy, we have become better business partners with our industry members — from brokers to manufacturers, to other operators. We've banded together to move forward together for the good of our customers. More than ever I have seen inclusiveness and cohesiveness like never before.
FE&S: Food quality is a big issue for foodservice operators from all segments. How are school foodservice operators working to maintain or improve food quality?
TS: Cleaner labels, coupled with more fresh ingredients and speed scratch cooking along with increased professional development and training is vital in keeping our customers happy. Better cooking and holding techniques and keeping abreast of trends in the industry, both on the food and the equipment side, has really given our industry the opportunity to be successful in improving the quality of foods we serve.
FE&S: How can you go about managing change when it comes to cost, speed of service, nutrition, etc.?
TS: Sometimes slow and incremental shifts in products and practices are easier for staff to implement and for students to accept. This is one reason why a gradual change in program regulations has been important — giving the industry time to catch up to the demands of school foodservice and allowing schools an opportunity to gradually implement changes in their cafeterias.
FE&S: In what ways will school foodservice operators look to leverage their equipment packages?
TS: Now more than ever is a time for schools to reach out to their equipment manufacturers and brokers to find out what is available. Gone are the days where an operator would buy one piece of equipment for one cooking process. There have been so many advances in technology and equipment is much more flexible than it was just 5 or 10 years ago.
I have seen foodservice operators shy away from equipment because they're intimidated in what they don't know, but all of the changes in our menus and preparation techniques have encouraged changes in equipment to meet those needs.
FE&S: How do supply chain partners help move things forward?
TS: Reducing inventories (ex: using speed scratch items that can be used in several applications), being a good business partner by communicating needs, product usage and providing more robust, accurate bids. School foodservice has become such a special niche, serving products that cannot be sold across other channels. We need to recognize this and be willing to think outside the box, adjust the way we've always operated in the past and work together for a mutually beneficial relationship.
FE&S: What does the future hold for school foodservice?
TS: The future of school foodservice lies in the balance of inclusiveness and partnering with others who are passionate about feeding kids. Allied organizations, industry partners, community, building administration, faculty and staff can all be part of enhancing what we do every day.