Just in time for the holidays, here's a look at some of the top catering trends and the latest in private dining spaces.
Q&A with Jodi Fyfe, founder of Paramount Events, Chicago
FE&S: How has catering changed in the last couple of years?
JF: Catering has gone beyond just filling a need at an event; it has become a focal point. That's why we need to offer restaurant quality dishes that are both creative and delicious, whether the event is for 10 people or 1,000. That is the level catering is currently at industry-wide.
FE&S: What are some trending ways to present food in catering?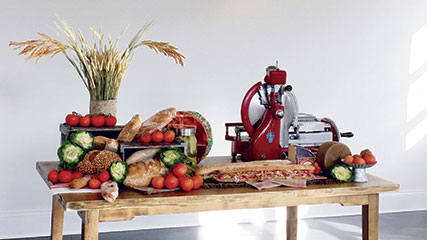 JF: Statement food — clients want the food at their events to not only taste good, but it should be photo- and Instagram-worthy, too.
FE&S: What equipment and supply items are you using most right now for events?
JF: Our Flywheel Station has been very popular. It's a great action station with a state-of-the-art, beautiful Italian meat slicer where guests can interact with Executive Chef Devon Quinn while he slices the best meats for charcuterie or sandwiches.
FE&S: What food presentation pieces are popular?
JF: We have had many requests for copper accents and serving pieces, as well as for wood lately. Another trend really gaining in popularity is vintage decanters for displaying and serving specialty cocktails and wine.
FE&S: What are your customers looking for in terms of parties and events?
JF: They really want to do something unique, but approachable. A delicious hot chocolate bar is the perfect example.
Top 10 Catered Food & Beverage Trends
Herbs and microgreens: on display in pots and for use
Veggies: sunchokes, Brussels sprouts, other small/local farm produce
Grains and seeds: millet, farro, heirloom legumes, chia
Condiments: Gochujang
Sous vide infusions
Interactive food: salad bars, food paint in squeeze bottles
Customization bars: yogurt, salad, snack, mashed potato and pasta stations
Barrel-aged cocktails
Hard cider
Artisan sodas
Source: Catersource
What's In: Intimate Private Dining Rooms
Restaurants continue to capitalize on smaller, private dining spaces for intimate get-togethers and business meetings. Many of these design-forward rooms offer a peek into the kitchen and often come equipped with full A/V hookups and flexible wall configurations as party sizes change. Some restaurants refer to these spaces as wine rooms because they also offer a view of the restaurant's selection of unique and premium bottles, as in the case of Paul Martin's in Scottsdale.
Event Space Up Close: The Lakewood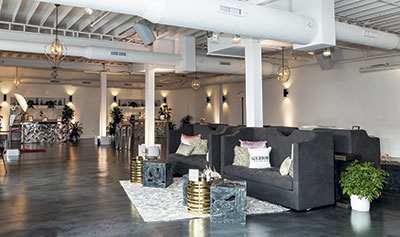 An all-encompassing stage for weddings, meetings, corporate gatherings, and everything in between, The Lakewood in Chicago's West Lake District boasts a clean, modern design with contemporary elements like polished floors, lofted ceilings, crisp white walls, architectural display shelving, and an on-site, state-of-the-art kitchen. The 6,000-square-foot space, which has capacity for 600 seated guests, also features advanced AV and sound capabilities.
"I had a catering menu engineering session with a new client. Before we [started] working, I wanted to know what type of food they wanted to cater. The client told me they could cater 'anything.' Though you may be able to cater 'anything,' it is a recipe for disaster. Most restaurants are famous for their specialty. Stick with the basics.
By offering too many options, you make inventorying, purchasing, and cooking a logistical nightmare. Your catering clients are trusting you to stick with the basics — the most popular items that will fit their needs. Does that mean you can't cater anything? Of course not, but not for drop-off.
Full-service events like weddings, fundraisers and large social events are a great venue to tout and promote your creativity. Corporate drop-off catering is all about the basics: good food, plenty of it, served on time with nothing left off. But, if you think about all businesses, the ones who focus and execute flawlessly on the basics are the most successful. The more you muck up what you do, the greater likelihood things will fall through the cracks."