Best practices, ideas and inspiration from the industry, for the industry
TED Talks were the inspiration for an industry event that offered short takes on big ideas worth spreading. FED delivered.
The inaugural Foodservice Equipment & Design (aka FED) Global Thought Leadership Summit, produced in conjunction with FE&S and restaurant development + design, took place Sept. 20-21 in Chicago, bringing a cross section of the foodservice industry together to share ideas.
The following pages show some fun pics of the ample networking opportunities among attendees. We also showcase speaker high points and ideas they shared during this two-day event.
Call them highlights, call them take-aways, call them whatever you want. Like TED talks, these are bitty bytes. Want the full course? Head straight to FESFlix and view the complete video presentations of all FED speakers. In the meantime, this should whet your appetite.
The importance of the dinner daypart: "If restaurants can steal 1 dinner meal per capita back from home prepared meals it would equate into roughly $3 billion in revenue for the industry."
Warren Solochek
President, Foodservice Practice
The NPD Group
Port Washington, N.Y.
The role of love in leadership: "If you love your soldiers, they'll move mountains for you."
That message changed the trajectory of Joe Ricciardi's life. The army colonel took FED attendees on a tour of duty as he shared his experience finding new meaning in leadership during combat tours of Afghanistan and Iraq.
Col. Joe Ricciardi
Vice President, Operations
Supply and Equipment Foodservice Alliance (SEFA)
South Barrington, Ill.
Meeting customer expectations from market to market: "What I learned was that whatever segment you are in; you have to study your consumer. We are not all the same."
BobPuccini
Founder/CEO
Puccini Group
San Francisco, Calif.
Maximizing the impact of new products: "Bend technology to do what you want it to do."
Jim Lund
Design and Consultant Resource Manager
Rational USA
Rolling Meadows, Ill.
How food contrasts with virtual reality: "In the same way that farm-to-table changed the landscape and the way that we look at food and its quality, I believe that restaurants [in the future] will be focused more on primal enchancements and primal experiences that force people to interact with each other."
Jackson Thilenius views the future of food as the yin yang to what he believes will be a virtual-reality-impacted future. He cited "adventure diners" as one example of a trend that offers more interaction outside the four walls of a restaurant and a stark contrast to anything virtual.
Jackson Thilenius
Senior Director
Pulse by Getty's
The Getty's Group
Chicago
Humanitarian Award
Zoomba Group, publisher of FE&S and rd+d, honored Selim Bassoul for his humanitarian efforts in creating an innovative oven that continues to change the lives of people in refugee camps.
Bassoul accepted the award from Louise O'Sullivan, chairman/CEO of Chicago-based buying consortium Prime Advantage Corp.
In his acceptance speech, Bassoul challenged everyone to care and inspired the leaders in the room to take their passion and change the world.
The new face of kitchen equipment: "Today's kitchen equipment looks good. People see it now front and center as the kitchen becomes a centerpiece."
Guy Rigby
Octopus Consulting
Toronto, Ontario, Canada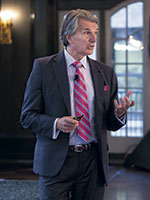 Driving waste out of the system: "Everyone should consider sustainability, no matter where your company falls in the process."
Doug Fryett
President
Fryett Consulting Group
Shreveport, La.
The lack of progress with food safety: "Foodborne illness is at an unacceptable rate today. … We know it's horrible, we know it's bad: why can't we fix it? It is preventable."
Greg Richards
Vice President of Business Development
Franke Foodservice Systems
Smyrna, Tenn.
"Two recurring questions now asked are: Do we need that piece of equipment? And, is it multifunctional?"
Rick Caron
Senior Vice President Innovation
Manitowoc Foodservice
New Port Richey, Fla.
The benefits of sharing your expertise: "We simply solved the problem. Now, I didn't get an order that day, but I know my involvement was much appreciated."
Rob Geile, on working to resolve a product issue for a consultant's client regardless of the fact he did not represent the product.
Rob Geile
Vice President, Consultant Services
Ali Group
Vernon Hills, Ill.
How TO maximize technology: "Use technology to solve a problem. That crystalizes things."
Dan Henroid
Director, Nutrition & Food Services,
Sustainability Officer
University of California-San Francisco Health
San Francisco
Optimizing technology: "There is so much data available to operators today. We just have to make sure we are using it to make things better."
A.J. Barker
Director of Culinary
Concept Kitchen + Bar
Chicago and Seattle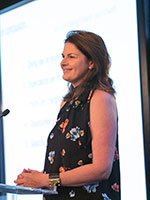 How foodies and techies work together to shape today's foodservice industry: "We bond over shared experiences. We all look to social media to see what we've missed. … The core part of our population is more passionate about their food than ever before."
Elizabeth Blau
Founder and CEO
Blau + Associates
Las Vegas
Christopher Koetke on the messy human stuff
"Make the switch and bond with a personal relationship. Relationships are good for business — the
foundation, the start."
Christopher Koetke
Vice President
Laureate International Universities Center of Excellence in Culinary Arts
Chicago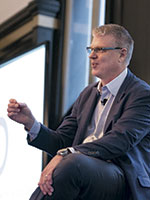 The importance of engaging employees and giving them a voice in your operation: "If you listen to employees, you will learn a lot."
Steve Maahs
President
Alto-Shaam Inc.
Menomonee Falls, Wis.