An ambitious menu and breathtaking 360-degree views of this New England city and its surroundings provide club members and guests with a memorable dining experience.
By Donna Boss, Contributing EditorWhen the University of Massachusetts Club's lease on Franklin Street in downtown Boston expired, the club's directors found a new location at one of the most prestigious addresses in the city: One Beacon Street. A gut renovation of a former law office transformed the space on the 32nd floor into a contemporary private social club and venue for meetings, banquets and special events. The club serves as a destination for members and their guests to meet for beverages at the bar and lounge and the a la carte restaurant. The magnificent 360-degree view enables one to see Boston and its surroundings on a clear day.
When UMass Club moved into its new home in the fall of 2015, UMass Amherst's auxiliary enterprises department assumed management. "We took this on as a new opportunity to enhance our revenues, which is one of the strategic goals in our vision plan 2020," says Ken Toong, executive director of Auxiliary Enterprises at UMass Amherst. "We are delighted for the opportunity to manage a high-end private club including everything from food to membership in the great city of Boston, and it is a win-win for everyone involved. We are pleased to provide the same level of healthy, sustainable and delicious food for our club members and to provide a Boston location for UMass alumni to reconnect with friends over a meal, just as they did in our dining commons."
The club features meeting rooms that can accommodate as few as 10 people or as many as 500 participants attending meetings or special events. Dining options include a bar and lounge, an à la carte restaurant, and catering services for banquets and events. "The decor has been described as timeless elegance," says UMass's David Eichstaedt, who has overseen operations since August 2015 and became general manager in February 2016. "We offer members and their guests an experience they can't find elsewhere. Our members are our main priority, and our mission is to provide a very high level of service and quality while at the same time remaining fiscally responsible."
As beautiful as the skyline views are, they presented the project designers with a few challenges. "It was critical to design a bar that allowed us to keep all of the equipment elements low to the ground so as not to compete with the skyline views, and to do so without compromise to its functionality," says William Maidment, senior design associate, Crabtree McGrath Associates, which provided foodservice design consulting. "The open kitchen was perhaps one of the most challenging features. From the start we had very limited space to work with. The kitchen had to be designed to work as a combined a la carte and banquet kitchen, and of course it had to look spectacular. To accomplish our goals we divided the kitchen with a wall, keeping the a la carte function up front, while the banquet plating area, food storage, food preparation, and dishwashing remained in the rear. This allowed for the less visually appealing functions to be kept out of site. Being a former chef, I like a clean design, and this means functionality first. Every station was developed with the help of the UMass chefs, and I scrutinized every detail to ensure a clean appearance, including the removal of all manufacturer logos."
Limited space presented other challenges as well, resulting in creative solutions. "We had to negotiate for additional storage rooms on the floor for beverage and banquet equipment, and in the final hours a bank of temperature-controlled wine lockers was added to the design in the main corridor to allow members to store their own wine," says Maidment.
Regarding the wine lockers, Eichstaedt says, "Offering wine storage in temperature-controlled lockers builds customer loyalty. We plan to help customers locate and purchase the wines that they want so they can store them in their private lockers."
The Dining Operation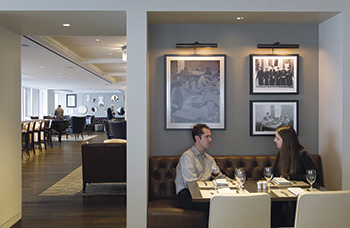 Banquettes and individual chairs provide options in more private spaces. Photographs depict historical images of Boston. Photography courtesy of GenslerDeliveries arrive at the loading dock. Staff load them into a freight elevator and take them to the 32nd floor's dry storage room, walk-in cooler and small freezer.
"Due to space constraints we must run a very efficient operation," says Brandon Hicks, UMass's executive chef. "Most restaurants can buy food for the week or maybe at least half the week, but we have to receive more frequent deliveries and process food the day of service. My menu is designed around the functionality of the kitchen. I take a minimal approach to plating. Since I don't have additional space for storage of mise en place, each ingredient has to stand out on the plate."
The menu reflects Hicks' local approach to haute cuisine, which he honed while working at hotel restaurants in Portland, Maine, and Middle Eastern restaurants in New York City. Hicks emphasizes that UMass Club members and their guests do not always want typical club food, so he brings a creative touch and always introduces something new. For example, instead of serving a typical Caesar salad, his version features baby romaine lettuce, burrata cheese instead of parmesan, and anchovy vinaigrette. For steak frites he uses 48-day prime dry-aged beef and makes an accompanying bordelaise sauce or beurre maitre d'hotel with seasonal garlic scapes. Rather than mashed potatoes, a potato and bacon terrine accompanies the short ribs. The halibut dish features a seasonal twist of grapefruit sauce vierge and pickled ramps. Local striped bass is garnished with Point Judith squid.
Mise en place prep (mainly for banquets and events) takes place in the back of the kitchen. Some additional prep for fish and some a la carte service also takes place here. The catering kitchen contains stacked combi ovens for steaming vegetables, roasting meats such as beef tenderloin and prime rib, and baking creme brulees; two cook-and-hold units; a 5-gallon kettle for making soups; and a 30-gallon tilting skillet for braising, cooking soups and sauces, and steaming shellfish such as mussels.
The equipment package also includes a salad spinner, floor mixer and food processor. In the case of a few menu items, such as short ribs, which are seared in the tilting skillet and finished in the combi oven, staff portion prepared food into bags, seal them using a vacuum packaging machine and place them in a refrigerator or freezer. "Using this sous-vide–style preparation allows us to stay organized and enhances the menu items' shelf life because it prevents oxygenation," says Hicks.
A small pastry area in the back of the kitchen allows staff to make the club's desserts. A juicer also sits in this part of the kitchen, allowing staff to make fresh fruit and vegetable beverages.
A conveyor-type rack dishwasher, warewashing equipment and a pot washing sink also sit in the back of the kitchen.
The A la Carte Kitchen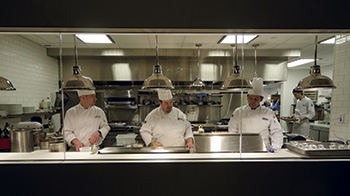 Preparing the days menu are (from left): Matthia Accurso, chef de cuisine at UMass Amherst; Brandon Hicks, executive chef at UMass Club; and Pelegrin Gonzales, catering chef at UMass Amherst. Photographs by Keith Doffing, UMassA glass window separates the a la carte kitchen and the club's lounge and seating areas. This window allows club guests to watch culinary staff preparing an ambitious menu featuring many locally sourced ingredients and New England favorites at the custom made-to-measure cooking suite and custom counters with remote refrigeration.
Staff use a marble counter for preparing mise en place for desserts and plating the sweet creations. Two wells next to the dessert station hold the soups of the day. Adjacent to the table, staff use the grill to prepare chicken and burgers and mark steaks before placing them in the conventional oven below for finishing. A refrigerated drawer next to the grill holds the mise en place for the grill station.
For accoutrements to steaks, vegetables and sauces, staff use a French-top range with an overhead salamander. The adjacent six-burner range heats pastas and appetizers such as gnocchi and cacio e pepe pasta. Two more sets of drawers beneath the burners hold mise en place for both the pasta and saute stations. Another French top with an oven beneath allows staff to prepare fish and side dishes.
The same staff member working the saute station usually works the fry station, which produces garnishes for hamburgers, french fries and onion rings. "We are soon replacing this French top with a plancha, which will allow one person to man the grill and saute stations and see menu items such as burgers from start to finish," Hicks says. Another adjacent counter supports the saute cooks as they prepare mise en place à la minute for the saute station.
Julio Madrid and Gelvin Barrientos, both cooks at UMass Club, cut vegetables and prepare mise en place for a catered event. Photograph by Keith Toffling, UMassDirectly under the glass window, culinary staff prepare garde manger for salads and sandwiches such as turkey clubs, vegetarian portobello sandwiches, scallop and fluke crudos and king crab salad. A set of refrigerated drawers sits beneath the counters, and a reach-in refrigerator sits to the right of the drawers. Atop the marble counter, reach-in refrigerated wells hold the mise en place such as salad dressings and final garnishes.
In the center of the kitchen, an island with a counter surface heated from the bottom allows plate storage. "This is great because we don't need to use heat lamps, which dry out the food," Hicks says. The center island also holds a steam well that can keep soups and sauces warm and conceals the waste can and soiled saute pan carrier.
Culinary staff are extremely sensitive to guests' allergies and use designated cutting boards to keep all the ingredients isolated during preparation and plating.
Hicks insists on sourcing ingredients to foster new ideas in menu development. For example, he brings in suckling pigs from a Pennsylvania farm, debones them, rolls them into porchetta and roasts them. "When guests experience the taste, they began requesting it for special events, such as weddings," Hicks says.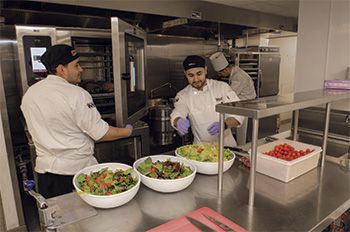 UMass Club cooks Jose Lopez, Gelvin Barrientos and Julio Madrid assemble salads. Photograph by Keith Toffling, UMass"We work as a collaborative team," Hicks says. "I don't have all the answers, and if something isn't working, I expect the cooks to come to the table with different ideas and approaches. It's important that they feel they have a voice."
The approach brought by Toong, Eichstaedt, Hicks and the team is working well. Word is spreading about the culinary experience, and more guests are booking seats in the restaurant and hosting meetings and special events. "We are proud to have constructed a fine dining location from the beginning that can rival the best restaurants in Boston for our UMass community," Toong says.
Key Players
Property Managers: CBRE Property Management Company
Executive Director of Auxiliary Enterprises, UMass Amherst: Ken Toong
General Manager: David Eichstaedt
Executive Chef: Brandon Hicks
Architect: Gensler, Boston, Mass.; Jorge Enes, senior associate
Interior Design: Gensler, Boston, Mass.
Foodservice Design Consultants: Crabtree McGrath
Associates, Georgetown, Mass.; John Sousa, owner;
William Maidment, senior design associate
Equipment Dealer: Kittredge Equipment, Agawam, Mass.; Dennis Reardon, central regional sales manager
Facts of Note
Opened: November 1, 2015
Scope of Project: Gut renovation of an existing space that was formerly a law firm; project includes dining room, bar, lounge, meeting rooms and kitchen
Size: Total club, 22,550 sq. ft.; bar, 250 sq. ft.; kitchen, 1,600 sq. ft.; storage room, 550 sq. ft.
Seats: 105 in dining room; up to 500 in 5 private rooms
Total Annual Revenue: Membership dues, $750,000; F&B sales, $800,000; banquets and events, $2 million
Average Tickets: Breakfast, $14; lunch, $23; dinner, $49
Transactions: A la carte lunch, 20 to 70; dinner, 20 to 60; banquets/events, between 10 and 500
Hours: Bar and restaurant, 7 a.m. until 10 p.m. Monday through Friday; private events, hours as needed 7 days/week
Staff: 35
Total Project Cost: N/A
Equipment Investment: $700,000
Website: www.umassclub.com