2016 IFMA Silver Plate winner in healthcare Diane Imrie, MBA, RD, director of Nutrition Services at The University of Vermont Medical Center in Burlington, discusses cultural change, customer service and more.
FE&S: What are the five key challenges you face as a healthcare foodservice director today?
DI: One, time. The pace of change is so quick that it is critical to prioritize and stay focused on the most important tasks. There simply isn't enough time in the day to do everything you might like to do.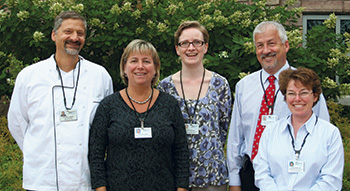 Imrie realizes collaboration among team members (from left) Richard Jarmusz, Daria Holcomb, Cathy McIsaac, Real Pothier and herself is crucial for success.Two, coaching. Supporting the management team is critical to a highly functioning team. Making the time and energy for what they need to be successful and feel successful is a challenge but so important to me.
Three, leadership. As leaders, we must not miss an opportunity to take our place at the table, both in the organization and the community.
Four, staffing. We must stay focused on supporting and promoting an engaged staffing team, particularly given extremely low unemployment and a highly competitive culinary environment in Vermont.
Five, reliability. In such a complex environment one of our challenges is to be highly reliable in meeting service expectations of employees, customers, patients and families.
F&ES: Describe how your operation has responded to these challenges.
DI: We've implemented new retail services, room service for patients and a food sustainability program that is nationally recognized.
For retail, we renovated Harvest Café, our main retail facility, in 2009. We also operate Main Street Café, which serves house-made, cooked-to-order menu items; Café Express, serving to-go high-end hot beverages, soup and sandwiches; The Pavilion Café, serving a house-made cooked-to-order menu in an outpatient facility; and The Dunbar Café in the Rehabilitation Facility. We're continuing to conduct a full retail analysis to see how to increase sales and employee satisfaction. We're buying a system so customers can order foods ahead of coming into the facilities. And we're always looking to enhance allergy-sensitive menu offerings.
Imrie inspects a well-balanced plated meal in the Garden Atrium.UVM Medical Center(UVMMC) also built the Garden Atrium in 2015. Located off the main lobby of the Ambulatory Care Center, this dining facility is open to all patients, guests and staff and is also designed to offer a more comfortable environment for people waiting in the main lobby area for loved ones in surgery. As a healing space in an outpatient building, this is a quiet, beautiful space for people who are here during a stressful time.
It features a 100-seat restaurant, beautiful garden-related artwork, comfortable lounge seating, a double-sided fireplace, books for loan-out and a roof-top garden with raised garden beds, fruit trees and herbs. Families and employees can come in and stay 15 minutes or all day. It's a space where families can relax.
On the food side, we enhanced the mission and values we already have. We're serving more than 50 percent organic fruits and vegetables; all dairy, meat and poultry served are locally sourced and all food is cooked to order. In addition to featuring products from current suppliers to the Medical Center's sustainable food program, we incorporate products from new Vermont farm partners such as honey, vinegar, sunflower oil and dried fruit. We're also composting and recycling china and silverware to help meet the goal of being a "zero waste" facility.
This is a dream come true for me because I've had my eye on this space since 1998. We had the luxury of having all our staff on board before we opened for business and we didn't have to implement an interim foodservice plan. We took staff off site to a local supplier's farm to expose them to the mission of the operation and local purchasing. It's very important that all of us protect the culture and allow new people to assimilate into the culture so when customers are served they feel it is a healing experience.
FE&S: What will be involved in your retail analysis?
DI: About 85 percent of our revenue is from retail operations. We've increased revenues every year for a decade. In addition to looking at sales, participation and quality, I'm trying to figure out where we can best serve in the area of hunger. Much to my dismay, we have hungry people working at our facilities and have customers from our community who come in to get services, who are hungry and maybe have challenges such as diabetes and may not be able to pay. As a health services organization what is our place and what impact can we have? I feel people shouldn't be on our grounds hungry. We're considering many options, such as a pay-it-forward program in which I as a customer can pay an extra dollar that will go to help others get a meal. The goal is that anyone on this campus who needs to eat for their well-being can eat here.
FE&S: What are you doing to market healthful eating practices?
DI: We make the "Food Matters" brand prominent in all retail operations. We're educating customers with signage that tells customers about species of fish, their waters of origin, and the boats' and captains' names. At the Garden Atrium, an interactive kiosk contains local food information about ingredients that are available here and the farms that produce them.
FE&S: How does your purchasing fit in?
DI: With an operations group of the UVM Health Network, we signed a beverage contract through an online bidding process. We have a purchasing team that is very active and we facilitated a contract in 2015 with a local grower to fund a greenhouse on his farm in return for winter greens that were not available previously. And we arranged pre-buys with a local producer investing in flash freezing to enable the project to proceed.
FE&S: What are you doing with room service to encourage healthful eating and your team's engagement with patients?
DI: We use the same quality of foods in the room service menu as we do in the retail areas, and patients can choose from a wide variety of options. We encourage the use of seasonal foods, including vegetables, fruit, fruit desserts, fish and daily chef's specials to add variety for longer-term patients.
FE&S: You've been a leader in implementing sustainability initiatives. What are some of the programs you are working with now?
DI: Through a federal grant, UVMMC established the Center for Nutrition and Healthy Food Systems. This is an initiative aimed at educating other healthcare institutions about building a sustainable foodservice. We'd like to be a national role model. We host farm tours, culinary trainings, grand rounds and an annual retreat for the Vermont leadership team that includes professionals working on healthy food. Since the federal grant was completed, a small private foundation has been supporting the continuation of this work now hosted by Wake Robin Life Care Community. Called the Vermont Workgroup, for six years dietitians and chefs from healthcare organizations across the state have gathered to discuss issues such as improving the availability of chickens raised without antibiotics and collective tracking of local foods supporting the Vermont Farm to Plate initiative. This group is a model for other states to follow.
Imrie visits the rooftop garden where produce is grown for use in the dining programs.Recent initiatives include hosting cooking and nutrition at the Family Medicine annual retreat and the expansion of the Health Care Share Program that offers free farm shares and food education to 100 patients at three primary area sites, and development of a statewide curriculum.
I'm also engaged in many aspects of the Vermont Farm to Plate network. We're in active discussions with state and national legislative teams to positively influence food and healthcare across the country.
Waste and hunger are two of our priorities so we're always trying to figure out how they align so we can reduce waste to provide resources.
We've also been invited to be involved in a two-year teaching kitchen collaborative with Harvard's School of Public Health. The goal is to teach patients to cook and develop a body of evidence of best practices. We've been offering cooking classes for four years. We lost the space for our culinary classes, but we are discussing the opportunity to use a local food bank's space, which aligns with our mission to address hunger.
FE&S: What chief concerns keep you awake at night and why?
DI: There is too little time to do everything that my team wants to do. They are very high performers! I give much thought to keeping them focused on the right things with the best overall outcome.
I have a very highly engaged leadership team and employee base and we always want to say "yes" if a program or request is aligned with our mission. We need to focus on our priorities. We have a lot of goals to accomplish, and I want the team to feel good about reaching the goals we've set and not get distracted. We must keep business going and make sure we're serving people well and still do the fun new projects.
FE&S: What types of equipment do you think will most benefit you in the next five years?
DI: Equipment that allows us to provide quicker service and cook-to-order, freshly prepared menu items. We like high-speed ovens, panini grills and induction cookers. We serve time-starved customers, so anything that helps facilitate self-service is welcome.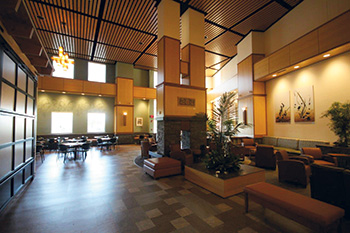 The Garden Atrium features a 100-seat restaurant, beautiful garden-related artwork, comfortable lounge seating, a double-sided fireplace, books for loan-out and a roof-top garden with raised garden beds, fruit trees and herbs. Photography by John Alden, AIA, Scott + Partners ArchitectureAnything a manufacturer can do to make salad bars better is also welcomed. There are very stiff regulations for food shields yet we want to make salad bar items more accessible.
As we grow, we're also looking at different types of ovens for our bakeshop. We have deck ovens and we're looking for more efficiency.
Because we're doing more display cooking, equipment must be aesthetically pleasing. In fact, it must be beautiful. We're using more brushed stainless steel.
In the back of the house, we pay for our water coming in and going out. So anything that can help us reduce water consumption is high on our list of preferred equipment.
FE&S: What are you most proud of?
DI: Building a strong, well-aligned culture. Our employees feel that what we do in foodservice and nutrition is part of patient care and they feel aligned with the mission. They get it. They are so in tune that when a program or practice doesn't look aligned with our mission of healthy food they question it. This keeps us pushing our program forward.
FE&S: What do you see in the future?
DI: In terms of health and prevention there is no going back. I believe as nutritionists and foodservice experts we'll be asked to be engaged in more community initiatives. We need to step into that role as leaders and still run our operations. For example, I'm a big fan of cooking classes—low tech and high tech—for community members. Leaders who are interested in making changes must come to the table and participate in the process of change. This will continue to be more and more important as people become more interested in the role nutrition and food play in disease prevention. FE&S
Facts of Note
Years Working in Foodservice: 25
Years in Current Position: 20
Awards and Recognition: Imrie received the first Fletcher Allen Health Care CEO leadership award titled "Living the Leadership Philosophy" and the Pyramid Award from the Vermont Dietetic Association for improving the health of Vermonters. On behalf of her organization Imrie has received three first-place national awards from Health Care Without Harm, including two for sustainable food procurement and one for public policy and advocacy. She is recognized by and referenced in the Journal of the Academy of Nutrition and Dietetics. She received Practice Greenhealth's Circle of Excellence in Sustainable Food awards.
Other Accomplishments: Imrie is the co-author with UVMMC Executive Chef Richard Jarmusz of the cookbook "Cooking Close to Home, a Year of Seasonal Cooking." She owns and operates a small farm with her husband in Vermont.
Other Involvement: Imrie collaborates with the Vermont Community Garden Network, the Farm to Plate Network, Working Group for local and regional marketing and consumer education, the Northeast Organic Farming Association and the Department of Agriculture. She serves on the University of Vermont Food Systems Steering Committee, was published in 2015 in an economic research study with the University of Vermont to measure the economic impact of local purchasing on the farmers across the state and is a member of the Sustainability Council at UVMMC.
UVMMC Size and Service: UVMMC is a 447-bed tertiary care regional referral center providing advanced care to approximately one million residents in Vermont and northern New York. With partners at the University of Vermont College of Medicine and the College of Nursing and Health Sciences, UVMMC is Vermont's academic medical center. It also serves as a community hospital for approximately 150,000 residents in Chittenden and Grand Isle counties. UVMMC is a member of The University of Vermont Health Network, a four-hospital system.
Annual Sales Volume: $7 million. Patient services are only 15 percent of the volume.
Annual Budget: $13 million, including all inpatient, clinical and community programs.
Annual Catering Sales: $320,000
Meals Served Per Day: 7,500-plus
Annual Patient Meals Per Day: 1,000
Annual Retail Meals Per Day: 7,000
Staff: 147 FTEs, 180 employees with mix of full-time and part-time