Foodservice venues represent a sure thing for gaming operations looking to enhance their customers' experiences and bottom lines. Operators require heavy-duty and flexible equipment packages to hit the jackpot.
A striking bar area is part of the Cannery Casino's foodservice operations.A growing number of states in the U.S. bank on casinos for economic growth, and foodservice programs are part of the winning hand. With casinos now legal in 40 states, the $240 billion gaming industry supports 1.7 million jobs and generates $38 billion in tax revenue, according to the American Gaming Association.
The majority of these operations include several restaurants with different themes, price points and menu options. According to a report from the Nevada Gaming Control Board and UNLV Center for Gaming Research, food and beverage revenue makes up about 22 percent of a casino's total yearly revenue, and on average, casinos employ 1,200 food- and beverage-related employees.
In the UNLV Center for Gaming Research's report, Trends for Big Las Vegas Strip Casinos, 2008-2014, a survey of 22 casinos earning more than $72 million a year in gaming revenue found that total food revenue increased slightly to $2.3 billion in 2013 from $2.1 billion in 2008. In contrast, beverage revenues bubbled up to $1.1 billion in 2013 from close to $740 million in 2008. Daily casino revenues totaled $280,000 for food and $131,000 for beverages in 2014.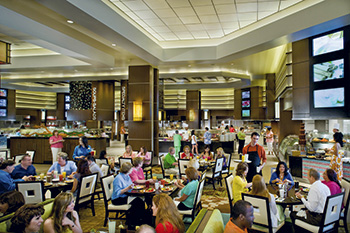 Pala Casino's 11 restaurant options include Choices, The Buffet, which is a more upscale version of the self-service operation.In 2014, 22 Las Vegas casinos with gaming revenue between $1 million and $72 million averaged $7.5 million in food revenue and $4.6 million in beverage revenue each per year — an average total of $33,000 a day in food and beverage revenue — according to the UNVL Center for Gaming Research and Nevada Gaming Control Board. This equaled about 20 percent of each casino's total revenue.
The total gaming workforce remains strong, with growth expected in the years ahead. The Bureau of Labor Statistics projects casino gaming will add more than 34,000 new jobs by 2022, including those in the foodservice sector.
Restaurant Rebranding
In the casino restaurant segment, gaming represents the main attraction, but Pala Casino Spa & Resort, located in Pala, Calif., set out to expand on this.
A year ago, the operation underwent a $5 million renovation, which included replacing its Mama's Cucina Italian Restaurant with CAVE, an upscale 4,300-square-foot Mediterranean restaurant that includes a 2,400-square-foot underground wine cave. "This is the first underground wine cave in San Diego County and provides a meeting spot set away from the casino," says Roy Hillis, Pala Casino's vice president of food and beverage. "It gives us a competitive edge."
Pala Casino also introduced Luis Rey's, an indoor/outdoor venue with a patio lounge and bar offering American and Mexican appetizers and a permanent 2,400-square-foot outdoor stage.
With many Pala Casino regulars visiting two to three times a week, restaurants provide a variety of dishes at different price points to attract more diners. "We are in the gaming industry, not the restaurant business, so the goal with our foodservice operation is to support the casino's needs," says Hillis. "That being said, our guests are not here just to play, but for the complete resort experience."
This includes a variety of dining options. Along with CAVE and Luis Rey's, Pala Casino has 11 restaurants — Choices, The Buffet; The Oak Room steakhouse; Noodles, an Asian restaurant; Sushi Sake; Pala Café, offering California dishes; and a selection of quick-service eateries, such as Grinding Stone Pizza, Promenade Deli, Coffee Amoré and Poolside Café & Bar. "When we design our menus, we sit down with the chefs and management team and look at what's trending overall, but also pay attention to our market," says Hillis. "While we tailor the equipment to those needs, it's the chefs' preferences that directly impact our purchases."
San Diego County's first wine cave was a major component of Pala Casino's $5 million renovation in 2014.Three exhibition kitchens service all of Pala Casino's restaurants, with equal attention given to functionality and appearance. Pala Casino's kitchens change out equipment as necessary. "Although we focus on durability, there comes a time when parts become obsolete and replacement is necessary," says Hillis. "We're planning minor equipment replacements for some units in the coming months."
Ohio's Hollywood Casino Columbus debuted a new restaurant last year: Zen Noodle. This Asian concept opened last March, having evolved out of a former seating area, and includes an exhibition kitchen. The casino has four other restaurants — the 50-seat Final Cut Steak & Seafood, Epic Buffet, the recently rebranded and updated O.H. sports bar, Take 2 Grill and H Lounge.
"We can do as many as 1,000 meals a day in our grill and buffet," says executive chef David Bennion. "For banquets, we can accommodate up to 2,000 people, but are looking to expand that."
In addition to supporting the casino and restaurant's theme, Hollywood Casino Columbus' restaurants serve as amenities that contribute to the customer experience. The 350-seat buffet offers between 45 and 50 hot items and 50 cold items. Culinary staff make all dishes from scratch, including the sauces, dressings, desserts and baked goods.
The broad-based menus meet the tastes of the casino's diverse customer base, which includes Boomers and Millennials. "This is why offerings include everything from tacos to chicken parmesan," says Bennion. "In terms of trends, IPA brews are really big right now."
Similar to other foodservice segments, casino foodservice operations continue to battle for space on the property. "There is not a lot of space for kitchens anymore because these are not moneymakers," says Bennion. "We try to do as much as we can with the space we have, purchasing quality equipment that will last and provides speed and efficiency."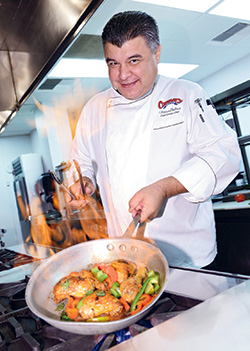 The menu has helped drive the Cannery Casino's kitchen design and equipment purchases.Key equipment varies depending on the restaurant. For example, the buffets at Hollywood Casino heavily rely on tilt skillets that act as large frying pans for preparing big batches. Pressure fryers fry chicken, and combi ovens prepare mashed potatoes as often as seven times a day. Two conveyor ovens primarily cook proteins in the steakhouse and sports bar, while the pizza restaurant has two stand-alone speed ovens that can cook 250 pizzas quickly.
"I don't like to have multiple pieces of equipment if I can avoid it," says Bennion. "Combi ovens provide multiple functions and save on space."
Catering to the Locals
Years ago, the Las Vegas strip attempted to change its focus from an adult entertainment mecca to a more family-friendly town. At that time, a number of casinos created more affordable restaurants that would appeal to families. This endeavor was not unsuccessful.
"When the casinos stopped marketing to families and focused on providing high-end dining experiences centered around gaming, it pushed the locals to casinos like ours," says Steve Uricchio, food and beverage director at the Cannery Casino & Hotel, which is located off the main strip in North Las Vegas.
Catering mainly to those within a 20-mile radius, the Cannery owns and operates six restaurants: Waverly's Steak House, Cannery Row Buffet, Vino's Ristorante, Vino's Pizzeria, Casa Cocina Restaurante Mexicano and Victory's Café. The high-volume operations serve approximately one million meals annually. Locals, who comprise 96 percent of the casino's visitors, are primarily regular customers. Many are on a first-name basis with the staff, 40 percent of whom have worked at the Cannery since it opened 14 years ago.
Guest surveys reveal the Cannery attracts price-conscious customers who seek variety, particularly when it comes to meat selections. "In buffets, for example, our diners are looking for beef, chicken, pork, carving stations and prime rib," says Uricchio. "But they also want to be served in a timely manner."
Also, like in other restaurant segments, reward and loyalty programs continue to gain momentum in gaming foodservice. Customer research shows that food incentives appeal to the Cannery Casino's gamers. Diners look for free buffet promotions, opportunities to pay with points and two-for-one deals. In addition to its "Wise & 55" Mondays, dining discounts are mailed out to the casino's regular customers.
"We also offer more personalized reward programs for our premier players, such as chef table seating and wine dinners," says Uricchio. "We'll do 14 wine pairing dinners for 30, as opposed to one big dinner, to provide more individualized attention."
Although the high rollers tend to enjoy more exclusive perks, the Cannery also rewards the so-called 0 to 10 gamers, those gamblers who may spend less at slot machines but visit the casino more regularly. "It's not just one type of gamer that makes a property successful," says Uricchio. "Everyone is equally important."
As the demographics of today's gamers have become more diverse, so have the menus. Like other casinos, the Cannery continues to expand its buffet selections to include a wide range of ethnic cuisines as well as themed food nights offering Hawaiian and Cajun menu items. While the draw of Italian food has leveled off, the mass appeal of Mexican and Asian menus, including noodle bars, continues to rise. Also, in the last few years, it has been the concept and menu driving the kitchen design, rather than the reverse.
Grand Falls Casino's Big Drop Café specializes in casual fare, such as sandwiches and salads. "In the past, designers would come in and build a kitchen, as opposed to the chef or operator who better understood what the needs would be," says Uricchio. "Now, when we do expansions or remodels, it's understood that kitchen design is a craft of the culinary staff rather than just the designer."
As such, convection and holding ovens play a crucial role in the Cannery's kitchens, in addition to production equipment like tilt kettles and skillets. Self-contained fryer technology also helps streamline operations. "Any large property like ours ends up frying a lot, so self-contained units with built-in oil filtration systems have been a great evolution," says Uricchio.
Point-of-sale system upgrades designed for better communication with the kitchen help speed of service and reporting efficiencies. This results in more consistent and accurate menu analysis. Information provides useful insights on top-selling menu items, hours of sales and ticket times.
"There are generally two schools of thought with casino foodservice, which is whether it's preferable to lease out restaurants so as not to deal with the operating expenses or run foodservice as part of the casino," says Uricchio. "For us, we're reinvesting and consolidating concepts to reinvigorate our operation."
Restaurants as Profit Centers
For an increasing number of casinos, revenues depend on the food as much as the gaming.
For example, the Grand Falls Casino & Golf Resort, located just outside of Sioux Falls, S.D., emphasizes quality and selection, not cheap food at a low price. Its three restaurants are Big Drop Café, Ruthie's Steak and Seafood, and Robert's Buffet.
"Gamers are looking for a good meal to go along with the gambling," says Jean Frigo, Grand Falls' food and beverage director. "Casinos used to not care if money was made on the food — it was all count — but now financials are separate for many operations like ours, and that mindset has changed."
Below: At Native Lights Casino, located outside South Dakota, the majority of patrons are seeking comfort foods.Buffets, in particular, have undergone an evolution, with many basic comfort foods being replaced by theme nights and ethnic fare. Grand Falls' Robert's Buffet changes its offerings daily, with steak on Monday, barbecue on Tuesday, Italian on Wednesday, surf and turf on Thursday, seafood on Friday, prime rib on Saturday, and brunch and family dinner on Sunday.
The café specializes in casual fare, including sandwiches, steak, salad, croissants and pastries, while steakhouse specialties include rib eye steak, New Orleans crab cakes, seared scallops bruschetta, lobster bisque and Ruthie's wedge salad. "We visit different casinos across the country to see what's out there, but also look to fine dining and other restaurant segments for menu inspirations," says Frigo. "Lately, we're noticing an influx of Asian restaurants opening in our area, and also that customer portion expectations have increased."
Multifunction units that increase production speed, such as combi and convection ovens and food processors, are key components in Grand Falls' foodservice operation. "For next year, we're budgeting for durable equipment that performs," says Frigo. "It's not just about an affordable price but also dependability."
When Newkirk, Okla.-based Native Lights Casino surveyed its customers and those in the area, it became evident that rather than high-priced gourmet items, people dining at its Buffalo Grill restaurant were looking for affordable, quality dishes in big portions. "At the time, we had pricey dishes, like tuna, mahi mahi and aged steaks, and our menus were stagnant," says Drew Hoang, director of services for Tonkawa Gaming Enterprises, Native Lights Casino's parent company.
A menu revamp merged fine dining with a café concept, combining traditional fare, such as chicken-fried steak and burgers, with more affordably priced aged steak. "Now our menu is designed to bring people into the casino," says Hoang.
Native Lights, one of three casinos in northern Oklahoma operated by the Tonkawa Tribe, underwent a soft renovation in late 2015. This included a dining room upgrade, with a new configuration and updated décor. The restaurant now includes 16 tables, a lounge with 15 tables and a private dining area that accommodates 20 people. Customers consist mainly of locals seeking affordable, traditional meals rather than trendy offerings.
Because 90 percent of the casino floor is reserved for slots, floor space is at a premium for the restaurant and kitchen.
With much of the menu centering on meat, the 16-burner grill and flat griddle serve as two critical pieces of cooking equipment. "We've also benefitted from using greaseless fryers, which work in half the time of traditional units and cut our overhead, since we don't need a ventilation hood or gas hookups," says Hoang. "We are always looking to conserve space, so that is a consideration when purchasing equipment, along with cost and the durability to handle thousands of meals a day."
Hoang is always on the lookout for the newest food trends, which are constantly evolving. "Casinos in Vegas, Atlantic City and even Minnesota are big trendsetters in the industry," he says.