What it takes to successfully transform any location

Homestyle Brands converted its Bo's Steak and Grill into Cole's Backyard Grill.Don't fall in love. Those four words are easy enough to say when navigating the terrain of a broken heart. However, they hold just as much weight to the restaurant operator looking to open a space — or renovate an existing one — in the building of their dreams.
"Don't get married into a space if you think it's fantastic, because in the end it may not be," says Michelle Bushey, design director, U.S., with Harrison Architecture and Design.
That doesn't mean the space of their dreams won't work, nor does it necessarily mean they should look elsewhere. Instead, operators should focus on their timelines and budgets. That rule applies when conducting any type of restaurant redesign, whether updating an existing space or looking to retrofit a space that once housed something else.
With many brands today moving into their second, third or even fourth design iteration, maintaining timelines, budgets and core branding elements seems to be the top three priorities, although not necessarily in that order. When Baskin-Robbins executives were looking to redesign and renovate some of the chain's more outdated locations, they wanted an environment that continued to make ice cream an iconic representation of the brand.
"It was important that we stayed current, relevant and contemporary for our customers," says John Herth, senior director of global design and construction services for Dunkin' Brands, Baskin-Robbins' parent company. "We also wanted to create an environment that made our ice cream the hero and that focused on our heritage."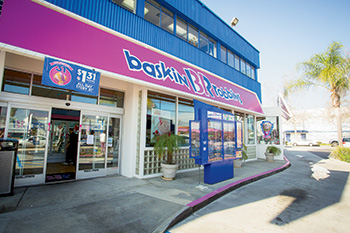 The company strives to make sure each franchisee knows what to do when a renovation becomes necessary.With those goals in mind, the company created interior and exterior changes that franchisees can easily implement and that focus on family togetherness. Herth and his team also include the brand's signature pink and blue color scheme, logo and its emphasis on 31 flavors in the design. And while some design elements may have changed, the way Baskin-Robbins displays its ice cream — in glass cases that face guests — will always stay the same.
"The things that we try to stay true to with our remodel and reimage are our heritage items," he says. "Our target audience is really families and it's amazing how many stories we get from people who had worked in Baskin-Robbins or it was a family tradition. So when people come into the store today we try to bring back some of those memories."
The company also tries to keep renovation timelines and scope of work easy enough so the project can play out after hours and within one to two weeks, with a lead time of six to eight months to order materials. Baskin-Robbins franchisees must update their locations once every 10 years with some of them on their fourth or fifth design change. As a result, the company takes great strides to make sure each of their franchisees knows what to do when a renovation becomes necessary and receives recommendations, if needed, of who to hire and when the work should take place.
"The franchisees are in control of their stores so if they would elect to shut down and do it all in a few days it is their responsibility," Herth says. "What we historically see is almost all of the franchisees want to keep their doors open and do the work after hours. The scope of work is very doable and the contractors are used to doing this type of work for the food industry."
While a majority of the renovations may take place in existing Baskin-Robbins locations, some new units that open reside in facilities that may need additional renovations. Renovations for a location that once housed a retail or other foodservice outlet may take longer to do, but the company provides design guidelines that specifically spell out what needs to be done to ensure a consistent appearance and efficient operating platform. "Other than them finding the space and working through the build-out there really isn't any question as to how it's going to look," Herth says. "We provide franchisees with a preliminary layout of the space so that gets them to the starting point."
Timelines
Contractually, Baskin-Robbins franchisees must remodel their stores once every 10 years, but other concepts operate under a variety of time frames with some looking for updates every 5 to 7 years.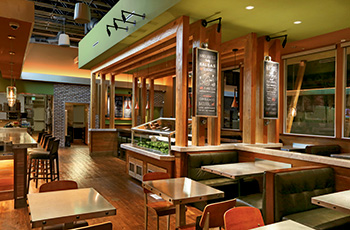 Sharky's executives will continue to adjust their design concept."It used to be every 5 to 10 years you would plan for an update and renovation, but seeing how quickly everything is moving right now, and depending on your brand and the number of prototypes you have going at the same time, I would say every 4 to 6 years. Some people can get away with longer and some people can't," Bushey says.
Regardless of when the brand mandate comes, a project timeline plays a crucial role in the success of the renovation. "Timelines will definitely depend on what the current space is and what you're going to have to do," Bushey says. "If you're renovating a previous restaurant, it can take anywhere from 4 to 12 weeks, on average: Four weeks if it's a quick job and 12 weeks if it's a total gut. And that is strictly construction time. That doesn't include design time or time for permitting."
Bushey says any architect or designer should be able to ballpark a realistic renovation timeline once they see the space and know what needs to be done. But even with the most pinpointed timeline, demolition can run into unexpected problems that could impact opening or re-opening day.
David Goldstein, chief operating officer with 23-unit Sharky's Woodfired Mexican Grill, says the company was once renovating a 50-year-old building and found an old barbecue pit. They made the decision to leave the pit in place. However, during the renovation process they realized it needed to be removed. The company then had to bring in a small bulldozer to take it out and ended up having to remove a wall as well.
"There were A/C units on the roof that were put in without a permit or proper support so we had to add steel beams, and that just wasn't something we originally accounted for," Goldstein says.
Sharky's Woodfired Grill targets B locations when looking to open new restaurants.Accounting for the unexpected can sometimes work in your favor, too. A Sharky's location in Oregon was opening up in a former Payless ShoeSource. When demolition crews removed the old ceiling they found beams underneath, similar to what Sharky's architects had planned to install.
"It made the original ceiling plans we had not appropriate anymore, and so if we used the ceiling beams that were there we could save a little bit of money," Goldstein recalls. "So that was a positive."
Goldstein adds that having a good amount of working capital and the ability to handle the unforeseen are both keys to making any renovation a success. "You need to have realistic goals," he says.
"Unrealistic goals for the budget only puts the process in jeopardy from the start. And it's important to break the restaurant into zones. The key to our timelines is really around the zones of the restaurant and with trying to keep them open while we are doing the renovation. We've renovated six so far and have made decisions along the way in order to stay open."
Additionally, building stores with the new design helps pave the way for better renovation timelines for franchisees and remains consistent with the founders' focus on change. "One of the critical elements to determine our timeline is building new restaurants in the new design," Goldstein says. "Once we've proven the concept of the new design, it's easier to break down the components of what we renovate."
Sharky's executives have no fear of shaking up the brand to stay relevant and top-of-mind. When founder Steve Paperno opened the first restaurant, he went into a B location that had seen little success with prior foodservice occupants. However, he was able to make the location work, so the company started to open in B locations throughout the region. Those early locations have gone through many changes since the first one opened in 1992, and Paperno credits his love of change with why each renovation works.
"Part of who I am is really about change and embracing change," Paperno says. "It's one of our core values and we really try to be ahead of the game. So what it is today compared to what it was is so different. I think a lot of people don't embrace change and then they get stuck. It's important to embrace change."
Budget
Most operators receive a budget from their designer and architect and that number will typically vary depending on the type of renovation necessary — whether redesigning an existing location or renovating new real estate.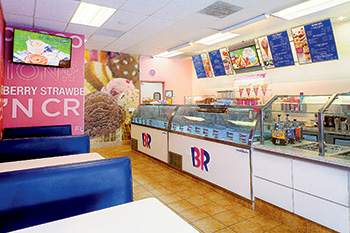 Baskin-Robbins' new designs feature the brand's signature pink and blue color scheme, logo and its emphasis on 31 flavors in the design. The way Baskin-Robbins displays its ice cream — in glass cases that face guests — will always stay the same."Most people normally have a number in their head of how much they want to spend and to get to that number they need to do their due diligence," Bushey says. "Bring in a designer, architects and subcontractors and start working backward. See what the renovation is going to cost and then add food and equipment, etc. And then figure out if you need to increase your budget. The key is due diligence. People who don't do due diligence get burned every time."
Homestyle Brands CEO Tom Sacco and his team spent $30,000 to convert Bo's Steak and Grill into Cole's Backyard Grill. Sacco developed Bo's as a test concept and after intense market research he decided to change Bo's to Cole's. This required renovation, which closed the restaurant for four days. "Anything that had the Bo's brand on it had to be redone," Sacco says.
Sacco now makes design changes and renovations to the company's Bonanza and Ponderosa concepts as well, with updates to Bonanza locations reaching close to $200,000. "It's twice the size of the Cole's building and has more costs associated with it," Sacco says. "There are more walls to cover, more furniture to purchase, etc. Ponderosa and Bonanza franchisees wanted something to revitalize the brands ... slowly we've been trying to give them their own identity."
Budget is always top of mind, but Sacco has found a range that works. "In our company, there seems to be some magic numbers," he says. "If you don't spend a minimum of $25,000 it's not enough impact on the guest to make it worthwhile. On the other side, if you spend more than $200,000, you never get any of it back. That's where we get selective on where we put the money."
Determining what stays and what goes
If going into a location that once housed another restaurant or retailer, operators may be able to keep some elements that come with the space. Determining what to keep and if they can be of use can be difficult to determine. That rings true for equipment as well.
Rob Depp, vice president at FRCH Worldwide, a strategic design and consulting firm that serves a variety of industries including foodservice, says his company usually sees the evaluation of equipment packages taking place at a "global" level and not at a specific site renovation level. Typically, he says the guidance for an equipment package occurs as part of an overarching innovation or optimization initiative and then it trickles down to each specific location.
Cole's Backyard Grill is a fast-casual concept featuring American fare. The menu includes grilled entrees, gourmet burgers, steaks and a tossed-to-order salad bar, seen here."We believe that the optimization of a restaurant environment should include an evaluation of both the experiential and the operational functions. One important consideration is the consumer-facing experience of the kitchen," Depp says. "There is a strong trend not only toward transparency to the ingredients and craft but also the theatre that can be gained from strategically planning for glimpses into the culinary creation process. We believe the kitchen layout should not only take into consideration the operational needs of the equipment package but also the opportunities to expose the guest to the back of house, appropriately."
Equipment reviews also should take into consideration traffic flow, time and use studies, equipment evaluation and planning, and an evaluation of ROI based on share of menu sales across each piece, Depp adds.
What goes into the kitchen also will depend upon the space. This applies to franchised concepts as well as single-location concepts and even non-commercial operations looking to update. Therefore, operators may need to consider whether to reduce or increase kitchen sizes during their renovation projects and should always consider those types of alterations.
"When determining whether to invest in a kitchen redesign, you have to figure out if the cost delivers a real benefit to the guest and the brand," Depp says. "If the optimization of the kitchen design would deliver an elevated guest experience through a better consumer-facing experience of the kitchen, then it may be a good idea. Likewise, if a redesign of the kitchen would allow for a more efficient operation that can streamline the staffing model or the prep time, it may be a worthwhile investment that would deliver a solid return on the investment."
Operators should also work with their designer and general contractor to see if architectural or other building elements can be saved or moved to another area of the restaurant. The idea is that the less there is to remove, the better.
"Cool things have been born from creative situations and there are a lot of interesting ways to work within existing structures," says Bushey.
In order to navigate a successful renovation, Bushey offers the following best practices and pitfalls to avoid:
Have a budget or price range and know where you need to be to make it work. You don't want to put a lot of money into a square footage if you're only generating $100,000 in revenue. Understand your budget and stay within your means.
Establish a working timeline. Understand your timeline and work backward to make sure you can work within it.
Hire professionals to help you and have a team in place. Hire a designer/architect, engineer and even your general contractor and please listen to them. You are paying them a lot of money. They've seen the mistakes, learned from them and are integrating that knowledge into your design. Get a team that has a background in food and beverage. The restaurant industry has a very unique set of issues with grease traps, health codes and kitchens so try to find people that specialize in what you are doing.
Have a space that works with your timeline and budget and have renovations that work within both as well.
Do not over design for the location or for your brand, and don't put more money into a space than you're going to get out of it.
Do your due diligence, and take the time to review your plans and conduct your research. Do not just find a space and say let's do it. Do your homework first.