As menus become more streamlined yet creative, the tabletops that foodservice operators use to showcase their culinary creations continue to follow suit. From bare tabletops to egg cups to rustic dinnerware to classy cocktail glasses, the list of items operators use to create their tabletops is bound only by their imaginations.
The use of elevated, metal serving vessels at restaurants such as The Trove, a Seattle-based restaurant featuring a Bargreen Ellingson installation, adds visual intrigue to food presentations. Photography by Bern Olds-Hilsenberg, courtesy of Bargreen EllingsonWhen discussing tabletop trends, it becomes only natural to talk about what's in and what's out. In an ironic twist, this year it seems that anything goes on the most important three feet in the house. The tried-and-true white plates, simple flatware, even white linens remain fashionable for some, mainly high-volume operations like country clubs and some hotels with traditional banquet setups. And in these operations diners are cool with (and even prefer) such an aesthetic.
But this year's list of "in" items is quite long. Independent restaurants, in particular, will try everything under the sun to create a unique tabletop that speaks to their menus. This can range from rustic dinnerware to eclectic mixes of pottery plates with all of their glorious inconsistencies to share plates of all shapes, sizes and colors to full-on vintage, bare tabletops and dishtowels for napkins. Even the chains are following suit, trying out the trends one at a time to see what fits their needs, their brands, and current consumer trends.
The good news: diners appear receptive to everything. This also makes it easier for operations to scale back a bit — mixing and matching a little to have some fun, but sticking to basics when it comes to dinnerware and flatware. No need to maintain a major inventory of tabletop items — with the small plates trend continuing strong, it's fun to funk it up a little with the appetizer section and cocktail bar but stick to the basics when it comes to mains and wine.
Artisan Tabletop
One enduring tabletop trend is the use of china with a rustic appearance, as is the case with The Wandering Table, a Bargreen Ellingson installation in Spokane, Wash.The independent restaurant world includes a new, fast-rising segment: fine casual. It's not fine dining, but it's not super casual either. Diners want a little elegance, a little sophistication, but they love the approachable appearance the rustic, farm-to-table operations present.
Look closely at what Union Square Hospitality Group's Danny Meyer and some other leading restaurateurs continue to do around the country, and it becomes easy to see a convergence of the priorities in fine dining with the vision or execution of a casual environment, says Chris Crocetti, director of business development for R.W. Smith, who's based in Miami.
In a way, farm to table has made it to plateware. "These restaurants are concerned with sourcing the ingredients and cooking with care, so they naturally have the same sentiment when it comes to plating and representing the food with care," says Crocetti.
As such, the rustic farmhouse look continues to dominate the tabletop industry, perhaps even more so this year. What started with a few restaurants working with local potters to develop some plates grew into whole lines of farmhouse chic items among the bigger manufacturers. "These plates look like they're made from clay or pottery, and they generally have nice earth tones, a matte finish or some speckling, and they'll have some natural inconsistencies in the shapes and finishes," says Crocetti. "The inconsistency indicates something was made by hand, and chefs are loving that individuality for their plates now."
There has also been a growing group of smaller potters and casters being able to sell and distribute their product to restaurants wanting that authentic, artisan touch. "Our job is to walk the balance and support long-term factories, but also search for the coolest small vendors out there," says Crocetti. "This really mimics what's happening in the food and dining scene overall."
Eclectic Collections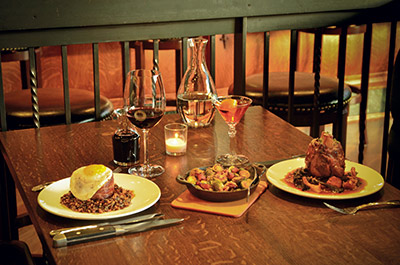 While opting to use bare wood tables, many restaurants like Brunswick and Hunt, a Seattle installation by Bargreen Ellingson, look to add visual intrigue to their presentations by using cast iron serving vessels and specialty glassware for beverage service.Rustic earthenware pottery gave birth to another burgeoning trend in tabletop: eclecticism. "You'll go to some restaurants serving 5, 10, 15 courses, and every single item on that menu will be served on a different plate," says Crocetti. "Not only do you get to taste something different, you also get to look at a different plate and serving
vessel at each course or dish."
Eclectic tabletops serve as the vehicle for plating prowess and creativity. New plates help chefs cater the presentation each time they send something to the table. You might see a mix of the pottery plates with basic whites, but also black, metallic and decorated plates in all shapes and sizes, says Crocetti. Those large, circular bowl-like plates that might have been used for soups and brothy dishes now might just offer chefs more creativity to offset proteins and place different parts of the dish off to the side instead of the center.
Even mismatched flatware is cool. "Many of my customers ask me to find flatware that no one has," says Crocetti. "Some want it super dull and looking like it has been used, while others want ornate styles with patterns that look like something you would find at your grandmother's house. It's all about making a statement and showing off a different piece of flatware at each course just like with the plates."
On the catering side eclecticism represents a big trend too. "I've had people buy some of our older boxes of mismatched flatware like pieces stamped with company logos and children's forks and spoons and other mismatched patterns," says Kathy Ruff, founder and CEO of Tablescapes, an event rental company in Chicago that works with many large-scale caterers and chefs.
This even hits the tables, literally. "One trend is to mix and match tables so you have different styles in the same room to create a homier feel like you're at dinner party," Ruff says. "People want their events to look more intimate and less like a banquet."
At the buffet table, eclecticism takes the form of single-serving food vessels like mini cast iron pots and small bowls and dishes rather than large plates of food. Restaurants and even bigger banquet halls and hotels continue to fuel this trend's momentum by using fun things like egg cups and sake cups and three-inch round bowls and mini soufflé dishes where the "dishes can be designed down to the bite level," Ruff says.
Restaurants such as Skinny Rita's, a Texas-based Edward Don & Co. installation, take a minimalist approach to setting tables when guests first arrive. Restaurants then build on the presentation with specially decorated china and specialty glassware.Renting some items helps the bigger restaurants and hotels cover their bases if they change menus regularly, like every six months or sooner. Even by renting just some pieces, operators can add more flare and excitement to their existing inventory and stay on top of trends as they change.
Retail Meets Restaurants
Starting with the pottery trend, retail trends seems to be influencing commercial ones when it comes to tabletop, says Crocetti.
In general these days, pottery, modern florals, metallics, golds and even Near East and other exotic patterns are trending on the retail side. And now, pottery, metallics and even some floral and brocade patterns have made it to the commercial side too.
"We're seeing an acquisition by the bigger companies of smaller factories to be able to offer these unique looks," says Crocetti. "We're working with a large hotel being built in Miami now, and their owners and design team had this vision of showcasing super ornate, regal, high-end pieces." These are things retail shoppers might find at boutique or even higher-end department stores.
"Sometimes you have to look at retail designs for a project like that to find more inspiration," Crocetti adds.
Minimalism Continues
Many restaurants continue to use elegant white china to make their menu items pop during presentation to the customer. Photography courtesy of R.W. Smith & Co.Minimalism, or the idea that less means more, continues to hold strong in tabletop design. Many operators feel the bare table is better than the tablecloth and the fewer accessories the better. "We're seeing fewer and fewer things on the table when the diner sits down and this helps put the focus on thefood and the atmosphere in the room," says Crocetti.
Counter seating is a pretty common feature in today's restaurants, and in those instances the initial tabletop presentation consists of maybe a bistro napkin or kitchen towel, small water glass and a couple pieces of flatware, at least to start. As each dish arrives, those pieces change in and out.
"Things are simple again. No one wants candles or an open flame — mainly because of safety reasons but also to simplify the tabletop setting," says Zena Dater, account manager at Market Source Restaurant Supply in Oklahoma City, smallwares guru and a previous FE&S DSR of the Year award winner.
Some of the more casual restaurants are reverting to pre-rolled silverware. And then there is the rise of single-concept eateries focusing on specific menu items (think tacos, fried chicken or hot dogs) that use quarter sheet pans or baskets lined with paper. Barbecue joints — even the trendier ones — seem to be getting simpler as well, like the old school places that simply offer rolls of paper towels instead of napkins and rely on big, bare picnic tables.
Budget Basics
The super-simple trend makes sense in light of a larger tabletop situation, according to Dater. "We did go through a stage where everyone wanted funky shapes and coup and colored plates, and now it seems some restaurants — mainly the chains — are going back to plain white china for larger entrees and more rectangular dishes so people can easily share appetizers and desserts," she says. And using the same flatware for both appetizer and entree courses has become more acceptable as diners move away from coursed out eating to sharing multiple plates throughout a dining occasion.
"It seems like more chains are downsizing, not necessarily on quality but on the number of items they want on hand," says Dater. Simultaneously, many restaurants continue to downsize their footprints in the back of the house and learn how to consolidate more items.
Tabletop downsizing also falls in line with a general downsizing of menu items as a food cost–related and modern approach to dining. "The focus is on being really good at 10 to 20 items instead of having pages and pages of menu items, and this helps with consolidating tabletop needs as well," Dater says.
While some steakhouse chains continue to simplify their tabletops, she notes, many want more plateware and china items made strictly in America. These pieces are a little more expensive, but it's nice to use something made here, not only from a socioeconomic perspective, but from a practical outlook as well. "It's a lot easier to order
replacement items, and the shipping costs are far less," Dater says.
Simple also rules the roost when it comes to glassware. For example, some restaurant chains now select one type of all-purpose, durable wine glass for both reds and whites. This translates into the restaurant needing to maintain a smaller inventory, and it becomes easier to order replacement items. "You also only need one glass rack versus multiple sizes," says Dater.
Meal Beginnings and Endings
At the beginning of the meal, cocktail culture continues to rage strong from coast to coast. "Eight years ago only a handful of places had a cocktail program," says Crocetti. Now it's almost a requirement at modern restaurants.
"And we have to support them," says Crocetti, who has expanded his line — and research into — different types of glassware, barware and tools. "We're continuously looking for glasses that are unique and individual to each drink," says Crocetti. "A mixologist might want five or six types of rocks glasses and different martini glasses with special detailing. What's old is new again — bartenders seem to prefer the vintage look, and this has impacted the tools they want too." From mixing glasses to special stirrers to jiggers, strainers and other accessories, Crocetti has to be ready to provide it all.
Even larger manufacturers have gotten in the game. At least one has partnered with a celebrity mixologist to launch an entire mixology "kit" that includes specialty glass and barware.
At the end of the meal, more restaurants pay attention to their coffee and tea settings, particularly as they start using local, smaller-batch coffee roasters and rare tea providers. In this case, the setting has to be just as sophisticated as the coffee being served.
And for dessert, according to Dater, the mix-and-match rectangular shapes continue to be a trend here, as more diners look to share their desserts with others at the table rather than order their own.
"Just like with small plates, people love dabbling in a lot of different desserts," says Dater.
Catering Classics and Cools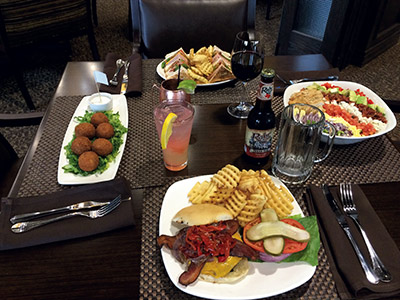 The Woodforest Golf Club, a club in Montgomery, Texas, featuring an Edward Don & Co. installation, uses differently shaped plates to showcase various menu items.The most central place for classic china these days is still the country club, banquet, resort and traditional hotel group.
"For the most part these places still want that very basic white china, but some are experimenting with new embossments," Crocetti says. Others are experimenting with more "flowing shapes" versus the standard plate sizing, he notes.
Flatware fits this bill too. "The resorts of the world want beautiful, perfect, simple flatware that's sleek and elegant with a little weight in the hand," says Crocetti. But many might also want something more defining like squared-off handles or sharply defined fork spears.
When it comes to glassware, again, many of these high-end, heavy banquet facilities want simple, beautiful wine glasses at the best price — nothing too outrageous, but unlike some of the chains mentioned by Dater, they are sticking to the multiple sizes for reds, whites and dessert wines.
Even for some of the larger weddings, "most clients don't want a big show on the tabletop, but they are reimagining buffets," says Crocetti.
As Ruff described, event spaces keep getting more creative with their buffets — from offering different heights and elevation to doing away with chafers and finding other ways to keep the food warm. "We've had clients order bricks and French metal doormats and wrought iron set over sternos," says Ruff.
Though hotels and resorts with large-scale catering spaces might stick to the classics in their banquets, they're playing more in the creative worlds with their on-site restaurants, and that's where the eclectic, rustic, potter's wheel-to-table look has carved its new niche. What's old school and rustic is new again — and thoroughly
modern.