A Multi-Faceted Approach to Sustainability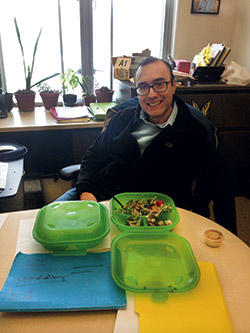 Denison's to-go packaging program emphasizes reuse, via three-compartment containers made from at least 50 percent recycled material. The school worked with its technology provider to establish a system that checks the containers in and out with a swipe of a student's ID card. When Fedele Bauccio founded Bon Appétit Management Company in 1987, one of his chief goals was to provide "foodservice for a sustainable future." Through the years, as he grew the business from coast to coast primarily on the corporate and college/university dining fronts, he never lost sight of that commitment by steadfastly supporting farmers. In fact, today more than 1,400 small farmers and ranchers are part of the Bon Appétit family.
Along with a corporate mandate for each account to buy locally and seasonally, Bon Appétit emphasizes promoting a healthy planet through recycling, recovering and/or reusing wherever possible. At Denison University in Granville, Ohio, a Bon Appétit client serving approximately 19,000 meals (per student card swipes) per week, Sustainability Manager S.K. Piper spearheads several innovative projects, each with an eye toward improving sustainability in the school's dining program.
Previously a Midwest Fellow with the Bon Appétit Foundation, Piper has held her current position on campus for almost two years. Driven by the desire to more strongly support Denison's farm-to-fork partners, she spearheaded the creation of The Buyer's Club, which enables any campus member to order sustainable, locally produced foods through the department's catering website.
"We also wanted to train our customers, especially students, to be conscientious consumers," she says. "We hope they'll be able to transfer those skills of buying and preparing wonderful local food when they're out on their own. College is often the first time students cook for themselves so, by using our catering website, we're making purchasing affordable and accessible without a car."
Denison students, faculty and staff can join the Buyer's Club by going to the catering website and creating a profile. Once they've paid a one-time $15 membership fee they receive access to the menu of offerings. And when they pick up their first order, members receive a Fair Trade reusable bag with the program's logo. The extensive range of items available includes bulk dehydrated black beans, granola, milled-to-order flour from an Amish farmer, coffee, cheese, Greek yogurt, salsa, gluten-free snacks, etc. Members can place their orders and pay online and then pick up their orders at the student union the following week. The ordering week alternates with the pickup week.
"A major hurdle was getting the website up and running," Piper admits. "I worked on the project with two Environmental Studies students for their senior project — a real-world initiative — and they're now continuing the project as interns in the second semester." Aiming to grow participation, Piper and the interns plan to seek additional business partners and products, and then advertise more concertedly. Overall, the Buyer's Club continues to serve as a win-win initiative for those who receive the fresh products and the region's small businesses.
Re-usable Pan Food Recovery Program
Denison's to-go packaging program emphasizes reuse, via three-compartment containers made from at least 50 percent recycled material. The school worked with its technology provider to establish a system that checks the containers in and out with a swipe of a student's ID card. In addition to creating innovative programs for sourcing foods, Denison University Dining Services touts one of the only successful reusable pan programs for food recovery in the nation. Piper, who started the initiative, contends it was the first Food Recovery Chapter serving shelters in Ohio. Since its inception last summer, the program continues to recover approximately 1,500 pounds of food per month from the 2 dining halls on campus.
"Being student led at a college, we have community partners who come to campus to collect the food," she explains. "We teamed with Alford Center for Service Learning to start the project; they got funding to purchase pans with lids that are fitted with plastic gaskets to shut them securely, and donated them to our program."
Student volunteers arrive at the dining halls at the end of the service period, and collect food that's not served into the reusable pans. They label, weigh and store each pan in a locked refrigeration unit. Seven community partners currently have the combinations to the locks.
"There's a pick-up schedule so, for example, The Salvation Army comes every third day or so, and will take 'anything,' while the After School Program for Teens will take pizza and burgers but not the less familiar Asian salad," Piper adds. Each person picking up pans for his/her organization knows to list what they took and then signs the empty pans back in upon return. If the program runs short of pans, they're totally traceable. "The program has been such a huge success that the Alford Center has recently hired a student to oversee it," Piper reports.
Likewise, the university's recently launched reusable to-go container program continues to gain traction. Whether Styrofoam or plastic, aiming to recycle to-go containers can often be an iffy proposition; challenges include getting them returned to dining services, storing them (without generating odors or attracting rodents), having a recycler pick them up, etc. Instead, Denison Dining Services recently partnered with an Environmental Studies student to create a program based on reuse versus recycling.
The initial shipment of bright green, three-compartment containers (the only size available from the manufacturer at the outset) arrived on campus last September. Piper was firm in guiding the choice of product, specifying that the plastic used be made in the United States and that it incorporates a minimum of 50 percent recycled material.
The challenge with reuse programs, of course, is to get the students to actually return the containers so they can be used over and over again. "In most places that have reusable to-go packaging, you have to pay or use a token," Piper points out. "But we worked with our technology provider to establish a system that keeps track of it directly with a swipe of their student ID card. Then, they simply swipe when they return the 'greenie,' [the school's nickname for the containers] or they have to pay for outstanding items at the end of the semester."
The reusable ware program runs at a small, entirely to-go location with no space available for a dishwasher. Therefore, returned items — which average 300 to 400 per day — are trucked to another dining location for washing. Recently, Dining Services purchased a special rack on which to dry the greenies before they're stacked, packed and shipped back to the to-go location for almost immediate use.
Snapshot
Number of students: 2,079
Operation: Bon Appétit Management Co.
Dining plan participation: 1,779, including all residence-hall students
Locations: 2 residential dining halls, coffee shop snack bar
Dining center hours: Residence Halls: 7 a.m. – 8 p.m., Monday - Friday; 9 a.m. –
7:30 p.m., Saturday and Sunday. Coffee shop/snack bar; 7 a.m. – 1 a.m., Monday - Thursday; 7 a.m. – 3 a.m., Friday; noon – 3 a.m., Saturday; noon – 1 a.m., Sunday
Employees: 13 management, 183 hourly
Key Players
General Manager Denison Dining: Paul Mixa
Denison University President: Adam Weinberg
Chief Financial Officer: David English
Director of Administrative Services: Jenna McDevitt
Director of Facilities Services: Art Chonko
Sustainability Manager: S.K. Piper