New Center Will Totally Engage Students, Community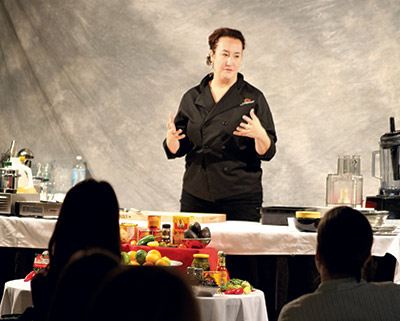 Kansas State routinely hosts visiting chefs such as Taji Marie, a Los Angeles-based chef, author and caterer, for demos and teaching programs. Its new facility will provide state-of-the-art venues for such events.When Mary Molt, PhD, RD, LD, associate director of housing and dining services at Kansas State University, received IFMA's coveted Gold Plate Award in 2012, she was as happy as happy can be. Now, it's possible she's even happier. That's because, for the first time in nearly 50 years, Kansas State University is building a new, decidedly nontraditional dining center as part of the new Wefald Hall residential tower in K-State's Kramer Village complex.
Currently under construction and slated to open in the fall of 2016, the facility's design will "engage the residential community in a far better way than had been done in the past," Molt says. "One of the innovations we're building into this [design] is with the goal in mind to build our campus culture. The one-two-three punch: community, education and inquiry."
As Molt describes it, each dining platform will boast different cuisines. Initial plans call for Grab-and-Go Express; American Classics; South/Central American; Global Table (Pan Asian/Mediterranean); Broiler-BBQ; Hearth Pizza/Pasta; Bread Board Deli; Soups/Salads; Display/Teaching. "Students will see food from the back of the house, to the front of the house, to the table — so, from food distribution to food eating — all within a few feet," she says.
The facility will also include a production kitchen and production bakery, meeting spaces and a convenience store.
Exposing students to different cuisines beyond Asian, burgers, etc., has long been part of the department's agenda, and educational workshops presented by visiting chefs, including Jet Tila of Iron Chef America fame, is ongoing. However, the new 57,000-square-foot dining center designed by Treanor Architects and Ricca Design Studios will feature equipment to support anything, including more students beyond the approximately 1,850 now in the residential complex. And a state-of-the-art audio-visual layout will be part of the facility to provide for a focused
educational experience, including demos.
Integrating Education
"We teach Dietetics and Hospitality students to prepare and serve in this area, and we're exposing students to different cuisines with the Purple Coats area designed for chef demos," Molt adds. Within the entire new dining center, there will be room for about 1,500 students; tiered seating for the education demo piece will accommodate about 180 people so they can eat and watch simultaneously.
"Elsewhere, others will be able to see what's happening via overhead cameras transmitting to multiple TV screens (versus overhead mirrors)," Molt continues. "This will give us that educational link and community development opportunities in the dining center. It's more innovative than what I've seen on any other college campus."
Going forward, Molt and the dining services staff will work in synch with some of the eating concepts outlined in the Menus of Change principles presented by the Culinary Institute of America and the Harvard T.H. Chan School of Public Health. She recognizes Menus of Change as "a framework that points to the future and we'll be able to support that."
While Menus of Change principles call for incorporating more plant-based cooking, Molt says KSU will take a measured, balanced approach, noting, "Kansas is a meat-and-potatoes state and we're not going to be vegetarian." Yet, she looks forward to "being able to create excitement by cooking up-front so students have a connection with that." She recognizes the fact that food is a much different product — and the student's perception is much different — when you're seeing it at the point of production, so products will be as fresh as they can possibly be.
On balance, Molt's objective with the new facility's design is to capture those moments between production and service. In fact, she paraphrased her friend and mentor Wells Cloward (1952 founder, with his wife Myrle, of Brigham Young Dining Services): "Food is at its peak at the moment when it is perfectly prepared and goes downhill from that point!"
The prospect of filling up the 180-seat demonstration area with students and discussing some of the 24 Menus of Change principles that lead to a more healthful diet and a more sustainable world also excites Molt. "We'll be able to talk about it with students and see how it plays out in the real world," she says. "We have to be able to grill eggplant (for example) and make these vegetables more than what students previously thought."
The 57,000-square-foot dining center within the new Wefald Hall residential tower will include multipurpose areas for classroom and conference use plus a demonstration kitchen/learning lab for students taking hospitality management and dietetics classes. Residents of the hall will have access to such experiences as cultural food exchanges, classes to enhance cooking skills, visiting chef programs and more.She believes they need to be so appealing in both presentation and flavor that students will see they can make tasty, flavorful dishes from scratch — in fact, sustainable food for the world. "Our objective is to be smart about what you eat and how much you waste, so we're going to do some educational programs around Menus of Change and tag them in the dining room — we want to be able to do as we say."
While not specifically promoting consumption of less meat, showing the options is part of the planned transparency of presentation. Says Molt, "When students leave Kansas State, there needs to be greater awareness of plant-based diets." Actually, the department serves a lot of food with meat components, and Molt believes they "fit very well with these Menus of Change. We (and the students) can connect these concepts from menu writing to health and sustainability."
In fact, equipment specified for the new dining hall includes a smoker for smoking whole meats; rotisseries for chicken, pork loin, etc.; and fryers for popular items like chicken tenders.
The dining center will offer approximately a dozen platforms boasting scratch cooking. At the display bakery area, for instance, staff will bake pies and frost cakes; at the sizzling salad area the action will all be upfront. Plus, ancillary spaces will be open at night; several classrooms as well as three private dining rooms on the opposite side from the retail space will be open, and students can bring in food from the retail area. "This gives students more places to meet and work on projects; we want it to be a vibrant, exciting place throughout the entire day and not closed at night," Molt says.
She acknowledges that it costs more to build and equip a space such as this in which to educate a community and provide the activity students are clamoring to have. "But," she says, "we're on track, on target and I think we'll be ahead of the game in what we can do in that space."
Snapshot
No. of students: 24,000 (5,000 on campus)
Operation: Self-operated
Dining plan participation: 5,000
Locations: Three dining centers; four c-stores; one restaurant; two coffee and pastry shops; one rec center retail store
Annual budget: $20 million
Employees: 16 management, 100 full-time and 450 part-time student employees
Key Players
Assistant Vice President and Director, Housing and Dining Services: Derek Jackson
Senior Associate Director, Housing and Dining Services: John Pence
Associate Director of Housing and Dining Services: Mary Molt
Associate Director, Housing and Dining Services – Facilities: Skyler Harper
Associate Director, Housing and Dining Services – Administrative Officer: Mike Crow
Associate Director, Housing & Dining Services – Student Life: Stephanie Bannister
Foodservice Consultant: Kathleen Seelye, Ricca Design Studios
Architecture and interior design: Bob Mesher, Mesher Shing McNutt
Project architects:Treanor Architects