Dining at the University of Georgia (UGA) has long received national media attention and awards for its creativity and high customer acceptance. Now the new Bolton Dining Commons takes the University of Georgia's dining program to new heights.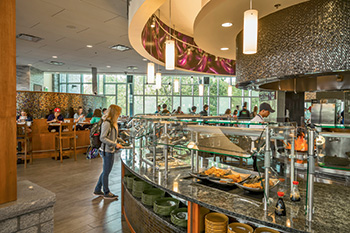 Each platform's tiles give it a distinct design profile.Built in 1962, Bolton Dining Commons required extensive infrastructure repairs, more than a renovation could hope to address. So as part of the University of Georgia's master plan to improve central campus dining, the old Bolton Dining Commons was demolished and replaced with a new facility at the heart of campus surrounded by residential facilities, academic and student centers and UGA's football stadium. The new facility is located two blocks east of its predecessor.
Windows surrounding the 64,000-square-foot dining facility allow an abundance of natural light to enter the building. Throughout, visitors can see the cathedral, exposed wood-beam ceilings. A two-story rotunda anchors the main entrance to the building.
"The form of the building is articulated with an exterior palette of brick, local Elberton granite, case stone, glass, and metal panels that complement the existing campus architecture," says Robert Simmons, AIA, LEED AP, principal, at Bruner/Cott & Associates, which served as the project's architects and interior designers. The front door provides a recognizable icon visible from Georgia Quad to the east, while an entrance facing Tanyard Creek provides access from the campus high-rise district to the west. An upgraded pathway system along Tanyard Creek, including a new pedestrian bridge, provides enhanced campus connectivity as well as space for informal gatherings.
Windows surrounding the building allow an abundance of natural light into the space.Inside, multiple dining platforms, each with its own tiles, prep and production area, sit on two floors, emphasizing exhibition cooking and small-batch production to promote freshness and quality food practices. The building also houses 4,000 square feet of offices and administrative space. "Because of the location in a busy traffic area, the dining center serves approximately 5,500 meals daily and contains 1,000 seats — far more than any other dining area on campus — and is the first UGA dining commons to have outdoor seating," says Bryan Varin, associate director of meal plan operations and the current interim executive director.
Indoor seating, scattered throughout the commons, includes soft seating, high-top seating, booths and wooden furniture. The Hearth features long wooden tables and two fireplaces. Sunrise Café and Shakes provide counter-style seating that brings diners close to the cooking action.
"Another key objective of the project was to celebrate the unique menu of old Bolton with a fresh innovative delivery method in order to bring production closer to serving time," says Lenny Condenzio, principal, Ricca Design Studios. "In addition, the design team embraced the concept of each venue featuring its own unique menu and dining experience without getting too much into an interior design theme."
Accomplishing these goals required the core project team to work on getting the dining team comfortable with a multilevel all-you-care-to-eat dining concept. "Once the idea of destination dining was embraced and the benefits of exhibition prep and finish cooking realized, the dining team was extremely creative with the menu and delivery concepts," Condenzio says. For example, the chef decided to bring a large smoker to the front of the house where customers see it.
The Flow of Production
Platforms sit on two levels.Food deliveries arrive at the back loading dock. Staff take some products to the 4,200-square-foot prep kitchen, which contains a pair of walk-in coolers, a thaw cooler, a walk-in freezer and dry storage in the central kitchen. Staff take other delivered products to some of the platforms' walk-in refrigerators, freezers and dry storage. "The Bolton dining kitchen was designed at the minimum size the dining team could bear," Condenzio says. Preparation equipment here includes one 60-gallon and two 40-gallon tilting skillets, fryers and a 6-burner range.
The first level houses the central prep kitchen, cold and dry storage, extractor room, cart wash room, dishroom and box soda system. An administrative office suite holds offices for the associate director, dietitian and human resources and a training room accommodating 30 people.
A circular wok range at World's Fare enables culinary staff to cook authentic stir-fries."The key design feature for a successful multitiered dining concept is thorough vertical circulation for both the guests within the dining rooms and also for the flow of product and goods in the back of house, as well as ease of connectivity to each of the self-sustaining destination venues," Condenzio says.
The second floor also contains management offices, cold and dry storage and a dishroom. "It's always best to have the soiled dish drop-off at the easiest place for the customer as they exit the dining commons," Condenzio says.
Well-Equipped Platforms
The platforms also include space for cold and dry storage and their own undercounter dishwashers.
Right: A conveyorized dish return allows staff to clean up quickly and efficiently. Baxter Street Bakery contains deck ovens and a proofer so staff can prepare an array of freshly baked treats. The Sunrise Café's menu features breakfast all day. Equipment here includes a fryer, combi oven, gas burner range and griddles.
At the Corner Market, vegetables, grains and other healthful foods for salads offer choices for customers, including vegetarians and vegans. Recipes at the adjacent Special Selections are free of the eight most common food allergens and gluten.
At World's Fare, staff prepare international cuisine such as authentic stir-fries on a wok range. Trattoria features made-to-order pasta prepared on a six-burner gas range, and Taqueria offers tacos, nachos and wings prepared with fryers and a combi oven.
At Hickory and Oak, staff use a rotisserie oven and smoker to prepare a variety of smoked meats, rotisserie chicken and barbecue sauces. "Having a smoker the size of a small SUV adjacent to the serving line was an act of bravery and brilliance by the executive chef," Condenzio says. "I can't think of a better way to demonstrate freshness than sharing the vision of brisket coming out of that oven."
Sunrise Café serves breakfast all day long.To prepare made-to-order deli sandwiches at Tanyard Deli, staff use an impinger oven and panini grills. At Tanyard Grill, a chargrill and flattop griddle support production of cooked-to-order grill favorites including hamburgers, hot dogs, grilled chicken filets, barbecue pork sandwiches and fish sandwiches. One of the more popular stations, Shakes, presents hand-spun milkshakes in a space reminiscent of a classic malt shop with retro counter service and sweet ice cream flavors.
In addition, three tablet computer-based stations allow customers to view the nutritional information for all menu items.
Looking back on the design process and facility opening, Varin admits that the first day's activities, when staff served 10,000 meals, was overwhelming. Though regular traffic isn't that high, it is still about 25 percent higher than at the old Bolton. "Ideally, it would have been better to open in June when the traffic is much slower and have time to properly staff and train. We did a lot of catching up, and nearly a year later we're extremely pleased with the operation."
Sustainable Project Highlights
Bolton Dining Commons pulps and sends all food waste to the on-campus conversion center, where it becomes compost used by facilities throughout campus.
Many interior and exterior materials are made of local granite from Elberton, Ga.
Dishmachines use half as much water (52 gallons of water per hour) as any other models at UGA facilities.
The facility has water hydration stations, recycling bins and hand dryers.
Local architects and contractors worked on the project.
Much of the existing equipment and many fixtures from the previous location were repurposed for use in this dining commons and other campus dining facilities.
Above/Below: Windows surrounding the building allow an abundance of
natural light into the space.
Facts of Note:
Opened: August 2014
Scope of Project: A new building with multiple dining platforms and diverse seating, as well as a back-of-house storage area and prep kitchen
Size: 64,000 sq. ft.
Seats: 1,000 total including 130 in a convertible private dining space
Average Check: Breakfast, $9; lunch $11.25; dinner, $15.50
Total Annual Department Revenue: $42 million
Transactions: 5,500 to 6,000 meals served per day
Hours: 7 a.m. to 8 p.m., Monday to Friday; 8:30 a.m. to 8:00 p.m., Saturday and Sunday
Menu Specialties: Breakfast all day, barbecue at Hickory and Oak, Asian stir-fry at Can Ting, hand-spun milkshakes at Shakes, exhibition bakery at front entrance, production and fresh serve salad bar
Staff: 60 managers and FTEs; 350 students
Total Project Cost: $24 million
Equipment Investment: $2.1 million
Website: foodservice.uga.edu
Key Players
UGA: Bryan Varin, associate director of meal plan operations (current interim executive director); Jeanne Fry, former executive director; J. Michael Floyd, former associate vice president of Auxiliary Services; Joe Powell, project manager; Shelly Orozco-Marrs, chef; Art DiFrancesco, manager
Architect of Record: Smith Dalia Architects LLC; David Wallace, RA, principal
Architect: Bruner/Cott & Associates, Boston; Robert Simmons, AIA, LEED AP, principal
Interior Design: Smith Dalia, David Wallace; Bruner/Cott & Associates, Robert Simmons and Dan Raih, AIA, LEED AP; UGA Food Services, Brenda Elrod (furniture)
MEP/FP: Spencer Bristol Engineering Inc., Norcross, Ga.
Structural Engineers: Uzun + Case LLC, Atlanta, Ga.
Civil Engineering: Eberly & Associates Inc., Atlanta, Ga.
Landscape Architect: Koons Environmental Design Inc., Athens, Ga.
Foodservice and Culinary Consultants: Ricca Design Studios, Greenwood Village, Colo.; Lenny Condenzio, partner; Tarah Schroeder, principal
Equipment Dealer: Manning Brothers Food Equipment Co., Athens, Ga.
Construction: Whiting-Turner, Baltimore, Md., headquarters
The full-service Baxter Street Bakery gives customers insight into the complexity and intrigue of baking.
Windows allow in natural light as diners enjoy the indoor and outdoor environments.
Photographs courtesy of Silk Bandana, LLC