Legendary Hospitality with a Softer Carbon Footprint
Departing each day from the small town of Williams, Ariz., off the legendary Route 66, the Grand Canyon Railway 4960 enables travelers to view some of the country's most iconic landscapes, something it has done since 1901.
While the era of the steam train, which ran from the 1820s to the 1960s, long ago gave way to the coal- and diesel-powered engines of today's railway cars, the 4960 steam engine, a relic of the past, still remains, making its 65-mile journey each day and transporting 200,000 families, international guests, retirees, train enthusiasts, historians and other curious tourists each year. Run completely on filtered restaurant grease, it is often called the greenest train in America.
By installing solar panels, the Grand Depot Café has offset 137,495 pounds of carbon emissions since 2011.That grease comes from the Grand Depot Café, the 350-seat, buffet-style restaurant serving breakfast, lunch and dinner adjacent to the depot, which stands directly across from the Grand Canyon Hotel and a stone's throw from the theatrical grounds where entertainers dressed as cowboys perform acts inspired by the culture of the Wild West.
Xanterra Tusayan, a parks and resorts concessioner, began managing the property in 2007 and remains committed to sustainable practices there and at all of its properties, with the Grand Canyon Railroad's vegetable oil–powered steam engine being just one example. In addition to the Grand Canyon Railway & Hotel and the Grand Depot Café, the company operates hotel, foodservice and retail outlets at Petrified Forest National Park and the Tusayan Trading Post at the Grand Canyon, among other parks, resorts, cruise lines and golf courses throughout the West.
In March 2013, the Grand Depot Café reopened after a complete renovation geared toward greenness, which included replacing energy-draining light bulbs with LED alternatives, sourcing recycled carpet and installing solar panels, energy-efficient equipment, a demand-controlled hood system, waterless urinals and a rain-collection system, among other sustainable-minded features. In addition to "closing the loop" on the restaurant's grease production, the Grand Depot Café also donates preconsumer food waste to feed bears throughout Arizona's wildlife conservations.
"Everything from the equipment to the food offerings to the accessories and the tables and chairs were well-thought-out during the renovation," says Scott Heckner, director of food and beverage at the Grand Canyon Railway & Hotel. Heckner also oversees Spenser's Pub on the property, as well as the foodservices on the train and the commissary kitchen used for prepping the train's food about a mile down the street. After all, the company's tagline reads, "Legendary hospitality with a softer carbon footprint."
To take the property's dedication to sustainability one step further, Heckner spearheaded the effort to earn not just certification, but three stars — the highest honor — from the Green Restaurant Association (GRA) after a three-month application process. According to Morgan O'Connor, director of sustainability for Xanterra, only three other Arizona restaurants have earned three-star status from the GRA.
Energy Efficiency
Since investing in Energy Star–rated equipment, solar panels and other initiatives, energy consumption has decreased on an annual basis — down 24 percent since 2010, according to O'Connor.
"We have also achieved energy savings by installing a variable-speed hood system which uses about 50 percent less energy during off-peak cooking hours," says O'Connor. Money-saving steps here include replacing 150 MR 16 bulbs with LEDs, painting the ceiling white and replacing older equipment with Energy Star-rated pieces, including a combi oven for roasting and steaming menu items and hot-holding cabinets. The company plans to replace its older fryers with energy-efficient models. A programmable thermostat and occupancy sensors also help cut down on energy use throughout the space.
Water conservation continues to become even more important in the West, especially after the region experienced one of the hardest-hitting droughts in its history in 2014. By installing waterless urinals, low-flow aerators, hands-free faucets and a massive rainwater and snow collection system, the Grand Depot Café earned 20 points toward GRA certification for water alone.
The rainwater collection system uses a combination of a large collection tank and a larger storm water retention pond at the site of the commissary kitchen a mile away. "We pull up 6 tanker cars that can hold 16,000 gallons of water each, and a technician fills each car," says Heckner. "We can hold that water with heat tape so it doesn't freeze up during the winter. Last year we harvested and held over 96,000 gallons of water."
That water is then used not only to irrigate the property's natural landscaping, but also water weeds and brush alongside the railroad line, from Williams to the Grand Canyon. "We used over 24,000 gallons just alongside the road," Heckner adds.
The water, even more importantly, is used to power the steam engines in combination with the recycled restaurant grease. "Water conservation has been at the forefront of our education, not just for our employees but also for our visitors," says Heckner.
The Train
Complete with a glassed-in ceiling dome for 360-degree viewing, entertainers impersonating cowboys and robbers, snacks including fresh fruit, hummus and sandwiches, as well as alcoholic and nonalcoholic beverages, the 80-passenger capacity train operates with both diesel-powered and nine steam-powered engines.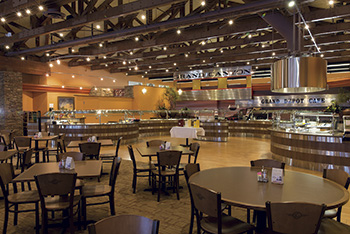 The Grand Depot Café uses a number of methods, including recycling, energy-efficient foodservice equipment and much more, to lessen its impact on the environment. "With 125,000 passengers total last year, that's about 40,000 vehicles that didn't enter the park," says O'Connor. "The train offers an alternate, greener mode of transportation to cut down on vehicle emissions."
In fact, the steam-powered engines burn so clean that sand is added to the furnace to create that iconic black smoke (otherwise associated with the burning of crude oil) that people like to see.
To create this closed-loop system, a local company collects fryer oil from the Grand Depot Café and commissary, along with other Xanterra properties, and removes the water and particulates to make a 100 percent renewable fuel source that's then sold back to Xanterra at a cost far lower than that of regular diesel fuel. A technician hooks up a fuel port and extra strainer connected to the tanker truck holding the grease fuel, and the train's ready to go.
Combined with the collected rain and snow melt water, that fuel saves 26,000 pounds of C02 per round trip voyage, according to O'Connor. The steam engine uses only a small amount of diesel fuel just to get started.
The iconic steam engine, typically seen only in museums or books, has become so popular among the railroad passengers that Heckner sought to represent it in the restaurant. A polished, salvaged side of a train car hangs on one side of the restaurant wall to symbolize this relic of the past, which has made its way into the present.
Waste Reduction
In an area where composting can still pose a challenge, the Grand Depot Café sends its preconsumer food waste to feed bears in a nearby park. Every day, representatives from Bearizona Wildlife Park in Williams pick up the five-gallon buckets full of scraps, trimmings, rinds, leftover muffins, hummus, cheese and other food not for public consumption to feed its animals, returning the empty bins — one each for proteins, vegetables and starches — the next day. The restaurant has been able to divert 2,800 pounds a month of food waste just from that program alone.
"In 2013 we topped out at 7,393 pounds a year just from food prep waste at the café and the commissary," says O'Connor. In December 2014 the restaurant had already diverted 6,824 pounds of waste from landfills to the bears.
While the Grand Depot Café continues to investigate composting, other Xanterra properties have long-held composting programs. Petrified Forest National Park, for example, has diverted 84 percent of its solid food waste by sending it to a composter and local pig farmer.
The Café, however, has a strong recycling program, sending all of its paper products to a company in Flagstaff that's able to recycle and sell back the 100 percent recycled paper for another closed-loop system. Last year the café diverted 20 tons from the recycled paper program. The café was also able to divert 10 tons from landfills by collecting wine, beer and other glass bottles for a local countertop manufacturer in Mexico.
"We hold regular quarterly training to educate our staff about the importance of reducing waste," says O'Connor.
After installing a series of 32 10-kW solar panels in February 2011, one of the first solar systems in the city of Williams, the Grand Canyon Railroad property has generated 3 percent of renewable, off-the-grid electricity.
"That system, year to date, has offset carbon emission by 137,495 pounds since it was installed," says O'Connor, who determined that figure through a software program linked to the solar panel system, which monitors energy use and savings. According to the software, the panels have led to a reduction in 80,879 kWh.
Local Food
"My role is to suggest different sustainable food items that hopefully work costwise," says O'Connor. For instance, in an effort to cater to more vegetarian and plant-based eaters, the company sourced a 100 percent Arizona-made vegetable patty.
And that's just the tip of the iceberg. The Grand Depot Café alone sources its produce from a local produce distributor that sources 95 percent of its product locally. With a longer growing season, Arizona produces a variety of fruits and vegetables as well as sustainably raised meats. The café also researches sustainable seafood sources; the cod, served with a Chardonnay and crab sauce, for example, comes from a sustainable fishery in Monterey, Calif.
And speaking of Chardonnay, the café also sources the majority of its wine and craft beer from local producers. Heckner says he's been working with a local vodka and gin maker for the cocktails at Spenser's Pub and on the train.
"Our menu items are inspired by recipes and dishes served on the trains back in the day," says Heckner. Think beef stew with local root vegetables and freshly baked peppered biscuits.
Heckner plans to expand the herb and vegetable garden to get closer to Xanterra's goal of sourcing 50 percent of its menu items from sustainable vendors by the end of this year. By next season, he expects to have about 100 different plants growing outside the café and will use water from the rainwater collection system for irrigation.
"Another thing we plan to do next year is visit with the farmers we buy from through our produce distributor to establish a more direct relationship with them," says Heckner. "While we will still purchase and receive our product through our distributor, we want to try and build a solid partnership so they know what we're looking for and so we can plan ahead with our menus. The more local items we get, the more positive comments we get from our guests."
Culture of Greenness
Creating a culture of sustainability gives Heckner and his team the drive and determination to keep getting greener.
"The one thing that gives me great personal satisfaction is the ownership and support our staff members display toward our environmental efforts and ccomplishments," says Heckner. "Many employees, of all levels, have even incorporated this professional responsibility to the environment into their personal lives."
In addition to the staff, Heckner adds, "We expect the people we do business with to have that same commitment." For example, Xanterra works with a certified green linen company to cut down on chemicals and carbon emissions produced by traditional laundry service.
"This is what every Xanterra property builds their day around," he says. "Legendary hospitality with a softer carbon footprint is our culture — if you talk to any one of our properties you'll have a very similar conversation. Everyone has bought into sustainability from the top down to the bottom up."