Tech companies continue to generate public attention with their innovative devices and apps. Today, though, they also make headlines for their innovative foodservice designs aimed to boost employee productivity and loyalty. Here we share a few lessons and trends from the tech segment that can impact foodservice designers regardless of what industry segment they are working on.
While the West Coast has its tech-digital giants – Adobe, Apple, Facebook, Google, LinkedIn and Twitter all call California home, while Microsoft remains in Washington – other parts of the country are seeing more tech companies, incubators and startups becoming a part of their business landscape as well. In Chicago, Mayor Rahm Emanuel put forth funding to lure more tech companies and support young professionals in these careers. In fact, Groupon, Braintree and Motorola have grown in the city along with a new tech incubator for startups downtown. And New York City is home to more than 1,000 tech and digital companies, according to Made In NY, an economic development initiative.
In addition to being technically savvy, this group of younger, urban trend-setting engineers and other professionals tends to be the food-focused types, dining out multiple times a week and seeking out the best restaurants and chefs. As a result, corporate feeders have to compete against cream of the crop restaurants to keep employees on-site for lunch and even breakfast and snacks. The question is, how do they design for this tech- and food-savvy crowd?
Designing for this group means working closely with the operator from day one to create an integrated culture focused on all the details, says Nahum Goldberg, LEED AP, with Cini-Little International, Inc. "That's ideal because when the operator is fully involved there are no surprises and they get what they signed off on," he says. "Many of our clients already have a concept in mind but are relying on us to figure out what the correct proportion is for the back of the house and what are the best equipment solutions for them."
Start-ups or larger organizations wanting to expand benefits in the form of foodservice tend to need even more help in the concept development phase. "In that case we'll lead the way, but we want the operator to come on board as soon as possible, or sometimes we'll help choose an operator early on," Goldberg adds.
Once the design process starts, here's a look at some of the top considerations to take when catering to the urban techie crowd.
Transparency
"Everyone nowadays looks for transparency – where the product came from and they want to see into the kitchen," says Goldberg, who has worked on foodservice projects at LinkedIn, Adobe, Google and Uber, along with other tech companies on the West Coast and around the country.
The open kitchen concept has matured far beyond just the breaking down of barriers and walls. Foodservice design consultants now focus on the aesthetics and look of the equipment pieces themselves, the countertops, the lines of sites and other details – like blocking lines of site toward the floors.
The range of good-looking and functional equipment has broadened significantly. In the oven category alone operators can choose from bold wood-fired and hearth ovens as well as traditional deck ovens with brass fittings that cook as well as a traditional pizzeria and have that antique, old-fashioned look, Goldberg notes. "Lines of sight in the kitchen are super important – you want to have a lot of front-facing interaction with the servers," he says.
More kitchens incorporate front-facing preparation or finishing stations so the cooks and diners can interact with each other. Even a back counter has to have that nice-looking detail, rather than just a wash of stainless. Use of tile, wood and other materials for solid surfaces, cabinetry and lighting to highlight dishes, custom-made cooking suites and prep surfaces – these all create that kitchen transparency to showcase the food.
Flexibility
An aesthetically pleasing kitchen is important for an open one but so is function, of course. That's where flexibility in both equipment selection and design comes into play. "You want to create a platform with different stations that can easily be modified so the culinary team can really express themselves and easily change their menus," says Goldberg.
Think: plug and play and plenty of wheels. "You want front cooking stations where you might be able to go from a refrigerated base with induction burners on top but be able to pull the whole thing out and change to an electric grill or heated cabinet below," Goldberg says. Another station could switch from a tandoor oven to a grill or a smoker and rotisserie. To build in that flexibility, he'll set up the power station so it's able to handle the electrical needs for various types of equipment.
Flexibility with food guards also helps. "This provides the operator the ability to go from self-serve to full-serve more easily," he says.
Then there are flexible equipment pieces, like planchas and flat-top grills for breakfast and lunch foods and combi ovens that can roast, steam and grill all in one small space.
Health and Wellness
The tech group – similar to Millennials and other urban professional groups around the country –increasingly wants healthier and nutritious meals when consuming food prepared outside the home.
"Health in corporate dining is not just a buzz word, it really does have an impact on people since many are eating most of their meals at their workplace," Goldberg says. "If you can influence someone's diet for a year it really has an impact on their health and longevity and avoidance of certain diseases," he adds, referencing this research presented during last year's SHFM conference.
Lighter cooking means more grilled food or food cooked quickly on a plancha, not overly seared and charred on a charbroiler.
"Smaller plates and composed plates not only help manage food costs but present food in smaller portions for people so they can manage their calorie intake," Goldberg says. "Plated portions also speed up the serving line process."
Commercial grade juicers and blenders open up options for fresh pressed juices and smoothies. And don't forget the need to focus on special diets and allergies. To accommodate gluten-free, nut-free, vegetarian and vegan diners, sometimes separate cooking supplies and utensils are required.
Authenticity and Variety
"This group dines out a lot, so they're interested in different culinary and ethnic options, especially if their workplace provides them solid meals five days a week," says Goldberg. They're not going to develop their kitchen at home so they're looking to experiment at restaurants or their workplace.
"In California the competition is really intense," Goldberg says. "These companies invest a lot in the teams that develop and run their foodservice offerings – they have a strong culinary and restaurant background so they really know what they're doing."
To showcase authentic, artisan cooking, many operators want certain equipment for different types of cuisines: tandoor ovens for Indian food, hearth ovens for pizzas, and woks for Asian dishes.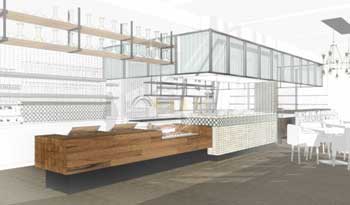 A rendering of Stem.Variety can also come in the form of dining style. In making this case Goldberg points to Stem, Bon Appetit's latest concept at an office building in San Francisco's Mission Bay neighborhood. The all-day, 158-seat full-service restaurant focused on Mediterranean cuisine also features a completely open, front-facing kitchen with interactive counter seating, a bar for juices and smoothies in the morning and cocktails later in the day, plus a coffee and retail to-go section with a jeweled display case just below the POS station showing food offerings from different dayparts.
Integration of Technology
Considering technology is a must. Some companies are experimenting with tablet stations for fast ordering and payment. Others have online ordering systems so busy employees can bypass lines.
"Tablets can easily be integrated and they don't affect design that much because they're super lightweight and can be placed anywhere," says Goldberg.
Many operators have switched to digital menu boards and displays as well. These come in handy if the menu changes frequently or the operator wants to communicate other information to the guest, such as specials, nutritionals or other education.
Designing for the tech group requires extra though, detail and collaboration to create that food-forward, restaurant-like culture even in corporate dining. Funny thing is, that's becoming the trend in design across all segments – commercial or not.