Variety, Local Flavor, Sustainability Keep Duke Dining Fresh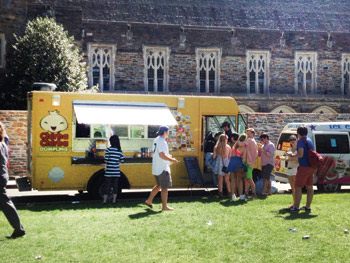 Local restaurants, in addition to chains, have a physical presence on the Duke campus. Some are popular single-unit, independent operations that have opened second locations at Duke. Some operate food trucks or carts.Two top priorities in college and university foodservice today are improving sustainability and offering increasingly sophisticated, restaurant-quality dining options to an increasingly sophisticated, environmentally aware student body. Duke University in Durham, N.C., delivers on both fronts in creative and comprehensive ways.
The university operates on what the director of dining, Robert Coffey, calls a hybrid system. Under the Duke Dining umbrella, Bon Appétit Management operates the school's 2 primary dining facilities, while 25 restaurants and cafés on campus operate on contract with the school. Those include national, regional and local brands ranging from McDonald's and Au Bon Pain to regional favorites like Loop Pizza Grill, and Bella Union and Dolce Vita, a pair of coffee and pastry shops owned by two local musicians/entrepreneurs.
Add in a fleet of food trucks, an assortment of food carts on the newly redesigned central plaza, and Duke's popular Merchants-on-Points program, which provides direct-to-dorm delivery from local restaurants, and you get an idea of the lengths to which the university goes to provide a kaleidoscopic array of options.
"Back in the day, Duke was totally self-op, but it's always been very open to input from students and the community. That's helped to infuse the variety that the students are looking for," Coffey says. "Durham has become a foodie town, with many ethnicities and a lot of folks coming in from other regions to open restaurants here. It's a melting pot both on campus and off, and students want those authentic cuisines on campus. There's no better way to offer that than to have the same folks who are bringing those flavors to the local community bring them here as well."
To that end, the school gives local restaurants, in addition to chains, a physical presence on campus via contract agreements managed by Duke Dining. Some are popular single-unit, independent operations that have opened second locations at Duke. Some operate food trucks or carts. Along with plenty of chain options, they can be found spread throughout campus.
Coffey points out that while Duke's on-campus student body is relatively small — slightly more than 6,000 undergraduates — it represents just one of the dining program's constituencies. The university community also includes a number of graduate schools and institutes, as well as Duke Medical and the flagship University Hospital. "Between the medical side and the university side there are about 30,000 employees — not necessarily always here on campus, but in the system," he says. "We are connected, and together we have a tremendous amount of visitors and cash customers. It takes all those different parts of the community to sustain the variety that we offer."
Students Drive Vendor, Cuisine Selections
While students and visitors alike enjoy a dining program that's consistently rated among the best and most innovative in the country, it's the students who help keep it fresh. Take the Merchants-on-Point (MOP) and food truck programs, both of which are guided by a student government "food committee" that meets weekly.
"One of the many tasks that they do throughout the year is to evaluate these two programs," Coffey says. "If they feel a vendor isn't working well or that we need a new type of cuisine added, they make those recommendations, and we act on them. And this year, for the first time we put out a survey to the whole student body to get input on the programs. So while the vendors are on contract with us, it's really driven by the students."
For the MOP delivery program, once local restaurants sign on to participate they're set up in the DukeCard system. Thereafter, students can simply call or e-mail their orders in to receive delivery direct to their dorms, to the library or anywhere on campus and pay with their meal plan points upon delivery. Duke Dining tracks all of the transactions and makes payments to participating restaurants weekly.
Coffey says that while the MOP program has been in place for several years, it has become increasingly diverse. "When it first started they had a lot of pizza locations included, but in just the past couple of years the students have worked to get more variety in the program. Now it's all over the board — from Mediterranean to African to pizza, subs and steaks."
It is still, however, largely targeted to late-night dining. "We have venues that operate 24 hours, but if it's after midnight, it's cold out and you're craving a pizza or a sub, you can use this service," Coffey says. "We have student groups that have even started businesses associated with it — some created a web-based ordering system, and others created a delivery service that enables operations that may not be set up to deliver to participate."
Another recent change to the MOP program has been implementation of an iTouch system for processing transactions. When a vendor makes a delivery, the employee simply hands the student an iTouch unit, the student verifies his or her ID and enters a security code to complete the transaction. "It's easy, and it's great for the vendors because they don't need a big, expensive POS system to be able to manage transactions," Coffey explains.
Duke's independent food truck operators use that same iTouch system, giving students easy, cashless access to the seven different contracted food truck concepts that rotate among approved campus locations on a monthly calendar. From the trucks, students can pick up a host of food options including crepes, barbecue, tacos, Greek specialties and Chinese dumplings. As with the MOP program, student input and ongoing evaluation drive the selection of concepts.
Providing Variety, Sustainably
If Duke is committed to variety, it is equally focused on sustainability. The school's initiatives in this regard are second to none, and they continue to evolve. For the past 2 years, 17 percent of purchases have come from local vendors, and primary dining halls offer daily local meal options. Last year, Duke's own campus farm supplied 6,000 pounds of fresh produce to the school. All dining locations compost, accounting for 150 tons of material in the 2012-2013 school year.
Trayless since 2008, Duke this year also banned Styrofoam from all locations. Only fair trade and/or "direct relationship" coffee is served, and reusable mugs are available for purchase at all locations. Likewise, reusable clamshell containers made from eco-friendly polypropylene can be purchased for $5 at participating campus vendors.
The most recent enhancements to Duke's sustainability efforts include a community outreach food donation program; a Meet Your Farmer series, which brings local farmers into campus dining locations to interact with and educate students about their products; Chef's Chatter, which provides students an opportunity to meet and engage with the chefs and learn about local items incorporated into the daily menus; and Chef's Table, a program in which groups of six to eight students get a behind-the-scenes dining experience and a chance to provide feedback on meal options while engaging with the executive chef and staff.
Coffey says the school is also increasingly focused on defining sustainability in a more meaningful way than simply "local." To that end, it is working with a graduate student to conduct research on how health ties into the sustainability movement. "Are we better off buying local apples that have been sprayed with pesticides or organic apples from another state? We're trying to answer these types of questions as we look at our purchasing initiatives and working to put a much stronger emphasis on health," Coffey says. "Local alone isn't good enough."
---
For a complete list of our 2014 College and University Foodservice Innovators click here.
Snapshot
No. of students: 6,400 undergraduates; 8,100 graduates
Operation: Hybrid (primary facilities managed by Bon Appétit; others contracted by Duke Dining with national, regional and local operations)
Meal plan participants: 5,675
Dining locations: 51 Duke Dining locations
Food trucks: 7
Merchants-on-Point delivery vendors: 17
Annual revenues: $37 million
Annual purchases: $4.2 million
Total employees: 119, including 16 full-time/management
Key Players
Rick Johnson, assistant vice president of student affairs for housing, dining and residential life
Robert Coffey, director of dining services
Barbara Stokes, assistant director
Tammy Hope, quality assurance manager
Kristin Marinko, marketing manager