State-of-the-Art Retail Foodservice Shines in New Venues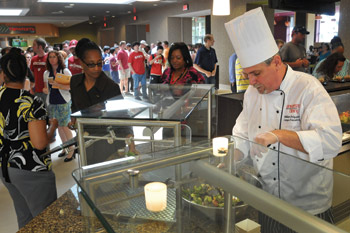 Micro-restaurant Cold Fusion features a menu of fresh-made and grab-and-go deli sandwiches, soups and salads. Over the past several years, North Carolina State University in Raleigh has targeted retail foodservice as a way to meet growing demand for a more diverse array of convenient food options as well as to grow revenues. And it has done so in grand style. Two new projects — one a new build, and the other, part of the expansion and major renovation of an existing student union — shine brightly as examples of what retail campus dining has to offer today.
The new facility, called On the Oval Culinary Creations (The Oval, for short), opened last August on NC State's Centennial Campus, an area comprised of engineering and science academic buildings, research facilities, student housing, and government and corporate offices. Located a mile or so from the school's main campus, Centennial had grown significantly in recent years but with scant attention paid to and little space allotted for foodservice. "We ended up with a campus serving about 12,000 people but with really no place to eat," says Randy Lait, senior director, hospitality services. "I squeezed in a couple of coffee and sandwich shops, but The Oval is the first major foodservice facility there."
The project, Lait points out, was uniquely challenging because of the mixed-use nature of Centennial Campus, which by design fosters collaboration among its university, government and private enterprise tenants. Its location at the base of a new student housing complex added to that challenge. "We didn't want people to think of it as a dorm dining hall. So the design is more sophisticated, and you don't see a lot of rah-rah NC State imagery," says Lait. "It's fitting for the students, too, who are coming in with much more sophisticated expectations. Now, it's all about trying to emulate a restaurant experience on campus."
At The Oval, four micro-restaurants accomplish this objective. In a nod to the nearby academic buildings, each restaurant features an engineering-themed concept. The 20,000-square-foot space includes Cold Fusion, with a menu of fresh-made and grab-and-go deli sandwiches, soups, salads; Fahrenheit, with open-flame rotisserie chicken, beef, pork, sides and open-flame hearth-baked pizza; Flash Point, with Asian stir-fries, sushi and noodle bowls; and Newton's Grill and Diner, with burgers, signature grill specialties and breakfast items.
A large back kitchen supports the micro-restaurants, which are also each fully equipped to enable fresh, fast menu specialties made to order in front of the guest.
In addition, Newton's unique design serves dual purposes. It's a double-sided space with Newton's Grill facing inward and Newton's Diner facing out. The Diner has its own register, seating area, dedicated cooking equipment and separate entrance. A large roll-down gate can close the Diner off for independent operation during periods when the other concepts are closed.
"At The Oval it's all the lunch you can do, but we knew there wouldn't be a lot of demand for weekend or early morning service," Lait explains. "That said, we're in a 1,100-bed student apartment complex, so we can't just lock the doors and say we can't afford to have this big facility open if only 200 of you are going to come down and eat. So we did this double-sided grill/diner concept that gives us flexibility to keep Newton's Diner open."
In total, The Oval can accommodate up to 420 guests. A variety of seating styles, columns and levels makes The Oval's large, central seating area less "cafeteria-like." It also includes a 25-seat glassed-in private dining room, complete with AV and flipcharts for special group meals or meetings, as well as outdoor patio seating.
Concurrent with The Oval's construction was a major renovation and expansion of NC State's Talley Student Union building. The first phase of the project, which included the opening of five new foodservice venues, was completed this spring. The entire project, which includes an 800-seat theater, a 2-story bookstore, a renovated ballroom, a multistory glass atrium, and new and refreshed meeting and student activity spaces, as well as a Starbucks and a full-service restaurant yet to come, is slated for completion in 2015.
"The building had gotten tired and old, and the dining facilities in it were admittedly tired and old as well," Lait says.
With license to create new concepts, Lait and his team were careful to make sure Talley's offerings were distinct from those being developed at The Oval. They focused initially on developing four quick-service retail concepts, which opened last fall along with Talley's Market, on the main level of a new wing. Three of the concepts are self-branded: Tuffy's Diner, serving classic diner fare and signature regional specialties; Los Lobos Mexican Grill, serving tacos, burritos, bowls and quesadillas; and Red Sky Pizza Company, serving fresh pizza from the fire-deck oven, by the slice, along with salads and cannoli.
The fourth concept, Jason's Deli, is licensed.
Unlike at The Oval, which features six common registers that process transactions after guests have ordered and received their food, each Talley Pavilion venue has its own register.
The fifth and most recent concept opened in mid-March as part of the first phase of the Talley Student Union project is One Earth Global Cuisine and Lounge, where sustainability, display cooking and international flavors shine. It's a separate and distinct dining facility with seating for roughly 250. Similar in functional design to The Oval, it incorporates a selection of themed display-cooking concepts, centralized cashier stations and a variety of seating styles, including soft, lounge-style seating around a large fireplace.
The fresh-to-order cooking stations here are Mediterranean, Asian, sushi and global, where students enjoy a range of cuisines including regional American, German, Latin and Caribbean, which rotate on a weekly basis.
"We were a little concerned that we were shooting over the heads of the student body with higher-end, slightly more exotic foods, but that wasn't the case," Lait says.
Supporting all of the Talley Student Union concepts venues is a 3,500- to 4,000-square-foot lower-level kitchen. "It's loaded with state-of-the art equipment, including cook-chill units, combi ovens, retherm units, blast chillers, kettles and steamers, rack ovens, great dishmachines and pot washers — all of the heavy-lifting equipment is there, while the really nice-looking equipment for finishing and service is up in front of the guests. It's part of the sizzle."
---
For a complete list of our 2014 College and University Foodservice Innovators click here.
Snapshot
No. of students: 34,000; 9,500 on campus
Operation: Self-operated
Meal plan participants: 8,750 per semester
Dining locations: 3 residential dining halls, 6 c-stores, 21 retail foodservice locations
Annual revenues: $36 million
Annual purchases: $11 million
Total employees: 600, including 140 full-time, 11 management
Key Players
Randy Lait, senior director, hospitality services
Shawn Hoch, associate director, university dining
Bill Brizzolara, executive chef
Scott Harmon, director, retail/concessions operations
Kenny Hemmer, director of Talley Student Union food services
Keith Smith, director, board operations/sustainability
Kitty Lewis, director, retail operations
Lisa Eberhart, registered dietitian
Kevin Howen, business manager
Jimmy Wright, director of facilities
James Raynor, purchasing manager
Julie Staples, research and development chef
On the Oval design/foodservice consultant: Dave Whitman, FCSI, principal, Ricca Newmark Design
Talley Student Union design/foodservice consultant: John Birchfield, FCSI, principal, Birchfield Jacobs Foodsystems