Food has always taken center stage at Robert Wood Johnson University Hospital in New Brunswick, N.J. Tony Almeida, director food and nutrition, believes in raising the bar as part of the healthcare facility's culture.
Innovators: Timothy Gee, CEC, RWJ, executive chef, and Tony Almeida, director, food and nutrition at Robert Wood Johnson University Hospital, New Brunswick, N.J.
Ronald Breese moves seafood into the tilt braiser."In order to implement a new patient menu and improve the retail menu, our staff had to have more professional culinary skills," says Timothy Gee, CEC, RWJ, executive chef. In response, he and Almeida initiated the White Toque Culinarians, a program that focuses on more intensive training that emphasizes flavors and foundation. As part of its emphasis on foundation of technique and flavors, the program prioritizes organizing mise en place, knife skills, equipment usage, recipe math and food safety.
Each month, Gee and sous chef Nicholas Mercogliano train employees for three days in both a classroom and a hands-on kitchen setting. "As part of the training, employees learn proper use of equipment, including how to make the most of it during cooking, breakdown and cleaning," Gee says. For example, one day addresses six foundational cooking techniques: sautéing, braising, roasting, pan searing, deep-frying and grilling. "We walk them through every single detail. It's not about them never deep-frying. It's more about understanding the entire process like not overfilling the basket because then the temperature drops in the oil and the product may not get crisp."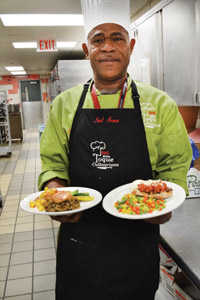 Noel Brown presents two plates he produced after going through the program. Items are on the RWJ menu.The White Toque training program consists of three levels and employees must complete one before moving on to the next. Nearly 80 percent of the foodservice staff has completed White Toque training. "We hope the culture will more closely resemble that of the Culinary Institute of America," Gee says.
Among the most satisfying results are improvements in food quality and employee morale. The chefs encourage employees to be patient as they learn new skills. "Some people have been doing certain things and we're correcting them," Gee says. "It's difficult at first, but when they see the results of the progress they understand."
The program resembles Black Hat Chefs at Rex Healthcare in Raleigh, N.C. As part of their research for the training program, Gee and Mercogliano visited Rex Healthcare to learn from Jim McGrody, director of dining services, and Ryan Conklin, CEC, executive chef.
In addition to training staff to produce the new patient menu rolled out last fall, the chefs also train staff to produce food at an action station, RWJ Live, that replaced a pizza station in the retail café. "We decided to feature five items: personal flatbread gourmet pizza, Mexican grille burritos and tacos, Greek salad and gyros, the Tuscan experience and gourmet salads," Almeida says. "We needed to add 1.5 labor hours per day to help serve during peak lunch period. The station does approximately 275 transactions a day with an average guest check of $5.50. The projected yearly profit will be $202,046. This is a 309 percent increase in profits."
For a complete list of our Healthcare Foodservice Innovators click here.