Juice bars offer traditional foodservice operators such as colleges, hospitals and even B&I the opportunity to cash in on consumers' desire to purchase more healthful menu items. Of course, making this kind of transition requires several key foodservice equipment and design considerations.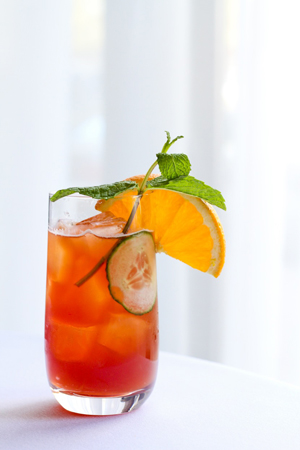 With words like cleanse and detox buzzing in the industry, juice and smoothie bars are on the rise. In fact, foodservice research firm Mintel predicted these super-nutritional juiced and blended beverages as a top trend for 2013. It seems as if the mid-nineties trend has made a comeback as of late.
"Juice bars are opening up like gangbusters, and I think a lot of foodservice operators are going to continue to embrace that," says Kip Serfozo, director of operations for Camacho Associates Inc., an Atlanta-based foodservice design firm. "We're designing a juice bar for a hotel along the beach and I see more B&I operators offering customized juice and smoothie drinks. In fact, these drinks are being positioned as a healthy meal replacement and a non-processed way to add more fruits and vegetables in people's diets."
Serfozo and James Camacho, FCSI, the company's principal, have had increasing requests for juice and/or smoothie bars as part of new projects and remodels, either as standalone kiosks or extensions of an existing coffee bar or other service line. In fact, says Camacho, the brand new Cancer Treatment of America Hospital in Newnan, Ga., "wanted to get away from serving sodas, fountain and other sugary drinks and switch to more bottled drinks like vitamin and flavored waters and juices," says Camacho. The hospital's Tulsa location also made a similar move.
Incorporating juice and smoothie bars into existing foodservice operations has design implications. For example, transitioning from fountain-based beverages to bottled juices and vitamin waters requires extra display cooling cases and grab-and-go refrigerators, almost like a c-store setup.
Selecting the right blender and juicer is also an important part of this process. "When you're mixing hearty fruits and vegetables like carrots and kale and apples and mangos you can't just buy any old blender," says Camacho. Many operators look to the high-powdered and/or vortex-based blenders that can quickly — and quietly — emulsify large amounts of produce into creamy, drinkable beverages.
There are also various types of juicers on the market, from basic citrus juicers to pretty display juicers for oranges to macerating juicers that can handle green vegetables. Thick and stringy wheatgrass, often offered as a "shot" on the side of a juice or smoothie, can require its own separate juicer, says Serfozo. Infused waters are also popular with these setups and they often come in large, see-through vats or glass containers holding iced water with slices of lemons, pineapples, cucumbers and other fruit.
Juice and smoothie applications attached to existing coffee bars or kiosks, typically require an extra three-compartment sink or undercounter dishwasher for cleaning blenders and mixers. If staff will prep vegetables in the front of the house, the station may require an extra sink and possibly extra undercounter or reach-in refrigeration.
New Revenue Streams
Adding these nutritional beverage extensions also helps open up alternative revenue streams and expand daypart business for B&I, healthcare and college/university cafeterias, says Serfozo. Many of these foodservice operators add smoothie and juice applications to their existing coffee kiosks or serving lines to attract members of the Millennial generation looking for between-meal snacks or for healthy eaters looking for meal replacements.
Customizable options are important, too, for both groups. At the beach club example cited earlier at the Sea Pines Plantation and Resort in Hilton Head, customers can pick out their fruits, vegetables, and other add-ins for customizable smoothies and juices.
Even airports are getting into the business, with customizable smoothie options for healthy travelers on the go. Serfozo points out LottaFrutta, a rapidly expanding smoothie bar/kiosk at the Hartsfield-Jackson Atlanta International Airport offering fruit cups and protein smoothies. Even some Home Depot locations are opening up juice and smoothie bar kiosks for in-store shoppers, says Camacho.
Catering to New Clienteles
For Jill Barron, owner of Mana Food Bar in Chicago, offering smoothies serves as a meal replacement offering, especially for vegetarians and vegans looking for some added protein. Instead of dairy milk, Barron uses almond and other non-dairy milks for that creamy texture friendly to lactose intolerants and vegans. She also adds a chocolate-flavored green powder for extra nutritional boost and nut butters for creaminess.
With a growing awareness of the health benefits of eating raw, smoothies also support that area. Though Barron does not make her own almond milk, it's possible using simple tools as a large bowl or vat, lots of raw almonds, water and cheesecloth or nut milk cloth.
Barron also offers fresh fruit juices as a "cleansing" meal alternative or meal addition for her customers.
Cocktail Juicing
Fresh juices and even blended drinks have made their way to the cocktail bar as well, either as an extension of the service area, both for non-alcoholic drinks and boozy versions for "vertical menu integration," says Serfozo.
Tim Williams, founder of Pour Souls Consulting and a mixologist who works with restaurants, lounges and bars to improve their beverage programs, has seen an increase in juicers, high-powdered blenders and other tools behind the bar to create more "culinary-centered cocktails." At Nellcote in Chicago, the bartender's shift starts hours earlier than perhaps in the past, with the citrus juicing beginning early and often for homemade lime juice, sours and other mix-ins. "We don't cut limes six days in advance, we cut them that day," Williams says.
In some ways, bar design has had to reflect a small prep kitchen of sorts, with extra workstations, appliances, knives, refrigeration and sinks.