These days it's all in — the right way — or bust. A few years after the food truck boom swept the industry and the nation, the segment shows no signs of stalling or slowing, but the competition is a survival of the fittest. Those who planned their concepts, menus, operations and mobile kitchens well from the get-go and adapted along the way now operate in the fast lane. The rest have suffered — or shuttered.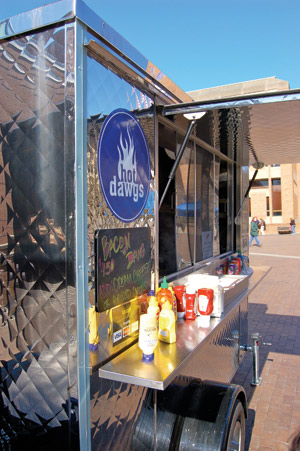 UW's Hot Dawg's Food Truck"There are two things going on in the food truck world these days — you have some folks with food trucks who have moved back into brick and mortar, and you have others who have gotten out of the business completely," says Kevin Higar, director of research and consulting for foodservice research and consulting firm Technomic. "The food truck scene is the fast-casual scene from years ago in terms of the passion. Generally speaking, food truck operators seem to work way more hours than even traditional restaurant owners, and some say it's more difficult working in a food truck."
Naturally, this has led to some burnout. Those who have persevered have had to become even more efficient and smart about their operations to survive. But the food truck has proven to be anything but a fad. "It's definitely become a part of the foodservice industry, and it's here to stay," Higar says.
"If you think about the history of food trucks, they've been around since the '70s, and well before that we had chuck wagons," says Josh Tang, co-founder and CEO of Mobi Munch, a full-service concept development and consulting firm for the food truck industry. "If you look at reports from the L.A. tax bureau, the average taco truck even back in the day did an average of $300,000 in sales a year. Multiply that by 4,000 licensed vehicles, and that gives you a sense of the scale of the market."
These days, many food truck operators have gone back to brick and mortar, but they're not abandoning the trucks. The trucks allow them to test-drive ideas about particular concepts and menus, says Tang. These roving test concepts serve as a tell-all for a concept's capabilities — offering a projector for long-term sales, customer demographics and marketing potential.
"If they want to move to a different part of town, they can go to that area and test out potential customers and check out competitors," Higar says. "It's like firsthand market research."
Learning the Logistics
Running a food truck is more than just putting a great concept on wheels. It takes serious menu engineering, kitchen design and the right — flexible — equipment. Tang knows this all too well, having launched one of the first food trucks to hit L.A.'s streets — LudoTruck, a fried chicken concept developed in partnership with celebrity chef Ludo Lefebvre. Mobi Munch also gave wheels to The Chairman, an Asian street food concept currently working on opening a brick-and-mortar space in San Francisco.
"A food truck is much more than four wheels, some kitchen gear and an ordering window," says Tang. "You can't just slap a Burger King on a truck and call it a day."
Ralph Goldbeck, AIA, partner at Kitchens To Go LLC, a mobile kitchen design and consulting firm, agrees. "All mobile kitchens have a set gross vehicle weight rating," he says. "You can't exceed that weight because the truck will literally break down. So you can build the most operational kitchen possible with all the right equipment needed for your menu, but it all has to fit on board and be a licensed, legal street vehicle."
According to Tang, older model trucks and the "roach coaches" of the '70s were not designed to support full-service kitchens. With food truck layouts and equipment bulking up over time, truck manufacturers have had to reformat the shape and chassis, which encompasses the transmission, wheels and underlying part of the vehicle.
Many newer trucks now provide separate kitchen and driving compartments, Tang says. "You can also move more staff from point A to point B more safely; a lot of trucks are actually operating illegally and creating a dangerous environment because they're driving around with staff near hot oil and cooking equipment set on shelves."
Because of the growing popularity of mobile food trucks both large and small, many municipalities require that the trucks are able to go back to a commissary or "mothership" for adequate cleaning, sanitation, dumping and fueling, Goldbeck says. Even if the truck has a brick-and-mortar store, the site may not be suitable for legal dumping.
Goldbeck says novice food truck operators often overlook some important logistical considerations: Where is your staff going to use the restroom? How do you get staff and food to and from the food truck? How many stops to and from your commissary are you going to make in a day?
Safe food handling regulations also apply, perhaps even more stringently, to food trucks, says Goldbeck. And modern food truck operators must work against a long-held reputation for having poor sanitary conditions. Food trucks must follow HACCP protocol and install hand-washing sinks separate from a three-compartment sink used for washing dishes.
Menu Engineering
Food trucks have a reputation for having great-tasting — often gourmet — street food that offers the portability customers want along with the flair, inventiveness and chef-driven creativity they would expect from any high-end restaurant.
"From a consumer's perspective, there is more innovation coming off a food truck," Tang says. Unconventional menu items might be too high risk for brick-and-mortar venues, Tang says, "but food trucks are able to explore more ethnic and fusion cuisines as well as cater to vegans, gluten-free diners and introduce other niche concepts."
When it comes to menu design, Tang explains, "you need to respect inherent limitations in space, storage, weight and power consumption and design a menu that can address those limitations but also maximize your speed of service."
Margins in the food truck space are even slimmer than for restaurants, Tang says. As a result, efficiency is even more important.
Food truck operators can calculate throughput by looking at the average cook time for an order and determining the operation's maximum orders for any given period using just one or two staff people. "If you can serve 10 customers in an hour and your average ticket is $10, you're making $100 an hour," Tang says. "The idea is you have to be cognizant of how quickly you can actually fulfill your orders."
Many traditional restaurant and foodservice operators fail to realize food trucks do not have concurrent transactions as in fully staffed restaurants. This makes speed of service and knowing your capability even more important, Tang says.
Kitchen Design
Perhaps in no other area of the foodservice industry is the menu tied so closely to the kitchen design and equipment. The menu needs to be perfected ahead of time based on limited space and a need for speed.
"Volume determines how much equipment you need," Goldbeck adds. "In addition to production equipment, you need refrigeration, a three-compartment sink, a handsink, and all that has to fit on a moving vehicle."
With an average cost of $70,000 empty and up to $125,000 fully loaded, food trucks cost significantly less than traditional restaurants to launch, but investment in the right pieces is key. "We know what type of equipment survives on board and what doesn't," Goldbeck says. "An ice machine, for example, won't survive on a truck or trailer because its copper coils and other sensitive components can't stand up to the bouncing."
Most trucks have a galley design that requires special heating and cooling over long periods of time. "Food trucks and mobile kitchens are limited by climate," Goldbeck says. "The walls are typically an inch and a half thick so you don't have the same insulation you have in a building, and colder or hotter outside temperatures can be difficult on the pipes and parts." Extra insulation in and around those parts is often necessary.
Truck kitchens are also heavily regulated by codes. "Most states require that all the equipment be bolted in because the truck moves and things can shift in transit," Goldbeck says. Bolting the equipment together and a lot of caulking also helps make it easier to clean and control pests because there are fewer cracks where food and dirt particles can hide.
The standard kitchen for Mobi Munch's clients includes a cooktop suite with a flattop griddle, char grill, open burners or combination of the three, says Tang. Other common elements include a two-basket fryer, as well as refrigeration, a steam table with six or eight warming trays, a cold sandwich prep station for condiments and sides, a three-basin sink and a handsink as required by most health codes. Some operators may want to add larger fryers, and the occasional oven as well as vertical rotisseries, rice cookers and commercial panini grills. "There are limitations when you go beyond a certain size and weight," Tang says. "When you go from one chassis to a larger one, that can be tens of thousands of dollars more."
Any extra prep, storage and cooking space needs can be accommodated through a proper commissary. As an alternative to commissary kitchens, many successful food truck operators rent or buy modest restaurant space where they can use the kitchen to prep for both the restaurant and the truck.
Location Management
It's hard to deny that food trucks fill a void in the marketplace. Like traditional restaurant delivery, these wheeled eateries bring the food to the customer.
"One of the most important lessons for others to hear is that the mobility of a truck is actually a double-edged sword," Tang says. "You don't necessarily want the truck running around just for the sake of running it around." Each trip costs fuel and labor.
Web-based platforms help foodservice managers and operators bring the food trucks to them. Mobi Munch has broken into the business and industry (B&I) sector by helping location managers like Aramark and Centerplate bring the trucks to the places where the contract feeders work. In the past at these office parks, "you might have had one employee who goes out and emails all the food trucks and invites them in," Tang says. "Now, all the bookings and payment can go through the cafeteria's manager. If you look at where food trucks excel, it's that they're filling this type of unmet need because of their cuisine and location offerings."
Tang has most recently been researching other web-based technologies to help monitor and power truck kitchens more efficiently. "What trucks do that brick-and-mortar restaurants can't necessarily do is combat consumer food fatigue," he adds. "The idea of rotating trucks and concepts opens up a wider range of options for food options."
That said, some trucks have built such a successful following in certain areas that they have had to act more like brick-and-mortar concepts to accommodate that. Setting up camp in specific areas of a particular city brings these trucks enough volume from both regulars and tourists, but leaves open the option to move to other untapped areas if there's a need to boost sales.
Marketing and Catering
Food truck catering represents the third wave of the segment affecting the foodservice industry, according to Higar. "After opening brick-and-mortar locations, many of these operators now use their trucks for expanded catering and special events," he says.
"Catering on a truck is infinitely more effective than a sign that says, 'We cater,'" Tang says. "Restaurants see trucks as moving billboards."
Still, logistics comes into play when you deal with catering, Goldbeck says. "If you run out of water or fuel you need to plan ahead and know how you're going to re-supply. Just as in any off-premise catering situations, operators of these trucks need to learn how to roll with the punches, expect the unexpected and come up with a menu that's simple but can handle high volumes."
Food Trucks' Future
Food trucks truly have carved out a competitive niche as an up-and-coming segment with plenty of room for growth. Moreover, there's no denying the impact this segment continues to have on the foodservice industry. Brands can develop more quickly around food trucks, Tang explains. "That opens an opportunity for businesses to introduce new brands and prove them out very quickly. At the same time you have companies like Aramark and area developers for chains that are interested in franchising the next killer concept."
While modern food trucks started in the independent restaurant segment, they've since branched to other segments. "Food trucks were born because of a lack of bank financing and employment, people had to look at other avenues in the food industry," Tang says. "We've gotten to the point where restaurant chains see the benefit to them. As long as there continues to be consumer interest, this business will thrive."
UW Street Food, University of Washington, Seattle