Although he served as an advertising executive in New York and Chicago for three decades, Dean Bastian's heart has always been in the foodservice industry.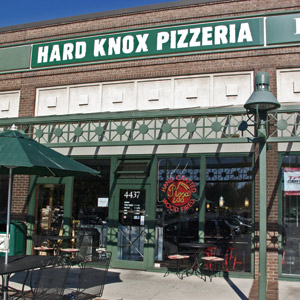 Hard Knox Pizzeria"I've always considered myself a restaurant geek and worked in foodservice during and after college," Bastian says. He also spent a lot of time making pizza at home, experimenting with dough recipes and different cooking methods. Bastian decided to take his hobby to the next level. He purchased a book about Neapolitan pizza and then constructed a wood-fired oven in his backyard from instructions he found on the Internet so he could test run pizza recipes for friends and family.
After meeting his wife, Jill Johnson, who convinced Bastian to move to Knoxville, Tenn., he worked as an advertising consultant until he found he was ready for a second career. "I decided Knoxville needed a good wood-fired pizzeria, so we opened Hard Knox Pizzeria almost four years ago two miles from both downtown and the University of Tennessee's campus," Bastian says. He credits his wife as being instrumental in the new business venture.
FE&S spoke with Bastian about his business, what sets it apart from the segment's many competitors and his plans for expansion.
FE&S: What are the key characteristics of your business model?
DB: My background includes building brands and creating enterprises. Ours is a fast-casual concept, where customers order at the counter, get their own drinks from a self-service area and then staff brings pizza to the table. It's a very efficient, compact operation, designed with minimal labor requirements. The goal was to design a user-friendly business for potential franchisees that keeps costs down. When I opened Hard Knox, I knew it would be franchised when the time was right. We currently have one location, but are in the process of franchising. The company is licensed and ready to go, so we have begun fielding franchisee prospects.
FE&S: What makes your operation unique?
DB: The restaurant's theme is vintage boxing, and the design is a throwback to the heyday of the sport. Our dining room includes old photos of famous boxers, and our pizzas are named after either boxers' nicknames, such as Iron Mike, or boxing vernaculars, like Pulled Punch. A wood-fired oven is the exclusive equipment used for cooking and baking. There is no other source of combustion in the store. We can fit a half dozen 12-inch pizzas in the oven at one time. We also make our own dough, which is cold fermented for two days in the Neapolitan method. This develops a richer taste and allows for better baking.
FE&S: Describe your menu.
DB: When we started, the menu included eight red and white pizzas. White pies include a sauce that we make with cream, mozzarella and seasonings. The red sauce is made with seasonings and plum tomatoes. Hard Knox uses only whole-milk mozzarella. One of our best sellers is the Sweet Pea, which includes white sauce, prosciutto, smoked mozzarella, blue cheese and clover honey. Since we've opened, I've added 18 specialties to the menu. This includes four salads, such as the caprese with fresh mozzarella, fresh tomatoes, sliced onion, basil, balsamic and olive oil; and dessert pizza with our traditional crust topped with Nutella, roasted mini marshmallows and crushed graham crackers. Our appetizers include Italian hummus, focaccia bread and mini meatballs. We recently changed our pizza of the week to a pizza of the month. For Christmas, we offered the Festivus pizza after a famous "Seinfeld" episode. This combined strawberry jam, hot sauce, balsamic syrup, fresh mozzarella, roasted marinated chicken, bacon, sliced red onion and fresh strawberries and cilantro on top. For Thanksgiving, we provided a roasted butternut squash pizza. We have a lot of menu variations and options. Hard Knox also has seasonal and local beers as well.
FE&S: How is production handled?
DB: Our operation is simple in design, but complicated in execution. The restaurant is 1,200 square feet, and half of this is dedicated to the kitchen. Dough is made from scratch, yet our wood-fired oven has a lot of quirks and can be difficult to use properly. It really takes an artisan to operate. Other main pieces of equipment in the kitchen include a pizza prep table, 40-quart mixer, ice machine, walk-in refrigerator and a small undercounter freezer for root beer mugs.
FE&S: Will the franchised sites be identical to the flagship location?
DB: The restaurant is smaller than I'd like, seating 35 inside and 12 outside, which is why we're recommending franchisees look for between 1,500 and 1,800 square feet to accommodate more seating.
FE&S: What do you look for in your equipment?
DB: We don't want to invest in equipment that doesn't work or isn't quickly reparable, so reliability is most important. Due to our tight back-of-house space, we need units that are efficient and compact. Also, we have an open kitchen, so we look for equipment with quiet operation to keep noise levels down. There has been so much of innovation in terms of automation in the pizza industry with equipment such as dough presses, but we don't utilize these. Our goal is to create artisan handmade pizza. We did find a pizza tray about two years ago that has raised bubbles on it. This seeps away grease, juice and moisture from the crust, which helps it stay nice and crisp. Products like this that assist us in presenting our product in the best possible way are valuable.
FE&S: Do you offer delivery and carryout service?
DB: We don't deliver, but we do provide carryout service, which is a big part of our business. Also, our lunch crowd is sometimes as big as our dinner crowd. We offer both a 6- and 12-inch pie for lunch and just the 12-inch pizza for dinner. Flatbread sandwiches also are solely a lunch offering.
---
Operators Discover New Ways to Slice the Pizza Market
Case Study: Sarpino's, Lincolnshire, Ill.
Q&A: Dean Bastian, chef/owner Hard Knox Pizzeria, Knoxville, Tenn.