Page 1 of 4
Four years ago, the University of Texas (UT) at Austin embarked on a complete renovation project of its dining facilities and kitchens. The fourth and final phase, completed last year at Jester Second Floor Dining Room, helped seal the deal on the university's plans to create a more sustainable dining and meal preparation environment for students, faculty and staff.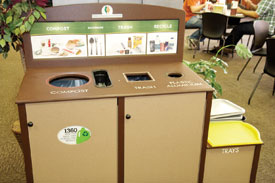 Implementing a complete composting and recycling program led to the University of Texas' mission to begin tracking and controlling waste. Pre- and post-consumer food and organic waste is now collected from clearly marked and colored compost bins throughout the kitchens, dining areas and the campus' athletic stadiums. The university also went trayless, which means customers only use trays upon request. This, too, contributed to a reduction in waste. Photos courtesy of the University of Texas"The facilities needed a major renovation," says Rene Rodriguez, assistant director of the Division of Housing and Food Service. In his role, Rodriguez oversees equipment purchasing and other projects for the 51,000-student university.
An all-you-care-to-eat facility nicknamed J2, Jester Second Floor Dining Room handles an average of 2,200 transactions per day. The three-story building also includes an ?† la carte caf?© and convenience store on the first floor and, below that, a large prep kitchen that supplies food for J2 and other dining facilities across the campus. When J2 closes after set lunch and dinner periods, the ?† la carte caf?© remains open until midnight, feeding students wood-roasted pizzas, prepared sandwiches, grab-and-go salads and other foods. This area also opens at 7 a.m. seven days a week to serve a casual breakfast.
Preceding remodels that were part of this initiative include Cypress Bend, Little Field Patio Caf?© and Kinsolving Dining, an all-you-care-to-eat facility on the north side of campus that's larger than J2, serves more students and has longer hours of operation.
Energy-Efficient Equipment
"We have always had a position that all our equipment would be energy efficient or Energy-Star rated," says Rodriguez. "But we also looked at existing equipment that we could refurbish and reuse."
Foodservice officials also investigated equipment options that would allow staff to do more in less space. "All of our kitchens now have combi ovens, which are naturally more energy efficient because they take less time and energy to heat up for use," Rodriguez says. "In fact, very few of our kitchens have convection ovens anymore. Blast chilling and preparing more in mass production that we can then safely cool and store ourselves is our next big initiative."
With respect to making equipment changes, Rodriguez says the most forward-thinking initiative was converting the entire campus refrigeration system to a rack (remote condensing) system, which began with the first phase of the renovations. "We replaced all 220 self-contained refrigeration units with remote refrigeration, which removed more than 1 million BTUs of heat from occupied air-conditioned space, including kitchens," Rodriguez says, noting that the change also reduced the overall noise level.
The new rack refrigeration system pumps cold air from a combination of rooftop condensing units and a dedicated condensing space in one of the buildings. "All of our walk-in coolers and freezers, as well as our reach-ins, are basically just boxes," he says. "It has taken four years to have all the buildings redone, and thousands of feet of piping, but now we are able to have several locations with zero compressors in the immediate area."
To build the new system, which uses only environmentally friendly refrigerants, the compressors of existing refrigeration fixtures were removed from each unit and connected to the remote refrigeration rack. Rodriguez says this also helps extend the usable life of these appliances.
The refrigeration system also features an innovative demand-defrost program that helps prevent frequent defrosting. This setting is reserved only for when it is needed, based on when the coil detects a certain percentage of refrigerant fluid.