Page 1 of 4
Menu labeling and insurance mandates loom large for the foodservice industry.
Any lingering hopes for wholesale change to the Patient Protec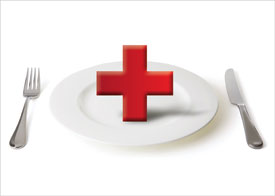 tion and Affordable Care Act pending results of the 2012 presidential election have now officially faded. With President Obama securing a second term, his signature piece of domestic legislation will move forward. Those who held off on preparing to comply with the law – or, in the case of many Republican-led states, vowed to defy it outright – while crossing their fingers for a GOP win and full repeal can no longer do so. They must follow the lead of those working to get out in front of new federal mandates that will impact everything from menu design and production to recipe development and hiring, scheduling and compensating employees.
Some uncertainty does remain regarding exactly how some of those mandates will play out. As this issue of FE&S went to press, for example, the Food and Drug Administration (FDA) had yet to finalize guidelines on specific requirements for nutritional labeling on menus and menu boards. But chalking up inertia to legislative loose ends and uncertainty no longer works in light of a second term for Obama, continued Democratic control of the Senate and last summer's Supreme Court ruling upholding the law's constitutionality. On Jan. 1, 2014, most of the Affordable Care Act will go into effect – ready or not.
Two key provisions within the law, in particular, promise to have super-sized impact on the foodservice industry: nutrition labeling on menus and employer-provided health insurance for all full-time employees.
The former requires restaurant chains and other retail food establishments with 20 or more units operating under the same name to display calorie counts directly on menus, menu boards and, in the case of self-serve operations, on signs posted next to food items. It also requires menus and menu boards at these establishments to include suggested total daily caloric intake figures per USDA dietary guidelines, as well as references to where consumers can access more extensive menu nutrition information.
The second provision, mandated insurance coverage, applies to employers with 50 or more full-time employees, defined within the law as all those working 30 or more hours per week. Failure to provide such employees with coverage deemed "affordable" by the law will result in a $2,000 fine per applicable employee per year.
Labeling, Nutrition Efforts Move Forward
Menu labeling already has footing throughout the industry, even though final rules for enforcement weren't expected to be issued until late November or early December of 2012. Most chains of any size have long made nutrition information available to customers who seek it, and several states, counties and cities enforce their own nutrition-labeling mandates at the local level. Well in advance of the final federal ruling, a handful of pioneering national chains also began posting nutrition information – calories, in particular – on their menus and menu boards as the law will soon require. Among them are Panera Bread, Subway, TGI Friday's, Starbucks, Au Bon Pain, Jamba Juice, Cosi and, the most recent headline grabber, McDonald's.
In fact, a closer look at recent McDonald's activity shows just how far the foodservice industry has come in improving nutrition and providing nutritional transparency since the Affordable Care Act passed in 2010. Last September, the number-one burger chain began voluntarily listing calorie information on in-store and drive-through menus nationwide. Last summer, McDonald's introduced a "Favorites Under 400" menu that highlights the calorie information of some of its best sellers to help put calorie counts in context.
"At McDonald's, we recognize customers want to know more about the nutrition content of the food and beverages they order," said former McDonald's USA President Jan Fields in a press release about the new menu-labeling initiatives. "As a company that has provided nutrition information for 30 years, we are pleased to add to the ways we make nutrition information available to our customers and employees."
Also supporting these efforts, last fall McDonald's kicked off a voluntary e-learning program to help build employees' knowledge of calories, nutrition and the chain's menu offerings. Further, the chain launched a mobile app that provides customers with on-the-go nutrition information, as well as an updated meal-builder tool that offers customizable information. As of mid-September, nearly 300,000 people had downloaded the app.
As part of its ramped-up commitment to nutrition and nutrition messaging, McDonald's published its first-ever nutrition progress report last fall and revealed several 2013 menu innovations it is testing that will provide a broader base of healthier options. These include more seasonal fruit and vegetable options, such as cucumbers and blueberries; additional produce side options and grilled chicken choices for Happy Meals; and the McWrap, featuring fresh vegetables and three available chicken flavors, starting at 350 calories each. New breakfast choices include an egg-white breakfast sandwich on an English muffin made with eight grams of whole grains.
Such efforts can largely be chalked up to the looming healthcare reform bill, says David Henkes, vice president at Chicago-based foodservice consulting firm Technomic. "A lot of the changes that we're seeing happen on menus have occurred to some degree because of the regulatory process," he says. "Generally speaking, people are trying to eat healthier, so is the regulatory process pushing them along a little faster than they otherwise might? Perhaps it is. But there's no question that a lot of menu changes had to be done in a relatively quick amount of time to be able to start complying with some of these mandates and posting calories. Yes, most have had nutrition information available prior to this, but it wasn't necessarily very easy to find. Now that it's becoming more in-your-face for the consumer, restaurants are starting to look at a lot of their formulations to make their products appear healthier and more nutritious. From that standpoint, the regulatory process is definitely having an impact."