Trayless dining took the college foodservice sector by storm a few years ago, just as the sustainability movement began taking shape. Trayless dining means less food waste (because students are not piling on mounds of food they won't end up eating), in addition to potentially less energy and water use (because trays aren't run 24/7 through a flight-type dishmachine).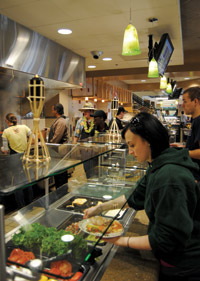 Following the success of a pilot program, Iowa State University made the decision to go trayless campus wide and realized a 10 percent reduction in food waste in the first year. Photos courtesy of Iowa State UniversityIn fact, an Aramark study on trayless dining found that out of 186,000 meals served at 25 colleges and universities, trayless days saw a 25 percent to 30 percent reduction in food waste per person.
As a result, a number of colleges and universities continue to enroll in the trayless movement. In fact, the Association for the Advancement of Sustainability in Higher Education reports that more than 31 schools across the country have made the switch.
"The most stated purpose for going trayless has been the environmental impact of the decision," says Scott Reitano, principal, Foodservice Solution Group in Indianapolis. "Less trays mean less warewashing, which means less soap used, which means less energy and water used, which means less damage to the environment. No trays also mean less food waste in general, which means less waste goes to the landfill and there is less damage to the environment."
The Aramark report breaks the trayless decision into clearly identifiable areas. From an environmental standpoint, trayless dining conserves energy by eliminating the need to heat water for tray washing; reduces dependence on fossil fuels; saves one-third to one-half gallon of water per tray;
reduces the use of chemicals, detergents and drying agents typically needed to clean trays; decreases discharge into landfills, incinerators and wastewater treatment facilities; and lessens ecological impact overall. With regard to social awareness, trayless dining encourages students to participate in a "green" initiative that has both a personal and community impact. From an economic standpoint, according to Aramark, trayless dining saves energy, water, detergent, and food-waste hauling costs as well as the cost of the trays themselves.
Reitano points out another increasingly important economic reason for going trayless: "I believe the economic reasons for going trayless are not as often presented or discussed," he says. "One major factor is the cost of food is going up. If students take less food, then the operation has to produce less food. That means lower food costs and perhaps even lower labor costs because you have less to wash, and perhaps even cook and prepare."
The all-you-care-to-eat meal plans are not cheap, and they cause the dining administration to compete with other food and meal options, Reitano says. "Foodservice is being used as a key component in the highly competitive world of student acquisition at the collegiate level," he adds. "There are more options for use of student dining dollars, like c-stores, kiosks, coffee cafés and other retail outlets. It stands to reason that if patrons are paying by the food item, revenue grows if they select more items. But on a typical college meal plan, the revenue is already collected, so going trayless becomes about controlling cost. Less food equals less cost."
Trayless by Design
Certain key design elements must be taken into consideration when going trayless, Reitano says. "Pay special attention to how soiled wares are accumulated and transferred into the dishroom," he says. "The tray is a convenient way to transport and drop off plates, glasses, silverware, etc. With the tray gone, it becomes crucial to insure that a system is in place to collect and scrape the various pieces of ware."
Trays also naturally help keep the dining area clean by catching food that would otherwise be spilled on tables, so extra dining room staff might need to be on hand in trayless facilities. The size of the plates may change as well. Iowa State University Dining (see below) looked for a larger, square-shaped plate, similar to a tray, to make up for lost carrying space.
Slight changes to the dining hall might also be necessary so students can easily grab the items they need without returning to long lines or bottlenecks; this might require instituting or perfecting a servery setup. "In a scatter system, there should not be long lines at any given service station," Reitano says. "By the time a student goes back for seconds, the initial surge of a given meal period should have subsided. Also, service will move quickly as servers preplate entrées and have them ready to go for a quick pickup."
Existing tray slides might also need to be redesigned or replaced, according to Reitano. "If the slides are open or tubular in nature, they may need to be replaced with a solid surface to hold a glass or plate without the ware falling through or tipping over," he says.
Reitano also suggests reviewing breath guards, formerly known as sneeze guards. Do they do a good enough job of showing off the food? How does food get passed to students? Can the staff easily pass plates over the tops? What needs to be done to go from tray storage at the line to plate storage on the line? Where should glassware be placed at the beverage island? Foodservice operators need to answer these types of questions.
When it comes to trayless impact on disposables, "I don't know if colleges are using more disposables, but if they are, there is certainly an emphasis on using the appropriate eco-friendly options," Reitano says. "If an institution is trying to sell trayless as an eco-friendly option, it needs to follow through with an eco-friendly option for to-go options or retail spaces."
The sell perhaps represents the biggest challenge; ISU Dining went through more than a year of collective research, administrative meetings and marketing material development to coach students on the new changes and earn acceptance from some of the more critical few. Read on to learn why this university decided to go trayless and the process the school went through to successfully implement the changes.
Case Study: Iowa State University
Iowa State University decided to go trayless in 2009, beginning with its newly renovated dining hall, Seasons Marketplace. This 15,600-square-foot, 646-seat dining hall serves roughly 4,200 meals per day. Last year, ISU's final 3 dining centers went trayless: Conversations, a 15,152-square-foot, 369-seat hall serving 2,500 meals daily; Storms, a 200-seat dinner-only hall serving 400 meals per day, and the largest dining hall, Union Drive Marketplace (UDM), a 26,190-square-foot dining center with 854 seats that serves roughly 6,700 meals per day.
"The decision to go trayless was student driven," says Nancy Levandowski, director of ISU dining. "They were simply tired of seeing all the waste they were creating by using trays."
The trayless intention centered on ISU Dining's goal to stop solid waste from getting into the water and the solid waste stream as well as the college's desire to prevent waste even before it was created, through a comprehensive reduction program. "Going trayless has helped us to reduce food waste significantly and has also helped to save resources in water, energy and cleaning supplies," Levandowski says.
As part of the trayless project, students from an honors class conducted a study to determine how much of an impact this initiative would make on efforts to reduce postconsumer waste, according to Levandowski. They also developed marketing material to create awareness and educate other students about food waste.
The honors group study revealed that ISU could cut down significantly on waste by implementing trayless dining. After compiling the results and presenting the research to the Inter-Residence Hall Association, a student group that assists with administration decision making, ISU Dining decided to perform a cost-benefit analysis comparing trayless dining in Seasons to dining with trays in UDM.
Data collected from the pilot project estimated that each person wasted an average of 0.22 pounds at Seasons, down from 0.36 pounds before the facility went trayless. With more than 11,000 students and faculty fed each day across campus, the use of trays was resulting in an estimated 182,500 pounds of food wasted and 8,395 gallons of liquid waste per year. Yet, through reductions from going trayless, ISU Dining discovered it could divert an estimated 60,000 pounds of waste in just 1 school year. The decision was made in 2010 to go trayless in all ISU dining facilities; in just the first year ISU saw a reduction of 10 percent in wasted food alone.
Levandowski says ISU Dining was able to track the waste diversion estimates so closely as a result of simultaneously implementing a composting program at Seasons. "By composting we were able to measure so easily," she says. "We found the postconsumer waste was twice as much at the place that didn't have trays as the others."
The initial reaction to the announcement that Seasons would go trayless was mixed. A lingering challenge remains avoiding the appearance that you're "ripping off" the students, especially considering the all-you-care-to-eat mentality that trays have created over the years, Levandowski says. The 5,000 incoming freshman on meal plans had few complaints (as they did not know life at ISU with trays); and returning students, once they learned more about the potential cost savings and environmental benefits of the trayless decision, became more receptive to the program, she notes.
"There were some students on both sides of the decisions who were very passionate about their stance, but the majority of students just needed some time to get used to the change," says Levandowski. "Once we received support from the broader base of students, we decided to wait until the start of the school year to implement the changes. This was a critical move because we felt students might not like the change if we implemented the switch in the middle of the school year." This is particularly important for staff adaptation as well.
In addition to the dramatic food waste diversion, ISU Dining also noted lower dish-cleaning and food costs — for the latter, a reduction of roughly 3 percent. With swiftly rising food costs in the last couple of years, this reduction has been crucial; in fact, ISU Dining has been able to pass these cost savings along to the students in this year's meal plan rates, Levandowski says.
While the studies show food waste was cut roughly in half per customer visit, she adds, it's too soon for the university to be able to measure energy savings as a result of the switch to trayless, as energy-efficient appliances were purchased at the same time, just a couple years ago.
Another challenge for the school centers on drainage issues. "Food that was once thrown into the garbage now goes through our waste system, causing our grease interceptors to get clogged more often," Levandowski says.
The trayless decision also forced some tweaks to the servery setup. "We didn't anticipate changes to silverware placement," Levandowski says. "Typically, we placed our silverware next to the trays so the students could grab it all at once and then get their food. Without trays to carry the silverware, students had to get their silverware after they picked up their food. As a result, we decided to designate more locations for silverware throughout the servery so the students could easily locate these pieces without having to walk halfway across the facility."
While ISU Dining did not have to alter the menu to adapt to the new trayless setup, "it did affect the way we approached the purchasing of plates and cups for the facilities," Levandowski explains. "Because we weren't using trays anymore, we decided to switch to a slightly larger-size plate, and square in shape to offset the lost space from the trays. We also switched to larger cups. Previously, students would place two to three cups on their trays, so we had to purchase larger cups to offset that."
This year, campus dining hopes to increase food-waste reduction efforts by an additional 15 percent, including both postconsumer and preconsumer waste, Levandowski says. With dramatically rising food, energy, waste and water costs, finding ways to reduce the amount of discarded food — before it is ever purchased and prepared — has become even more urgent, says Levandowski.