Page 1 of 2
A concept with roots that go back to a New York City chef, Tossed has evolved into a thriving franchise with a menu based on salads made to order from a broad list of fresh ingredients.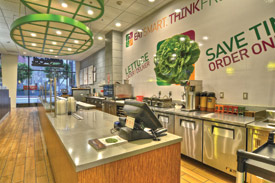 Tossed will have eight locations open by the end of this year.Tossed Franchise Corp. was established in Ft. Lauderdale, Fla., by Jason Chodash, who now serves as president. He brought on industry executives from Cheesecake Factory, Panera Bread, Marco's Pizza and Atlanta Bread Company to help develop the concept. The new ownership opened its first unit in 2007 and set out to build a platform that would transform Tossed into a national fast-casual chain.
"While other concepts have looked to merely grow quickly, Jason concentrated on maintaining the integrity of the food with tremendously fast throughput, viewing it more as a marathon than a sprint," says A. Michael Toroyan, Tossed's chief operating officer.
Today, Tossed has U.S. locations in the Boston, New York City, Los Angeles, Houston, Boca Raton, Fla. and Raleigh-Durham, N.C., areas. To further expand its domestic and international locations, the company signed a franchise partnership with Fransmart, the franchise development company behind Qdoba, zpizza and Five Guys Burgers and Fries.
The chain has 7 sites in operation, with another set to open in Boston at the end of this year and signed development agreements on the books for 67 others. Tossed expects to open at least two restaurants in the first quarter of 2013.
"The goal was to perfect the concept, building a solid foundation that would serve the franchisees well and then continually seek to improve upon it after pragmatically moving ahead with development," Toroyan says. "Now, we are ready to increase the pace of unit development, as we have enhanced already solid unit economics."
With the country's focus on healthier eating, the timing couldn't be more perfect. Yet Tossed is not positioned as a health food restaurant. While offering an array of fresh, chef-designed and made-to-order salads, the menu also offers high-end sandwiches, grilled panini and wraps for those seeking heartier meal options.
"Being labeled as a salad restaurant, it's easy to run the risk of being vetoed by some consumers without ever being given the opportunity to showcase the diversity of offerings," Toroyan says. "It's important to provide depth in your menu so guests can have ample choices depending on what they are in the mood for on any given day."
Surprisingly, the healthiest choices are typically not the restaurant's best sellers, even though salads represent about 65 percent of the items sold. "When you poll people, they love to talk about healthy food, but the truth is, most of us are guilty of not eating as healthy as we should be," Toroyan says. "The data doesn't lie, and that's why Americans have the challenges with weight. Everyone is looking for the nonexistent quick fix."
At Tossed, salads may have initially defined the restaurant, but its new mantra — "fresh food fast" — sends a broader message.