Efficient equipment, production speed and a streamlined menu are key elements in this budding meatball concept.
Photographs by Melissa Hom
The casual Williamsburg restaurant combines tables made of salvaged wood from an old tenement building on the Lower East Side. Chairs were salvaged from a 1930s era building.The growth of The Meatball Shop is the all-American restaurant startup story. Two ambitious entrepreneurs — Daniel Holzman and Michael Chernow — venture into the restaurant business in one of the most expensive and competitive markets in the United States: New York City. They next find investor-partners and rent a 1,000-square-foot space on Manhattan's Lower East Side that won't bankrupt them if they don't grow rapidly. They hire 10 staff members and install a no-frills equipment package that works sufficiently but isn't ideal, and they learn a few lessons along the way. As a result of the blood, sweat and tears the pair puts into their venture, they quickly begin to draw repeat customers and earn recognition as a hot spot from prestigious food and lifestyle magazines, TV stations and blogs. In the first year, The Meatball Shop attracts about 120,000 customers.
The fast-track opening — they found the first restaurant's space in August 2009 and opened the restaurant in February 2010 — offers a hint of the course they've traveled since. Along the way they learned a lot about efficiency and applied newfound knowledge to the next locations that helped turn their concept into the juggernaut it is today. "When we opened our first restaurant on Stanton Street, we were in there every day for eight months and took no time off," Holzman says. "When we opened our second restaurant in 2011 in Williamsburg, Brooklyn, we were in there every day for three months. By the time we opened our third restaurant in November 2011 in the West Village, we got it open in three weeks." Holzman credits the evolution to refining the hiring process and knowing more about what works with equipment and the necessary gas lines and electric connections.
Today, the three restaurants register an average of 400 customers daily, a number that continues to grow steadily.
"We focus on simplicity and deliciousness," says Chernow, who serves as general manager. On the concept's website Chernow explains, "The Meatball Shop is a fuss-free kinda joint. Roll up your sleeves and prepare for a ballistic, choose-your-own adventure food journey. Dan and I are food guys born and bred in NYC. Opening up The Meatball Shop has given us the opportunity to give back to the city we love so much. We've created this place for YOU. Enjoy the menu on your own terms, eat simple, eat sustainable, eat good food with no strings attached."
On the main floor, the open production kitchen allows culinary staff to plate orders and entertain guests as they work.The restaurants are funky, relaxed and full of humor. In each restaurant, a sign prominently visible to guests says, "We Serve Balls." Logoed merchandise is displayed near the entrance. Other features include bookshelves stocked with wine bottles, pendant and wire basket lights hanging from the ceiling, reclaimed wood floors and furniture, flowers in wide-mouthed jars and a large mirror suspended from the ceiling with huge letters spelling "Take Out." Walls display decorations such as skateboards, meat grinders that serve as coat and purse holders, inspired paintings by Sherry Holzman (Daniel's mother), and old photographs, some of the owners' families and some of, well, just people.
The mix-and-match menu consists of beef, spicy pork, chicken and vegetarian meatballs served with focaccia bread, on a brioche bun or on a baguette. Sauces — classic tomato, spicy meat, mushroom gravy, parmesan cream and pesto — and provolone and mozzarella cheese accompany the meatballs. Sides include white beans, risotto, freshly milled polenta, mashed potatoes, spaghetti, rigatoni, salads and vegetables. Desserts include ice cream sandwiches with freshly baked cookies and house-made ice cream and floats. A full beverage selection complements the menu.
In the Williamsburg location, staff bring food deliveries into the small, narrow basement kitchen, measuring just 15 feet by 30 feet, entering from a door just steps down from the street. They place food into one walk-in cooler that stands outside the kitchen and another inside the kitchen. Wire shelving holds dry goods.
Staff use a grinder and 50-year-old mixer to make meatballs, and a 45-gallon steam-jacketed kettle to make sauces and pasta. The kettle replaced the candy burner in the original unit. After grinding the meat, staff add spices, form the ground product into balls and place the balls on baking sheets and into a convection oven. A steamer reheats the meatballs. "We've found the steamer to be best because it holds in the moisture," says Holzman. Of course, this is a lesson they learned over time. When The Meatball Shop first opened, staff cooked the meatballs in an oven and held the finished product in hot wells, which did not provide the level of quality they have with the current system, which features holding drawers.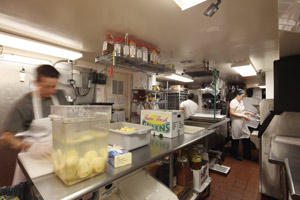 Most of the production takes place on the lower level. Michelle Petrulio, chef of the Williamsburg location (left), leads production.The kitchen also contains double-stacked ovens for cookie baking, an ice cream maker, a stand-up freezer for ice cream, ingredient bins and prep tables. A dishroom with sinks and a dishwasher sit near the kitchen entrance.
Upstairs in a display kitchen, staff heat sauces on a range, and toast bread and melt cheese in an overhead salamander. A steamtable holds meatballs and sauce for a short time during service. An upright refrigerator holds ingredients used throughout production.
As Holzman and Chernow continue to open restaurants, they also learn valuable lessons. "We learned that we can pay very little to get certain pieces of equipment because they hold up and function as well as the more expensive items," Holzman says. "But we also learned that, for the most part, you pay for what you get and we shouldn't skimp on most pieces of equipment. For instance, in the early days when an oven broke down and we didn't have a backup, we thought we were doing well by saving a few hundred dollars — but it wasn't worth the aggravation. Now, we're much more careful and discriminating in our purchases."
This doesn't mean the current equipment package has everything Holzman would like. On his short wish list are combi ovens, heat-and-hold cabinets and tilt skillets. Also on his short list is more energy-efficient equipment to add to the other sustainable practices of purchasing locally sourced ingredients as much as possible, and recycling.
Holzman and Chernow's friendship began when they attended high school in New York City. After graduation, Chernow followed his passion by bartending and working in management at top New York and Los Angeles restaurants and clubs, later receiving an associate's degree in culinary arts and restaurant management from the French Culinary Institute. Holzman started his restaurant career working at Le Bernardin at age 15. He attended the Culinary Institute of America and then worked with renowned chefs in New York, Los Angeles and San Francisco. He became a co-owner and executive chef at SPQR, a rustic Roman Osteria, in San Francisco. In 2008 he and three partners founded KB Treats LLC, an ice cream novelty company.
In 2009, the two returned to New York and discussed starting a restaurant. Holzman credits Chernow with coming up with a meatball concept. The pair found a location on the Bowery, but the space fell through. After that they found the Lower East Side location and moved in within four months. But Holzman admits the early months were tough.
"We have very different orientations — Michael's a people and front-of-house design person, and I'm a chef and work the back of the house and the business, including purchasing equipment and food," Holzman says. "We argued about every detail. We hired Natalie Schwartzberg, a therapist, to help us work out our differences. It worked."
As Holzman and Chernow look to the future, they anticipate cautious growth. They know they have a jewel with their concept and don't want to be overly ambitious and put themselves in financial jeopardy. Upgrading and enhancing equipment is at the top of the list of improvements to come.
Key Players
Partners: Daniel Holzman and Michael Chernow
Director of Operations: Tania Kalien
Regional General Manager: Damien Domenack
Regional Executive Chef: Scott Jaffe
Pastry Chef: Holly Sachs
Beverage Director: Skye LaTorre
Architect: Richard H. Lewis Architect, New York City
Interior Design: Tim Button, Stedilla Design, New York City
Original Art and Inspirational Design: Sherry Holzman
Equipment Dealer: Sam Tell, Farmingdale N.Y.
Facts of Note
Ownership: Meatball Management, LLC
Opened: First unit, February 10, 2010
Headquarters: Williamsburg, Brooklyn, New York
Units: Lower East Side; Williamsburg; West Village
Size: Lower East Side, 1,000 square feet; Williamsburg, 1,500 square feet; West Village, 900 square feet
Seats: Lower East Side, 40; Williamsburg, 70; West Village, 50
Average Check: $18
Daily Transactions: 400, on average, at each unit
Total Annual Sales: Not available
Hours: Noon to 2 a.m. Sunday to Wednesday; noon to 4 a.m. Thursday, Friday, Saturday
Menu Specialties: Meatballs, sauces, heroes, cookies, house-made ice cream
Staff: 190 FTEs total; at each location, on average, 40 employees, including 5 managers
Equipment Investment: $200,000 to $300,000
Website: www.themeatballshop.com