While fast-food giants may be the iconic members of the segment, a growing number of fast-casual and limited-service restaurants are grilling their own opportunities within the burger business.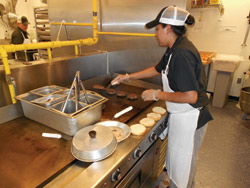 A five-burner griddle represents the heart of Bull City's cookline. In addition to cooking burgers, staff use it to caramelize onions and sauté mushrooms.Why do burgers remain en vogue for the foodservice industry? The answer is simple: Burgers are big business. According to Technomic's most recent Burger Consumer Trend Report, 95 percent of consumers surveyed said they eat burgers at least sometimes, and of those, 87 percent eat hamburgers at least once a month. Seven out of 10 consumers reported that their most recent burger came from a fast-food restaurant, which is not surprising, given that McDonald's comprises half of the segment's business. Despite the sluggish economy, the chain's U.S. sales grew 4.4 percent in 2010 to $32.4 billion.
Looking at the limited-service burger industry, Technomic reports that in 2010 U.S. sales increased by 1.6 percent to more than $65 billion, compared with 0.4 percent between 2008 and 2009. Fast-casual burger operations continue to drive growth in this segment, posting a 16.4 percent sales increase in 2010 and a unit increase of almost 17 percent during this time period, according to Technomic.
Many attribute much of the category's growth to boutique burger operations, which focus on higher-quality ingredients. Sliders (smaller-sized burgers) have become staples on more menus in recent years, providing added visibility for this segment.
Synergy Consultants, a Laguna Niguel, Calif.-based company that has worked with more than 200 restaurant chains, was recently hired to work on LYFE Kitchen, a concept created by former McDonald's president and COO Mike Roberts. "We helped develop a burger using grass-fed beef and a custom multigrain bun, along with homemade ketchup and pickles," says Dean Small, Synergy's founder and managing partner.
These types of components, which transform traditional burgers into almost-gourmet entrées, are amping up the segment's energy. Chains like Five Guys, Smashburger and The Counter are helping to break the mold, redefining what burgers should look and taste like. "We're finding that, because of the increased competition from fast-casual operators, the bar has clearly been raised," Small says.
The ratio of meat to bread has changed due to the popularity of brioche-style buns, which have a higher top and rich, sweet taste. In addition, there has been a trend toward more unique burger builds that include variations on traditional toppings, such as oven-roasted tomatoes and caramelized onions.
Along with more upscale buns and a bevy of ingredients, the actual burger has evolved. Moving beyond ground chuck, innovative operators create patties with brisket, rib meat and even game in order to change or improve the flavor and texture.
Packaging is also playing a role in the burger-making business. "When manufacturers form burgers to get additional shelf life, they have to vacuum pack it," Small says. "This compresses the meat and produces a more chewy bite."
Cooking platforms have changed as well. In addition to using the traditional flattops and charbroilers, operators now caramelize burgers on planchas to lock in juices at high temperatures.
"The burger category is not going away anytime soon," Small says. "Today's players are changing the segment, offering more customization and high-end ingredients. At the end of the day, it's all about the emotional connection for consumers."
---
Key Equipment
Charbroiler or flattop
Convection oven
Fryer
Walk-ins
Prep tables
Undercounter refrigeration
E&S Considerations
Durability: Because many restaurants in the burger segment have limited menus, cooking equipment gets a workout. These units need to withstand constant use and potential abuse from less experienced staff.
Reliability: Charbroilers and flattop griddles are the workhorses of burger joint kitchens. These units need to be up and running at all times, so reliability is key.
Size: Although burger operations come in all sizes, many of these kitchens have limited space. As a result, the equipment's footprint is an important consideration.
Case Study: Fatburger North America, Santa Monica, Calif.
Q&A: Seth Gross, owner, Bull City Burger and Brewery, Durham, N.C.