Since unveiling the new Asian-inspired quick-serve concept ShopHouse in September 2011, Chipotle execs say they've filled their Washington D.C.-based pilot store on a daily basis and are thrilled that it's been well-received, though no specific sales numbers were yet available.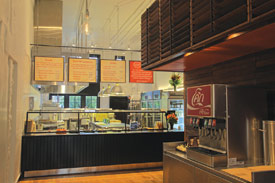 Open for lunch and dinner daily, the green and earth-toned restaurant features a Chipotle-style layout and a menu offering Southeast Asian flavors inspired by Vietnamese cuisine (báhn mì subs) as well as Japanese, Chinese and Thai cooking. The menu includes noodles and rice bowls filled with spiced meats, vegetables, sauces with ingredients like lemongrass, galangal, Thai basil, chiles, coriander, mint and garlic — similar to the street food sold at hawker stalls in Singapore, Bangkok and Hanoi.
To support the menu, the kitchen equipment package consists of rice cookers, woks and a plancha grill for versatile cooking. At the front serving line a chilled prep table holds cold ingredients while hot ingredients stay warm in ironclad casserole dishes. Beverages are also stepped up to reflect authentic Asian flavors, with a Thai Coke machine, special teas, coconut water and Chinese beer among the options for consumers.
The name ShopHouse refers to colonial architecture-style shops with homes above them where family-owners live, reflective of the old architecture of the Dupont Circle neighborhood where the restaurant sits. Sustainable features include LED and high-efficiency lighting; high-efficiency air conditioning, heating and kitchen equipment; low-e windows; recycled woods and a recycled, compressed-paper countertop.