More and more international chains seem to be opening up stores on American turf these days, including London favorites Pret A Manger and Wagamama. Add to that growing list 100 Montaditos, a Spanish sandwich chain that opened its first two U.S. restaurants in Miami earlier this year.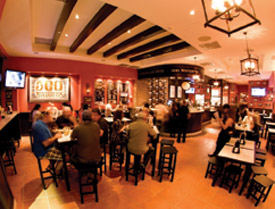 Before coming to the States, 100 Montaditos had slightly more than 200 restaurants in Spain, with additional locations in France and Portugal.
Much like Christopher Columbus on his journey to the New World, 100 Montaditos comes to the United States with an appetite for adventure, planning to open 4,000 restaurants in the country in just five years. The franchise-based operation, run through Grupo Restalia, pointed to Florida and New York in particular as potential expansion markets.
In this cross between full and quick service, customers check off their orders on paper menus, hand them to counter workers and then wait for their numbers to be called, while waitstaff are on hand to manage and clean the dining room. All of this is set against a backdrop that resembles a full-service restaurant or bar, with flat-screen TVs showing sports, hi-top tables and a mix of closely set two- and four-tops.
The Montadito concept comes at a time when portion sizes are getting smaller and consumers are looking for less expensive meal options. The small sandwiches on the menu range in size from hand-sized to bite-sized options. As a result, they fulfill that light meal or between-meal snack option for midmorning and afternoon diners. Or, pitted together in pairs or triplets, they can become fuller meals, not to mention fun party platters. Spanish beer is an option here too — and likely the way the chain looks to increase check averages.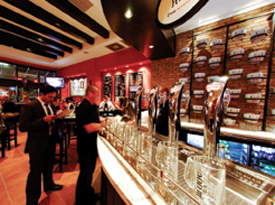 The house-baked rolls are similar to French baguettes, but softer, and are filled with a variety of gourmet ingredients — 100 to be exact — such as Serrano ham and Iberico cheese, duck mousse with crispy onion, tuna with anchovies, shrimp and aioli, even hamburgers and hot dogs. Custom-made, stainless steel sandwich-prep tables with dozens of compartments hold the many ingredients.