Going green can help restaurants become more efficient.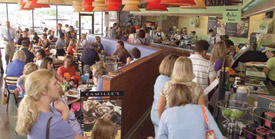 In a move combining both efficiency and sustainability, Beautiful Brands International rolled out Apple iPads and supporting kitchen software at its newer Camille's Sidewalk Café stores for servers to use during order-taking. Servers type up the order using the iPad touch screen, which then transfers the order directly to computer screens in the kitchen, eliminating back-of-the-house printers that use paper.
As waitstaff serve the orders, they can then clear the queue with a touch of the screen. Another feature of these systems is that it gives customers the option of having the restaurant e-mail a receipt instead of receiving a paper version.
This approach not only cuts down on paper waste, it also improves ordering and food prep efficiencies by cutting out the extra step of keying in an order on a POS screen, according to David Rutkauskas, Beautiful Brands founder, president and CEO.