Endeavoring to become a national player in the über-competitive pizza segment is not for the timid. Nevertheless, it's a goal that Hungry Howie's Pizza has set out to accomplish by taking its core strengths — freshly made, flavored-crust pizza to-go — to market in new, strategic ways. The Michigan Heights, Mich.-based chain has rolled out a new prototype, freshened up its look, established new marketing initiatives and tightened up its operations to reduce costs, ensure consistency and enhance speed of service.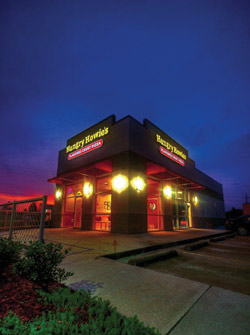 With 575 units currently open, Hungry Howie's is no newcomer to the pizza segment. The company was founded by James Hearn in 1973 in Taylor, Mich., in a converted 1,000-sq.-ft. hamburger shop. Current president Steve Jackson joined the first location as a delivery driver and together the pair opened a second unit in 1976. Franchising began in 1982 and has since become the chain's ticket to growth. Today, independent franchisees own all of the chain's units. The largest concentration of stores is in Michigan and Florida, with units also operating in 22 other states including Arizona, Texas, California, Missouri, Ohio, Colorado and Arkansas.
While some units offer dine-in service, the company built its business primarily on delivery and carryout. The delivery/carryout sales split consists roughly 50 percent phone orders for delivery, 40 percent phone orders for carryout, and 10 percent walk-in for carryout. Online ordering, a recent system-wide addition, is growing fast as a more convenient option that also helps speed service, according to Brian Ognian, vice president of franchise development.
Hungry Howie's offers a limited menu of items, including a variety of fresh salads, oven-baked calzone-style subs, flavored breadsticks (Howie Bread), Three-Cheeser Bread with zesty tomato dipping sauce, and traditional and boneless chicken wings. But pizza, of course, is the calling card, accounting for 90 percent of sales. Like others in the segment, the usual assortment of sizes and toppings is available but Hungry Howie's takes customization a step further. Known as the "Home of Flavored Crust Pizza," it offers eight crust flavor options — a twist that's been its signature point of difference since 1985. That's when a Hungry Howie's franchisee began tinkering with ideas for how to get customers to stop leaving behind uneaten crust.
"It's our biggest and most important differentiator in a segment that's tough to really differentiate yourself in," says Ognian. "Our customers love it. It's the exception if a pizza goes out of one of our stores without flavoring added to the crust. The whole idea was to offer a pizza that's as good from first bite to last. And customers get to choose what they want that bite to taste like."
Core crust flavor options, which are available at no additional charge, include sesame, butter cheese, butter, ranch, garlic herb, onion, Cajun, and original (plain). Customers can choose one flavor or mix and match as many as they like to create their own favorite flavor profile. Depending on the selection, culinary staff brush or sprinkle the flavorings onto the edges of the crust. "Each flavor takes a little different approach operationally," Ognian says. "It sounds time consuming, but it's really not. We've got the equipment customized with accessories to hold the flavorings and we have the systems in place to make it fast and efficient. You can't order a pizza from us without having us ask you if there's a crust flavor that you'd like added. From that point, some of the flavors are applied prior to baking and some are applied after the pizza comes out of the oven. Over the years it's become a flawless system."
Flavored crusts represent a major draw but the fact that Hungry Howie's makes all of its dough fresh every day is another point of difference. "We don't have our dough shipped in from a commissary. It's made fresh every day in the stores. In fact, everything's prepared fresh in the stores," says George Schlickenmayer, director of construction for the chain. Each unit's kitchen includes a dough prep station. Once the dough is prepared, it gets cut into the appropriate weights for different pizza sizes, placed on proofing racks and proofed in a walk-in cooler for 24 hours before it's ready for use.
New Prototype, New Attitude
With its basic business model and menu well established, Hungry Howie's is now intensely focused on growth. The company made a number of key strategic changes over the past three years to kick-start that growth. Top among them is a new store prototype, designed to freshen the concept's look and feel as well as to make an impact on operating efficiency and costs.
Sized at an average of 1,200 to 1,400 sq. ft., the new units are slightly smaller, more open in design and more contemporary than the original units. "The new prototype re-launches the chain cosmetically," notes Rob Elliott, vice president of strategic marketing. Elliott, originally a consultant to Hungry Howie's, helped design the new look, sketching the layout out on a napkin that was later presented to the company's architectural and design firm for refinement and execution.
"We've introduced a new corporate identity on a number of levels. In the stores, we've kept our signature yellow color palette, but we've upgraded many of the cosmetics and the surfaces," Elliott says. "We've installed new menu board systems. We've integrated beautiful yellow glass ceramic tile, vinyl graphics and a lot of stainless steel for visual cues of clean and fresh. And we've taken down barriers between the ordering area and the kitchen so that customers can see into the kitchen, watch preparation take place and interact with employees."
In the kitchen, a new customized, energy-efficient refrigeration system is being integrated and new heated cabinets for holding pizza at the proper temperature were brought in as part of a complete equipment package upgrade. Standard equipment that's been modified to meet Hungry Howie's specifications, the holding cabinets are strategically positioned next to the pizza cutting table, in full view of customers. They're emblazoned with the word "Hot!" to convey freshness and quality.
In addition to the dough-prep area and a cut-and-box station, which is manufactured to company specifications, key kitchen stations include POS areas both at the front counter and in the rear of the store. Incoming orders are sent to the pizza make line, which typically is manned by two to three employees depending on time of day and volume. Per the company's marketing tagline, "We make it FRESH, we make it FAST and we make it JUST FOR YOU," no pizzas are assembled or baked before they're ordered. The make table itself measures slightly more than nine ft. long and contains all components employees need to prepare any type of pizza a customer may order. Schlickenmayer says it's a standard pizza make table, but one that has been modified with accessories to provide storage and refrigeration for the various pizza crust flavorings the chain offers.
Adjacent to the pizza make table is a refrigerated unit for sub sandwich and salad ingredient holding and preparation, usually manned by one employee. Other staff positions on a typical shift include one or two counter employees, two prep cooks/expediters, and two to five drivers, again depending on time of day and volume. "All employees except drivers are cross-trained," notes Schlickenmayer. "Everyone in the store can do any position."
In changing the prototype, the back-of-the-house space was condensed slightly for greater efficiency and some of the space saved was shifted to the front lobby. "We found from an operations standpoint that when we tightened up the kitchen we were far more efficient. Our employees have fewer steps to take and everything is set up in stations so that all components an employee needs are within reach. As such, we were able to add a bit more room in the lobby for customers," says Schlickenmayer.
Apropos of its delivery/carryout business model, the front of the house at most Hungry Howie's locations is small. Except for a handful of units that offer limited seating, the lobby area per the new prototype comprises roughly 200 sq. ft. of the average unit's 1,200 to 1,400 sq. ft. of space.
Fresh, Value-Focused Marketing
Part of the change in the company's graphic identity included freshening up its logo and giving its "Howie" character depicted in the logo a contemporary look. "It's not a huge departure from where we were," Elliott says. "We're still using the heritage branding, so it still has our letter style but it's been beefed up a bit. The typography is updated and we promote our Flavored Crust Pizza more strongly, right in the logo."
Always a strong value, the chain has worked in recent years — particularly during the recession — to up the ante. In 2009, Hungry Howie's debuted its bundled meal deals priced at $5, $10, $15 and $20. The $5 deal, for a medium one-topping pizza or a small one-topping pizza with a 20-oz. Pepsi, positioned Hungry Howie's squarely among big value players in the segment such as Little Caesars, whose $5 Hot-n-Ready deal has been an industry game changer.
"Value is a huge part of our positioning and these deals have been great retail hooks. But we're careful to define value not just in low price, but also high-quality product. We use 100 percent mozzarella cheese, our dough is made fresh daily, we're fast and we're convenient," Elliot says.
New Specs Drive Equipment Buys
Along with its image makeover and more efficient use of space, the new Hungry Howie's prototype reduces operational costs thanks to an updated, more energy-efficient equipment package. In addition to new holding cabinets for finished pizzas — which also improve end-product quality, Ognian notes — the company moved to develop specs for system wide use on all equipment purchases. Whereas franchisees were once free to shop around and select from among various brands, they are now required to purchase equipment packages according to specifications set at the corporate level. "We select the manufacturers and the models and specify those for our franchisees," Schlickenmayer says. "It keeps things consistent throughout the system, it enables us to control our purchasing and better leverage our volume."
"Storage is really important for us," he adds. "We hold our product at very set temperatures from the cooler into our pizza make line to our holding cabinets. Because that's so critical, we specced out all of the requirements. As a result, we're holding products better than we've ever held them before while reducing our energy consumption. In making the equipment package changes, we really considered speed, service, efficiency and quality of product. Yes, it's helped us streamline our processes and bring costs down, but in the end our customers are also getting a better, more consistent product."
That type of tight specification approach now applies to the entire unit opening process, as well, according to Ognian. To simplify things and ensure a short timeline from lease signing to opening, the company developed a turnkey solution with strict bid guidelines. It's a move he says has greatly reduced construction costs as well as time to open. "We use a designated architect and manage the bid process," he says. "We get three bids for every job so we're sure we're getting the best price on construction. We track each bid and by following certain specs we're in a better position to negotiate and bring costs down. We also work off strict time limits so that we can shorten the gap between when the lease is signed and the unit opens. It's now between 30 and 45 days, on average, a scenario that also helps to reduce costs for franchisees. They're no longer paying rent and sitting out there waiting for their construction to begin or be completed. Because we've established one-stop shopping for equipment and fixtures and we've streamlined the build-out process, it eliminates a lot of time that we were losing before."
Having made refinements and updates to its system, from build-out to hot-pizza holding, Hungry Howie's is, indeed, a company in transition. Going forward, the company plans to expand through franchising — ideally with multi-unit operators and area developers — within its existing marketing areas as well as to break new ground nationally. Initial key expansion markets include Louisiana and Texas. All new units will utilize the new prototype, and so far the results of the change are promising. According to Ognian, sales in newly opened stores with the new prototype have been up to 40 percent higher than previous units.
With nearly 600 units system wide, conversion of existing Hungry Howie's units on a large scale to the new prototype will necessarily be a gradual process as franchisees can make the investment to remodel. But of the dozen or so that have done so over the past 18 months, the results have been "very, very positive," Ognian says. "It's too early for us to release specific figures, but we've seen significant sales increases with each one and we're very excited about the future. We took the time when both the economy and our expansion slowed down and stepped back just to be able to take some steps forward when things started turning around. In the end, it was the perfect time to refresh our brand and make these changes. We're now strongly positioned for growth."
Facts of Note
Year founded: 1973
Headquarters: Madison Heights, Mich.
Menu signature: Flavored crust pizza
Service model: Fast-casual/QSR
Services: Delivery, takeout and catering; dine-in in some locations
No. units: 575, all franchised
2010 sales: $249.9 million
Typical location: Strip mall
Key expansion markets: Existing markets, plus Louisiana, Texas
Hours of operation: 11 a.m. to 11 p.m. weekdays; 11 a.m. to 1 a.m. weekends
Average unit size: 1,200 to 1,400 sq. ft.
Total unit cost: $225,000 to $360,000
Average kitchen space: 1,000 sq. ft.
Total equipment investment per unit: $90,000 to $110,000
Key Players
President: Steve Jackson
Vice President of Marketing & Product Development: Jeff Rinke
Vice President of Franchise Development: Brian Ognian
Vice President of Operations: Paul Pfeiffer
Vice President of Strategic Marketing: Rob Elliott
Director of Construction: George Schlickenmayer
Food Distributor(s): Hungry Howie's Distributing (East) & Roma Foods (West)
Smallwares & Equipment Company: Northern Pizza Equipment Co., Dexter, Mich.
Architect & Design: Foresta Group, Plymouth, Mich.
Signage: Harmon Signs, Toledo